Protests hit Shanghai and Beijing
LOCKDOWN FATIGUE: In Beijing, students called for freedom, while Shanghai protesters were recorded chanting: 'Xi Jinping, step down; CCP, step down'
Hundreds of people yesterday took to the streets in Beijing and Shanghai to protest China's "zero COVID" policy in a rare outpouring of public anger against the state.
China's hardline disease prevention strategy is stoking public frustration, with many growing weary of snap lockdowns, lengthy quarantines and mass testing campaigns.
A deadly fire on Thursday in Urumqi, the capital of China's Xinjiang region, has become a fresh catalyst for anger, with many blaming lengthy COVID-19 lockdowns for hampering rescue efforts.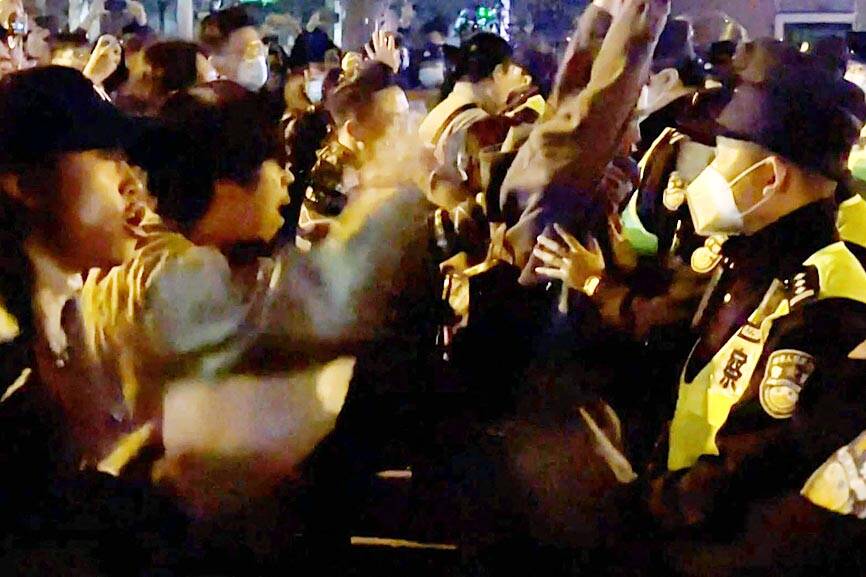 Demonstrators in Shanghai yesterday shout slogans as police hold their positions in a screengrab taken from eyewitness video footage.
Photo: AFP
Authorities deny the claims.
Hundreds yesterday rallied at Beijing's elite Tsinghua University to protest against lockdowns, said one witness who asked to remain anonymous.
"At 11:30am, students started holding up signs at the entrance of the canteen, then more and more people joined. Now there are 200 to 300 people," the person said.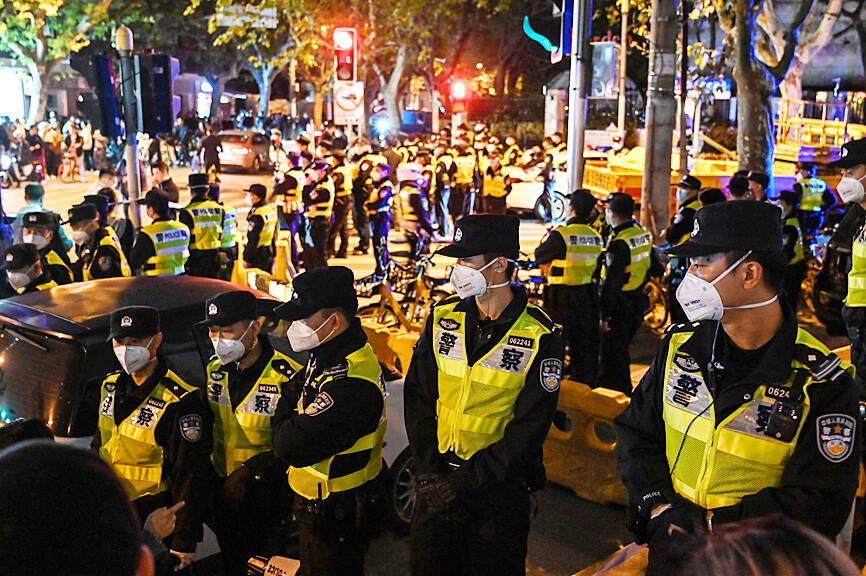 Police block Wulumuqi Street in Shanghai yesterday.
Photo: AFP
Participants sang the national anthem and The Internationale — a standard of the international communist movement — and chanted "freedom will prevail" and "no to lockdowns, we want freedom," they said.
They described students holding up blank pieces of paper, a symbolic protest against censorship.
A video that appeared to be taken at the same location, but was quickly taken down, showed students shouting: "Democracy and the rule of law, freedom of expression."
Students at Tsinghua University in Beijing yesterday protest China's COVID-19 policy in a screengrab taken from video footage.
Photo: AFP
Other vigils took place overnight at universities across China, while videos from Xian, Guangzhou and Wuhan showed similar small protests.
Hundreds of people gathered in downtown Shanghai yesterday afternoon near where a demonstration had erupted just hours earlier, an eyewitness said.
Demonstrators holding blank pieces of paper and white flowers stood silently at several intersections, the person said, speaking on condition of anonymity.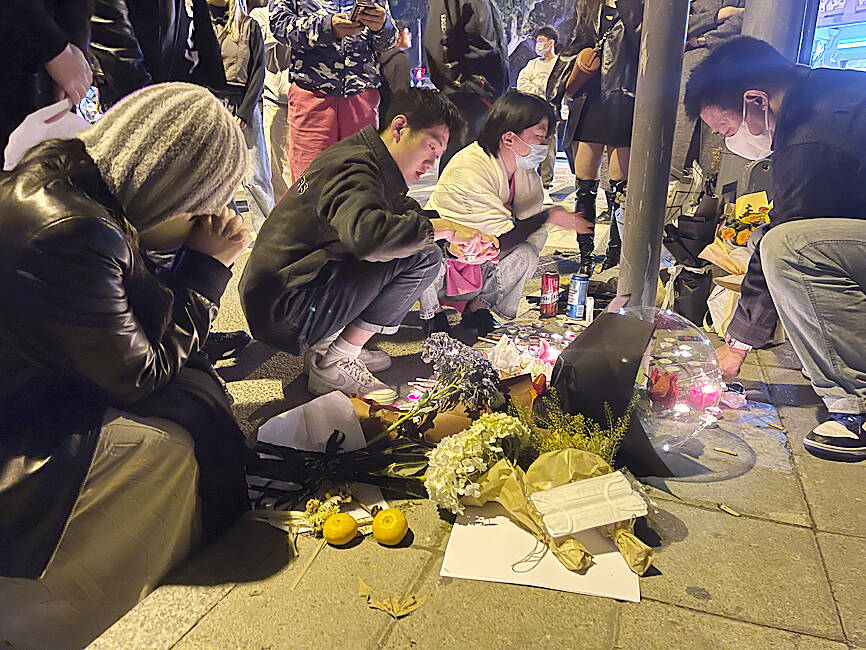 Residents mourn for the victims of a recent deadly fire at a residential building in Urumqi city at a road sign of the Middle Wulumuqi Road or Middle Urumqi Rd in Shanghai, China Saturday, Nov. 26, 2022.
Photo: AP
Footage from the area showed a crowd chanting during what appeared to be the late afternoon.
Later in the evening, an Agence France-Presse reporter saw a heavy security presence.
Dozens of police in yellow high-visibility jackets formed a thick line, cordoning off the streets where the protests had taken place, while their colleagues asked people to leave the area.
Crowds had gathered hours before on nearby Wulumuqi Street — named for Urumqi in Mandarin — with video showing protesters chanting: "Xi Jinping, step down; CCP, step down" in a rare display of public opposition to the Chinese Communist Party's top leadership.
A person who attended the Shanghai protests but asked not to be identified said that the first rally was in full swing at 2am, with one group mourning the 10 people killed in the Urumqi fire, while another group chanted slogans.
Footage taken by an eyewitness showed a large crowd shouting and raising blank pieces of paper as they faced several lines of police.
Multiple witnesses said several people were taken away by the police.
Authorities were swift to curb online discussion of the protest, with related phrases scrubbed from Sina Weibo almost immediately after footage of the rallies emerged.
China's state broadcaster is also cutting close-up shots of maskless fans at the FIFA World Cup in Qatar, after early coverage sparked anger at home.
During a live broadcast of yesterday's group game between Japan and Costa Rica, state broadcaster CCTV Sports replaced close-up shots of maskless fans waving flags with images of players, officials or the soccer stadium.
Comments will be moderated. Keep comments relevant to the article. Remarks containing abusive and obscene language, personal attacks of any kind or promotion will be removed and the user banned. Final decision will be at the discretion of the Taipei Times.