CECC reiterates voting rules for COVID-19 cases
Special passages and booths at polling locations for voting on Saturday are for people with a fever or respiratory symptoms, not for people who have been diagnosed with COVID-19, the Central Epidemic Command Center (CECC) said yesterday, as it reported 18,150 new local COVID-19 cases and 38 deaths from the disease.
Deputy Minister of Health and Welfare Victor Wang (王必勝), who heads the CECC, said that the Central Election Committee has arranged special disease prevention passages and polling booths at each voting location, but added that they are "not for people with COVID-19."
Since the beginning of the pandemic in 2020, people who are diagnosed with COVID-19 are required to isolate at home, regulations that have not changed, he said.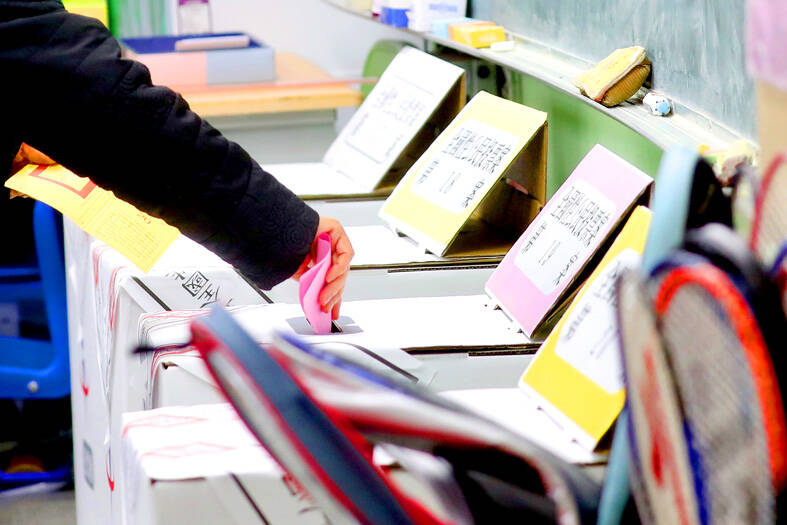 A person casts a referendum votes in Taipei on Dec. 18 last year.
Photo: RITCHIE B. TONGO, EPA-EFE
Such people are not allowed to go out for a walk, to dine, shop, travel or vote, he said.
As of Monday, people who test positive for COVID-19 are required to isolate at home for five days, not including the day of diagnosis.
Asked if people who have tested positive might hide their condition by not seeking a diagnosis because they want to vote, Wang said he believes in the morality of Taiwanese.
People who test positive this week and enter a polling station would be fined a maximum of NT$2 million (US$64,076), the commission said.
However, their votes would be counted, it said.
The number of people eligible to vote for mayors and county commissioners — excluding the postponed mayoral election in Chiayi City — is 18,967,771, the commission said, adding that 19,128,745 are eligible to vote for city and county councilors nationwide.
There are 5,056,609 eligible to vote for township mayors and wardens in indigenous districts, while 5,050,920 people are eligible to vote for township officials, including in indigeous electorates, it said.
There are 19,026,280 people eligible to vote for borough and village officials, it said.
In the referendum to lower the legal voting age and the age of eligibility for candidacy to 18 to be held alongside the elections, there are 19,239,392 people eligible to vote, the commission added.
The referendum must meet a threshold of half of the electorate, or 961,9697 votes, to pass, it said.
Comments will be moderated. Keep comments relevant to the article. Remarks containing abusive and obscene language, personal attacks of any kind or promotion will be removed and the user banned. Final decision will be at the discretion of the Taipei Times.