US VP Harris seeks to reset ties with Philippines in visit
US Vice President Kamala Harris yesterday arrived in the Philippines for talks aimed at reviving ties with the former US colony, an Asian ally that is central to US efforts to counter China's increasingly assertive policies toward Taiwan.
Harris, who is to meet Philippine President Ferdinand Marcos Jr, visits the region as US President Joe Biden's administration seeks to shore up relations with allies worried about growing Chinese influence in Southeast Asia and possible conflict over Taiwan.
The Philippines is an important part of the diplomatic push. Military access to the country, just 193km from Taiwan and adjacent to the South China Sea, would greatly complicate any attempt by China to invade Taiwan, military analysts say.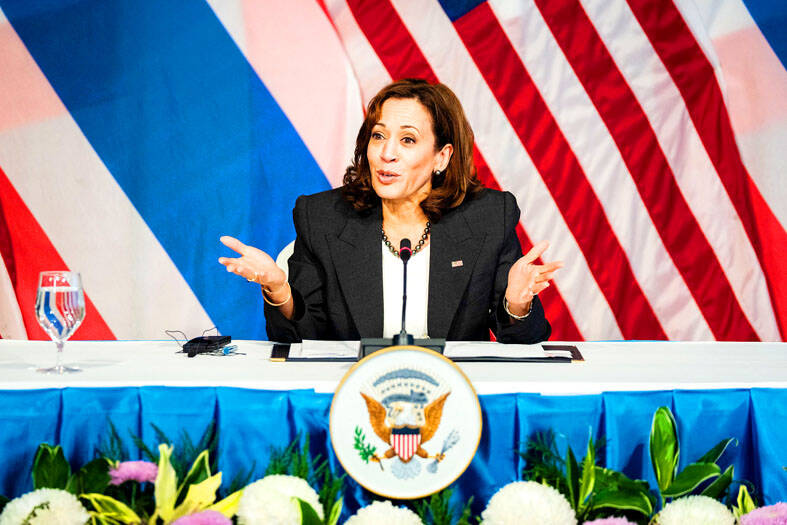 US Vice President Kamala Harris speaks at a forum on climate change and clean energy in Bangkok yesterday.
Photo: AFP
"It makes sense to invest high-level attention to restore deepened cooperation across the board with this youthful, populous, prospering, and strategically located ally," said Daniel Russel, the top US diplomat for East Asia under former US president Barack Obama and now vice president for international security and diplomacy at the Asia Society.
Earlier, Harris said she had told Chinese President Xi Jinping (習近平), whom she met on Saturday at the APEC summit in Thailand, that Washington did not seek confrontation with China.
"We welcome competition but we do not see conflict, we do not seek confrontation," Harris told a news conference in Bangkok before leaving for Manila.
Her visit would be the highest-level trip to the Philippines by an administration official and marks a sharp turnaround in relations.
The leaders are expected to discuss Taiwan and the South China Sea, as well as share notes on Marcos' Thursday meeting with Xi and Biden's with the Chinese leader on Monday last week.
"The US is not taking us for granted," Philippine Ambassador to Washington Jose Manuel Romualdez said. "Marcos, of course, is responding to this in a manner that shows the US that we are your friends."
In Asia, the US faces challenges in building a coalition to deter Chinese action against Taiwan. Many countries in the region are reluctant to antagonize their giant neighbor, which is not just a military power, but also a key trading partner and source of investment.
Harris would send a pointed symbolic message to China tomorrow when she meets members of the Philippines' coast guard in a Palawan province island city at the edge of the South China Sea.
Beijing claims some territories in the waters off Palawan and much of that sea, which is believed to contain massive oil and gas deposits.
Washington is investing millions to help modernize the Philippine military, but the country has not committed to supporting any US intervention in a conflict over Taiwan.
Romualdez said in September that the Philippines would only offer assistance "if it is important for us, for our own security."
"Any overt campaign planning against China, planning for Taiwan, is still very sensitive," former US assistant secretary of defense Randall Schriver said. "All of that has to be navigated carefully."
Comments will be moderated. Keep comments relevant to the article. Remarks containing abusive and obscene language, personal attacks of any kind or promotion will be removed and the user banned. Final decision will be at the discretion of the Taipei Times.