Kaohsiung outlet spread 'China propaganda' online
The owners of Kaohsiung news outlet China VTV Co (中華微視公司) are being investigated for having alleged financial connections with China, and for allegedly conducting a disinformation campaign to create social division and mistrust in Taiwan's government.
Tsai Yue-ting (蔡岳廷) and his ex-wife, Chang Chiao-lin (張巧琳), were questioned by judicial investigators after evidence reportedly showed that the couple had received 3 million yuan (US$421,354) from its parent company's offices in Beijing and Hong Kong.
The outlet provides news programming on social media sites including YouTube and Facebook.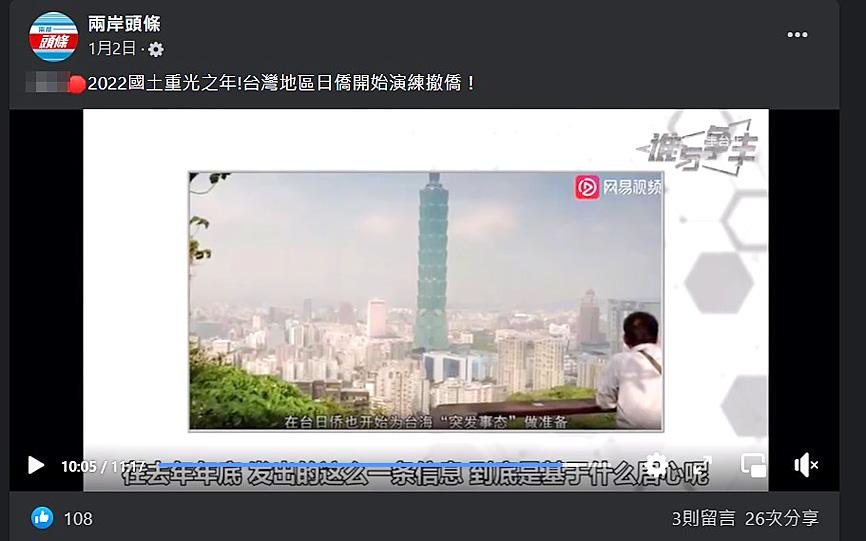 A video alleging that Japan is evacuating its citizens from Taiwan in preparation for an emergency in the Taiwan Strait is shown in a screenshot from China VTV News' Facebook page.
Photo courtesy of the Ministry of Justice Investigation Bureau
Authorities determined that China VTV was attempting to induce public alarm in a posting titled "Japan readying evacuation of its citizens from Taiwan due to an emergency in the Taiwan Strait."
Tsai was found to have signed a partnership agreement with China VTV Holding Co chairman Song Tijin (宋體金), who has been linked to the Chinese People's Liberation Army, the Ministry of Justice Investigation Bureau said on Friday.
"The agreement called for the company's entities in China and Hong Kong to provide 3 million yuan for Song's representative companies to obtain 67 percent shares in Taiwan-registered China VTV Co, the bureau said.
Computers and communication records were seized, and nine people were summoned for questioning, including Tsai and Chang, who reside in New Taipei City.
Tsai was released on NT$90,000 bail and Chang on NT$50,000 bail.
Bureau officials said the two face charges of illegal company registration, illegal funding by a Chinese entity and tax evasion under the Company Act (公司法) and the Business Entity Accounting Act (商業會計法), and of contravening legal statutes governing relations between Taiwan and China.
After looking through computer and phone records, investigators alleged Tsai and Chang were taking instruction from executives in China to establish and operate programming for social media produced by outlets in Beijing and Hong Kong in what the bureau called "propaganda efforts."
Comments will be moderated. Keep comments relevant to the article. Remarks containing abusive and obscene language, personal attacks of any kind or promotion will be removed and the user banned. Final decision will be at the discretion of the Taipei Times.