APEC expects stability: Morris Chang
CHATTING WITH LEADERS: The TSMC founder conveyed messages from President Tsai, chatted with Xi Jinping, and met with officials from the US, Japan and Singapore
World leaders attending the APEC meeting in Bangkok have expressed "very strong expectations" that regional peace and stability would continue to be upheld, Taiwan Semiconductor Manufacturing Co (TSMC, 台積電) founder Morris Chang (張忠謀), Taiwan's representative to APEC, told an international news conference yesterday.
Chang was responding to media questions about whether geopolitical tensions would be lowered by Taiwan's attendance at the regional event.
Neither he nor world leaders and representatives he spoke with had explicitly brought up such issues, "but there is no doubt" that there are such expectations, he said.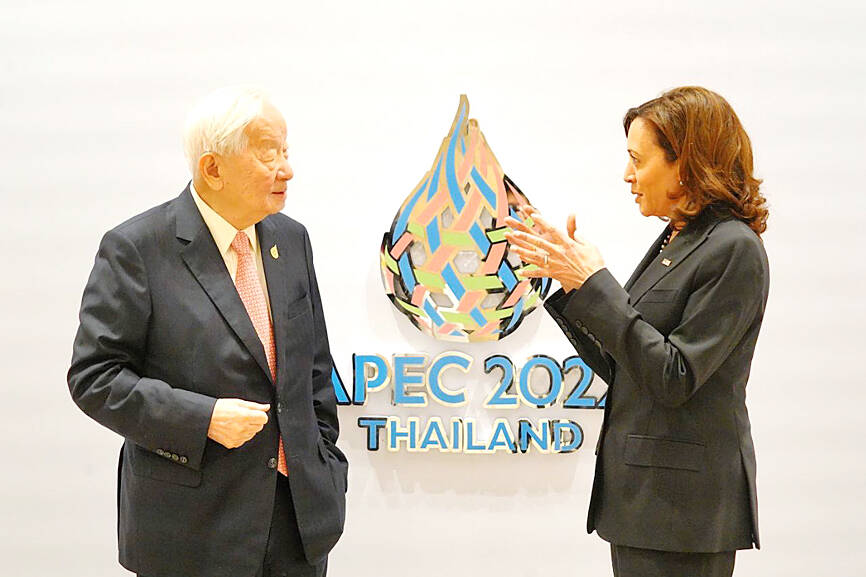 Taiwan Semiconductor Manufacturing Co founder Morris Chang, left, who is representing Taiwan at the APEC summit, chats with US Vice President Kamala Harris in Bangkok yesterday.
Photo courtesy of Taiwan's APEC delegation via CNA
He told reporters that he had conveyed without fail the messages President Tsai Ing-wen (蔡英文) had asked him to share in both of his speeches at the summit.
The APEC event was "quite enjoyable" and he considered his task "fulfilled in all ways," he said, adding that he met with more people than at the 2018 APEC meeting in Papua New Guinea.
In addition to meeting with US Vice President Kamala Harris, Singaporean Prime Minister Lee Hsien Loong (李顯龍) and Japanese Prime Minister Fushida Kumio, Chang said he had crossed paths with Chinese President Xi Jinping (習近平) in a lounge area on the first day and that they had exchanged greetings.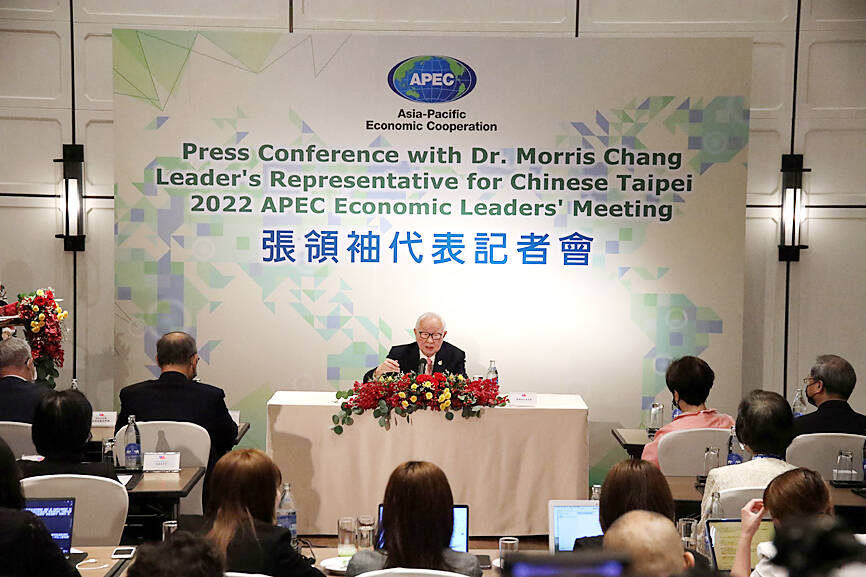 Founder of Taiwan Semiconductor Manufacturing Company Morris Chang attends a news conference after attending APEC in Bangkok yesterday.
Photo:Reuters
"I congratulated him on the success of the Chinese Communist Party's 20th congress," Chang said, adding that Xi asked after his health and mentioned that he remembered meeting Chang in Papua New Guinea four years ago.
"It was a very happy, polite interaction," Chang said, adding that tensions across the Taiwan Strait were not discussed.
"I met with over half of all 21 leaders and representatives and exchanged opinions with them," Chang said.
Chang said he discussed TSMC's new US$12 billion plant in Arizona with Harris at a separate meeting on the summit's sidelines.
He told Harris that Taiwan has invited US Secretary of Commerce Gina Raimondo to a "tool-in" ceremony for the plant on Dec. 6, although production would not start immediately, he said, adding Harris focused mostly on semiconductors during their conversation and welcomed TSMC's investment in Arizona.
During the exchange, Harris reiterated the US' resolve to support and help Taiwan, he said.
Chang did not indicate if anything more was said on that issue.
Additional reporting by Reuters and CNA
Comments will be moderated. Keep comments relevant to the article. Remarks containing abusive and obscene language, personal attacks of any kind or promotion will be removed and the user banned. Final decision will be at the discretion of the Taipei Times.