Taiwan experts warn of 'frustrated' Xi
ANALYZING BEIJING: Actions after a Taiwan visit by Nancy Pelosi were an expression of 'traumatic nationalism' and meant to impress a Chinese audience, a professor said
Taiwan should improve its defense capabilities and reduce economic reliance on China, Council on Foreign Relations president Richard Haass told a forum on Chinese governance organized by the Mainland Affairs Council (MAC) and the Chinese Council of Advanced Policy Studies in Taipei yesterday.
Chinese President Xi Jinping (習近平) might take a more strident stance toward Taiwan to redirect frustrations over surging economic and political challenges in his third term, Haass and other US-based experts said.
Beijing is accustomed to constant economic growth, but China's economic outlook has dimmed amid a brewing financial crisis, an aging population and the consequences of Xi's "zero COVID-19" policy, Haass said.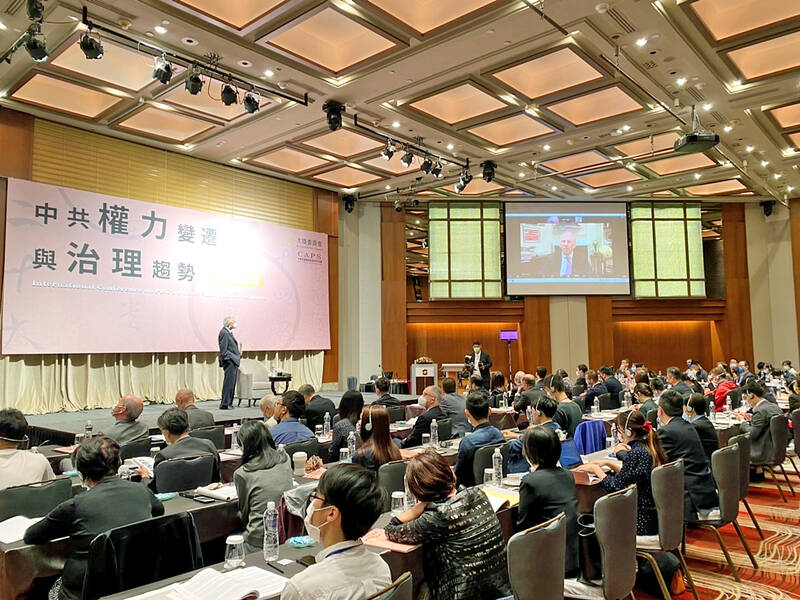 Council on Foreign Relations president Richard Haass, on screen, addresses an international conference on China's power shift and governance at the Shangri-La Far Eastern hotel in Taipei yesterday.
Photo: CNA
Xi is likely to drum up nationalism, which he might hope would advance his ambitions to obtain political powers rivaling Mao Zedong's (毛澤東) and secure a place in Chinese history for himself, he said.
China is putting Taiwan under pressure not because of specific actions taken by Taipei, but because Taiwanese democracy is the antithesis to Beijing's system, he said, adding that Russia similarly resents Ukraine for being a democracy.
Xi could act toward Taiwan in a way similar to how Putin acted over Ukraine, and Taipei should take measures to transform the nation's military and invest wisely in asymmetric defense capabilities such as missiles, he said.
Taiwan should build up energy resilience by creating a strategic reserve and making contingency plans to defend its digital infrastructure against cyberattacks, he said.
Taiwan and its allies should decrease economic dependence on China's market, raw materials and any form of trade that has strategic implications, he said.
Beijing's so-called "wolf warrior" diplomacy is based on performative acts that project an image of strength for a domestic audience, University of Colorado Denver professor Stephen Hartnett said.
Chinese diplomats' focus on propaganda for a domestic audience suggests that China is conducting its international relations to externalize internal problems, he said.
Beijing's response to US House of Representatives Speaker Nancy Pelosi's visit to Taiwan is a manifestation of "traumatic nationalism," which has prevailed in China since 1949, he said.
Beijing's wolf warrior diplomacy — which has won Beijing no friends, but appeases a domestic audience — is also a symptom of traumatic nationalism, he said.
Such posturing could become a liability when words are not backed by action, leading to public discontent, he said, citing as an example a backlash on Chinese social media after Pelosi's airplane was not shot down, as some people on social media had urged Beijing to do.
MAC Minister Chiu Tai-san (邱太三) told the opening panel that military confrontation is never a good option and urged Beijing to look at the issue with a fresh perspective.
"Military confrontation is by no means a good option for resolving differences between Taiwan and China, nor is it a blessing for the people on both sides," Chiu said. "We hope that the other side would break from the outdated political mindset and have an open attitude to improve cross-strait relations."
Since President Tsai Ing-wen (蔡英文) took office in 2016, Beijing has cut off communications with Taipei and suspended nearly all official exchanges between the two sides, saying it did so because Tsai refuses to recognize the so-called "1992 consensus."
Chiu urged Beijing to resume dialogue with Taiwan without any prerequisites, as Taiwanese reject its "one China" principle and its plan to unify Taiwan under the "one country, two systems" model.
The so-called "1992 consensus," a term former Mainland Affairs Council chairman Su Chi (蘇起) in 2006 admitted making up in 2000, refers to a tacit understanding between the Chinese Nationalist Party (KMT) and the Chinese government that both sides of the Strait acknowledge there is "one China," with each side having its own interpretation of what "China" means.
Additional reporting by CNA
Comments will be moderated. Keep comments relevant to the article. Remarks containing abusive and obscene language, personal attacks of any kind or promotion will be removed and the user banned. Final decision will be at the discretion of the Taipei Times.