Xi, lacking successor, could seek fourth term: analyst
Chinese President Xi Jinping (習近平) appears to be planning a fourth term in 2027, as he did not indicate a successor at the Chinese Communist Party's (CCP) 20th National Congress, Academia Sinica researcher Wu Yu-shan (吳玉山) said yesterday.
Xi yesterday secured an unprecedented third term as CCP general secretary and chairman of the CCP's Central Military Commission, as the party unveiled its new leadership for the next five years.
The CCP traditionally grooms successors by promoting young leaders to permanent positions, and then assigning them suitable responsibilities, Wu told a news conference held by the Fair Winds Foundation in Taipei.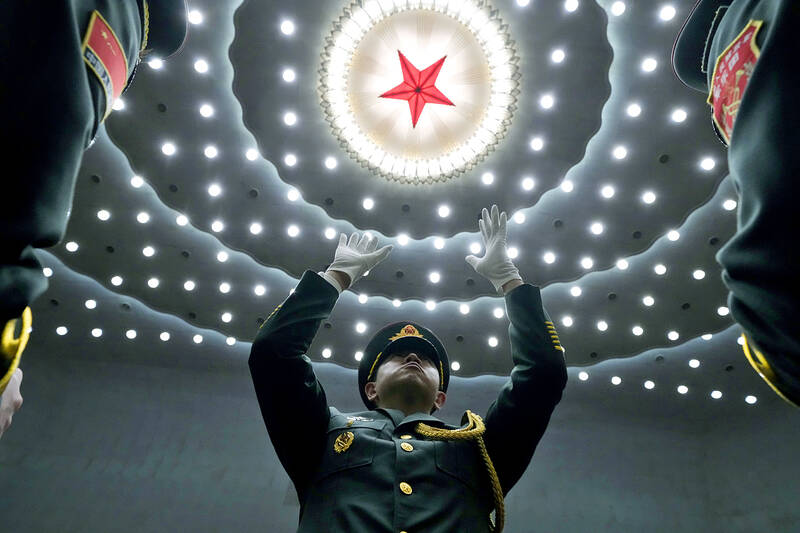 A director conducts band members as they perform during the closing ceremony of the Chinese Communist Party's 20th National Congress at the Great Hall of the People in Beijing on Saturday.
Photo: AP
NO BACKUP
"That we did not see any young appointees this time implies that Xi has no intention of designating a successor," he said. "Also, the youngest member of the Politburo Standing Committee is Ding Xuexiang (丁薛祥), and he is already 60. So, at most he would only serve for one term if he took over from Xi."
Since Xi became CCP general secretary, there has been a high concentration of power, and a decreased focus on institutionalization in China, Wu said, adding that the situation was reminiscent of China under Mao Zedong (毛澤東).
"The trends we are seeing with regard to Xi are the centralization and expansion of power, and the breaking of patterns," he said.
Wu said that a conflict in the Taiwan Strait would depend on Xi's hold of power in China, Taiwanese politics and the US' commitment to Taiwan's defense.
Xi's reinstatement increases the risk of war, but Taiwanese are highly resistant to Chinese aggression, which would be to the country's benefit, he said.
The US' apparent increase in strategic clarity toward Taiwan would serve as a deterrent to Chinese aggression, he added.
TOUGH TO PREDICT
Tamkang University researcher Chen Chien-fu (陳建甫) said that Xi's policies on Taiwan would be more difficult to predict than in the past.
Although the CCP said it would not rule out the use of military force to unify Taiwan, wars are costly and China's economy is struggling, he said.
"It's most likely that China will attempt to force Taiwan to the negotiating table through a blockade in the Taiwan Strait," he said.
The CCP National Congress ended on Saturday after endorsing amendments to the party's constitution, including vows to build a state-of-the-art military to enforce its "one country, two systems" framework in Hong Kong and to "strongly and firmly oppose and contain Taiwan independence."
It remains unclear how long Xi plans to rule, but he is certainly aiming to "accomplish some achievements" on the Taiwan issue for his legacy, China expert Chao Chun-shan (趙春山) said on Saturday.
Xi considers Taiwan unification an integral part of his "Chinese dream" of "great rejuvenation of the Chinese nation," and he would seek a fourth term to give him more time to achieve that goal if necessary, said Chao, a professor emeritus at Tamkang University's Graduate Institute of China Studies.
Taiwan must prepare to resist coercion from China, as maintaining the "status quo," favored by most Taiwanese, is not one of Beijing's options, he said.
Additional reporting by Chung Li-hua and CNA
Comments will be moderated. Keep comments relevant to the article. Remarks containing abusive and obscene language, personal attacks of any kind or promotion will be removed and the user banned. Final decision will be at the discretion of the Taipei Times.