Taiwan urges China to strive for peace
'RENOUNCE CONFRONTATION': As China resolved to bolster its military, Taipei responded that it prefers peaceful dialogue and would protect Taiwanese resiliency
Taiwan's Mainland Affairs Council urged the new Chinese Communist Party (CCP) Central Committee to renounce confrontational attitudes toward Taiwan and instead look to peaceful methods of resolving differences across the Taiwan Strait.
The CCP's 20th National Congress, which concluded yesterday, included a clause saying that the CCP is "adamantly against Taiwan's independence and will do anything in its power to curb the pro-Taiwan independence movement," which the congress unanimously approved.
The congress officially added a CCP charter requirement for political loyalty in the military, and resolved that the state would create a robust and world-class military through reforms, modernization and fostering talent.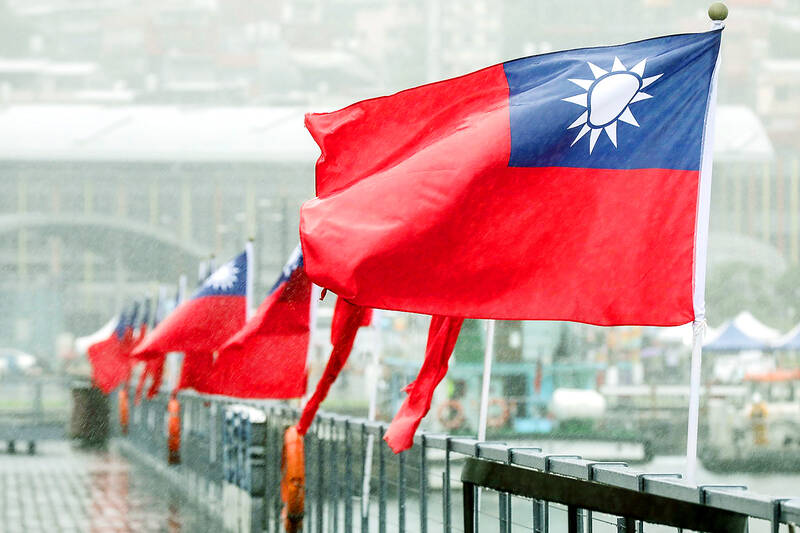 Republic of China flags fly during the National Day celebration in Taipei on Oct. 10.
Photo: Bloomberg
The congress also said it would encourage a "fighting spirit" in the military with "Chinese-style modernization."
The CCP also wrote into its charter that it would gradually achieve "common prosperity," developing a "broader, fuller and more robust people's democracy."
Yesterday's charter revisions incorporate priorities and policy directions that Chinese President Xi Jinping (習近平) had previously outlined, including the "Two Safeguards" — which assures Xi's central status within the party and the party's centralized authority over China — and the "Two Establishments," which confirm that "Xi Jinping thought" is the guiding principle of China's future development.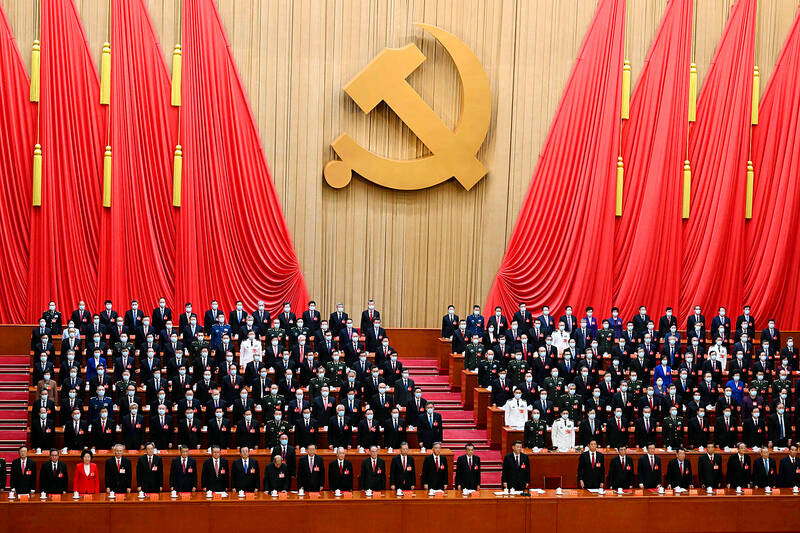 Delegates attend the closing ceremony of the 20th Chinese Communist Party`s Congress at the Great Hall of the People in Beijing yesterday.
Photo: AFP
The Mainland Affairs Council responded that the government's cross-strait policies would maintain the "four resolutions" and the "four resiliences," as outlined by President Tsai Ing-wen (蔡英文) during her Double Ten National Day address.
The "four resolutions" refer to supporting a free and democratic government; agreeing that Taiwan and the People's Republic of China do not belong to each other; defending Taiwan's sovereignty; and observing that the future of Taiwan must follow the will of its people.
The "four resiliences" refer to making Taiwan's financial, social security, democratic government and national defense industry resilient against unfavorable circumstances.
The Chinese Nationalist Party (KMT) told the Chinese-language China Times that the party would not support Taiwanese independence, nor would it support the "one country, two systems" concept.
The KMT said it stands with the majority opinion of Taiwanese and would uphold its three primary missions — to protect the Republic of China, to guard freedom and democracy, and to maintain regional peace across the Taiwan Strait and the region in general.
Additional reporting by Reuters
Comments will be moderated. Keep comments relevant to the article. Remarks containing abusive and obscene language, personal attacks of any kind or promotion will be removed and the user banned. Final decision will be at the discretion of the Taipei Times.