PRC forays to be deemed 'first strike'
UNILATERAL: China has upended the tacit agreement that the median line of the Taiwan Strait served as a border between the two sides, the defense minister said
Any Chinese incursion into Taiwan's airspace would be considered a "first strike," Minister of National Defense Chiu Kuo-cheng (邱國正) said yesterday.
Chiu made the remarks at a meeting of the legislature's Foreign Affairs and National Defense Committee in Taipei.
The Ministry of National Defense has been taking such incursions more seriously, following a spate of close flights by Chinese warplanes and drones, Chiu said.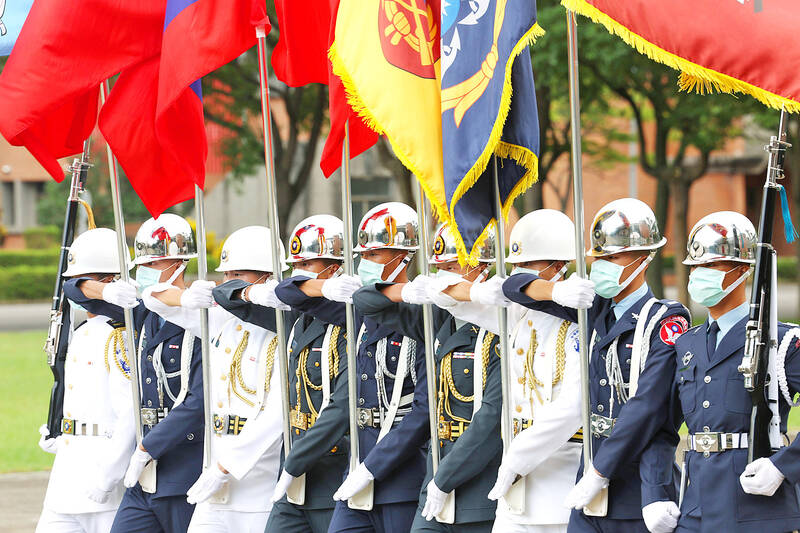 The color bearers of the Ministry of National Defense's Honor Guard rehearse for the Double Ten National Day parade at the Military Police Command Headquarters in Taipei yesterday.
Photo: CNA
Asked whether the "first strike" definition would extend to any kind of Chinese aircraft, he said "yes," without elaborating what the response would be.
"In the past, we said we will not be the first to strike, which meant we will not strike without them firing artillery shells or missiles, et cetera, first," Chiu said. "But now the definition has obviously changed, as China has been using new equipment such as drones. So we have adjusted and will view any crossing of aircraft or vessels as a first strike."
Beijing launched live-fire drills around Taiwan and fired ballistic missiles following a visit to Taipei by US House of Representatives Speaker Nancy Pelosi in August.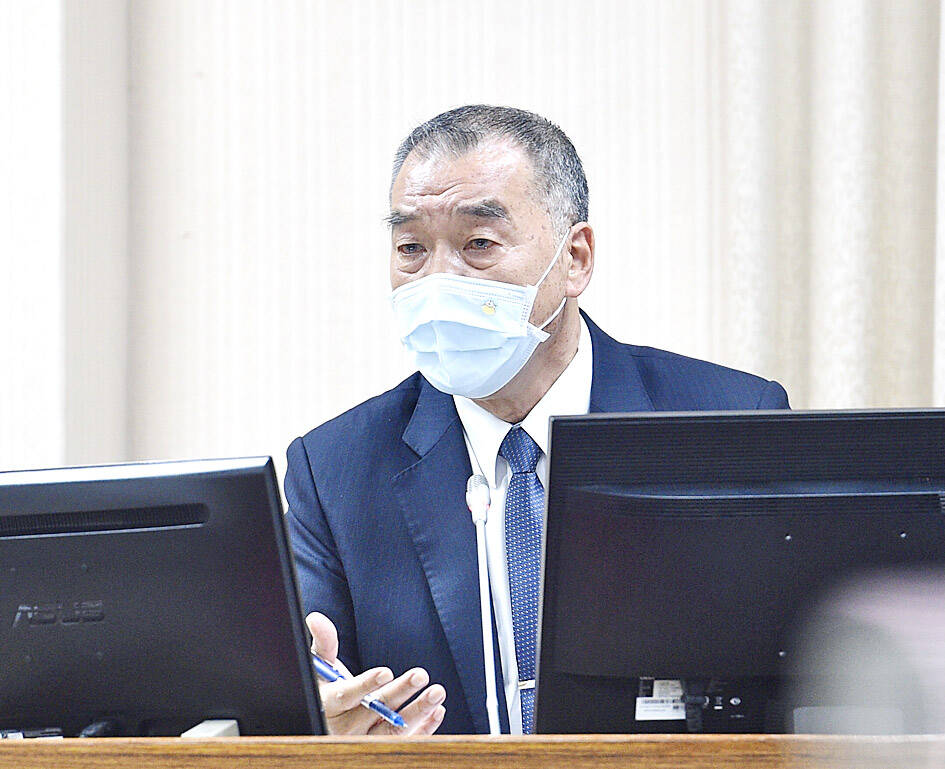 Minister of National Defense Chiu Kuo-cheng speaks at a meeting of the legislature's Foreign Affairs and National Defense Committee in Taipei yesterday.
Photo: Lo Pei-de, Taipei Times
The exercises show that Beijing seeks to unilaterally change the "status quo" across the Taiwan Strait, Chiu said, citing Chinese incursions beyond the median line of the Strait.
The tacit agreement between Taipei and Beijing regarding the median line has been undone forever, Chiu said.
The median line only existed because both sides tacitly agreed to its existence, but any such agreement has been unilaterally overturned by the Chinese Communist Party (CCP), Chiu said in response to Democratic Progressive Party Legislator Lo Chih-cheng's (羅致政) question whether the line still exists.
However, the Taiwanese military still patrols and trains only east of the line, he added.
"This principle has not changed; we have not backed down from maintaining the line," Chiu said, adding that the military would act if its "red lines" were crossed.
Asked whether Chiu agreed with the international media's portrayal of the Chinese exercises as a semi-blockade of Taiwan, Chiu said that the drills were preparations for war, while a blockade is simply a phase of a war.
If the CCP persists with similar actions, they could be considered a blockade, Chiu said.
Chinese Nationalist Party (KMT) Legislator Johnny Chiang (江啟臣) said that the military should consider sending nationwide alerts when China fires missiles over Taiwan, as happened during the exercises in August.
Chiang said that Japan on Tuesday issued alerts to residents of Hokkaido and Aomori prefectures, urging them to seek shelter after North Korea launched a ballistic missile that flew over Japan before falling into the Pacific Ocean.
Chiu said each nation has different ways of handling such incidents and that he would not comment on Japan's methods, adding that the ministry could consider issuing such alerts after conducting a poll on the issue.
Asked about CIA Director William Burns' comments during a CBS interview that Chinese President Xi Jinping (習近平) has ordered the Chinese People's Liberation Army to prepare to invade Taiwan by 2027, Chiu said Taiwan's military is training for combat "every day."
The military does not take into account whether a war could break out in this decade or specifically in 2027, he said.
Additional reporting by Bloomberg
Comments will be moderated. Keep comments relevant to the article. Remarks containing abusive and obscene language, personal attacks of any kind or promotion will be removed and the user banned. Final decision will be at the discretion of the Taipei Times.