Official calls for global efforts to contain China
DEFENSE BUILDUP: Taipei aims to bolster information sharing with allies, build up its war reserves and protect key infrastructure, a vice defense minister said
Deputy Minister of National Defense Wang Shin-lung (王信龍) on Monday called for global efforts to contain Chinese security threats, including through joint military exercises, a strategic communication platform and the sharing of drone signals.
In his keynote address at the US-Taiwan Defense Industry Conference, Wang, who is leading a delegation of defense officials to the annual event in Richmond, Virginia, said the Russian invasion of Ukraine would likely significantly decrease Moscow's security threat to the region.
However, China has continued its expansion and is bound to seriously affect regional and global security, Wang said.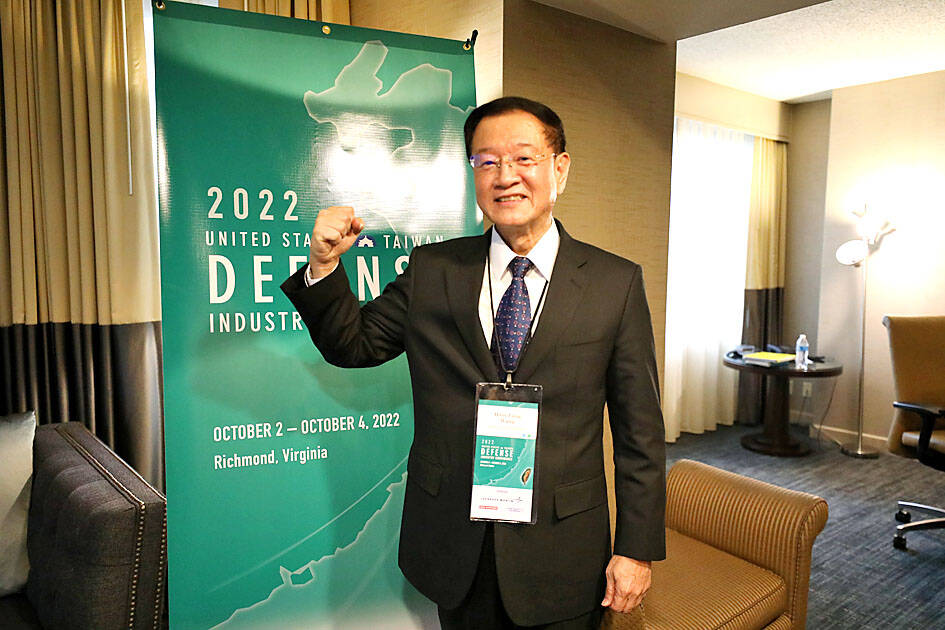 Deputy Minister of National Defense Wang Shin-lung attends the US-Taiwan Defense Industry Conference in Richmond, Virginia, on Monday.
Photo: CNA
He called on a global democratic alliance to remain on high alert to China's rise and cooperate in strategically containing the expansion of the Chinese Communist Party.
To beef up Taiwan's defenses, Wang proposed three major strategies: strengthening information sharing with allies, building up war reserves and better protecting key communications infrastructure.
In terms of military cooperation with the US, Wang said that Taipei hopes to establish an "intelligence, surveillance, reconnaissance" sharing mechanism with Washington and enhance routine high-level official dialogue.
Following his speech, Wang told Taiwanese reporters that his delegation had "productive" meetings with the US side during the conference held from Saturday to yesterday.
"In the closed-door meetings, we have had candid exchanges concerning the obstacles and possible risks we are facing in terms of US arms sales, while the US side pledged it would do its best in helping Taiwan to solve these problems," Wang said.
He also said Taipei and Washington have reached a consensus concerning the Taiwanese military's buildup of its asymmetric warfare capability.
The most important task at hand for Taiwan is to make the most of every dollar it spends on its defense needs, he said.
"How we make the best use of our limited defense budget in a timely fashion to boost Taiwan's defense capabilities in the coming years will be the most critical task we face," he said.
Aside from the official Taiwan delegation led by Wang, the Chinese Nationalist Party (KMT) also sent a delegation led by its head of international affairs, Alexander Huang (黃介正).
In his address on Monday, Huang said that KMT Chairman Eric Chu (朱立倫) has called for a "double-D strategy," which stands for "defense and dialogue," meaning Taiwan has to build up its defense capabilities while keeping a channel for dialogue open with China for threat reduction and crisis management.
To the KMT, Taiwan's defense priorities should include improving its asymmetric operation capabilities "by rebalancing military investments and acquiring defense systems that are necessary and available for near-term contingencies."
He also called on Taipei and Washington to conduct joint strategic assessments to increase their common interests and facilitate cooperation.
Meanwhile in Taipei, Minister of National Defense Chiu Kuo-cheng (邱國正) yesterday said that US funding for military support to Taiwan would be a great boon that would be invested appropriately, but it would not change the direction of Taiwan's preparations.
Chiu made the comments during a question-and-answer session at the legislature after being asked about the US' proposed "Taiwan policy act," which states that the US would provide US$6.5 billion in military aid to Taiwan.
KMT Legislator Lu Yu-ling (呂玉玲) also asked whether the military would discuss the possibility of purchasing a Constellation-class frigate from the US.
The multimission guided-missile frigate that the US Navy is developing might look good on paper, but the government needs to set clear guidelines on its purchases to ensure that they do live up to expectations and would not become a liability, Chiu said.
Chiu added that there are conditions for lend-lease initiatives, and it is meaningless to consider purchases without knowing what needs are being set.
Additional reporting by Chen Cheng-yu and Huang Ching-hsuan
Comments will be moderated. Keep comments relevant to the article. Remarks containing abusive and obscene language, personal attacks of any kind or promotion will be removed and the user banned. Final decision will be at the discretion of the Taipei Times.