US mulls arms delivery to Taiwan: MND report
Washington is evaluating a transfer of weapons systems requested by Taiwan, according to a copy of a report by the Ministry of National Defense (MND) that is to be submitted to lawmakers tomorrow.
Asked whether the AGM-158 Joint Air-to-Surface Standoff Missile would be among the weapons systems, the ministry refused to comment, but said that it would not rule out announcing the specifics later this year.
The ministry's domestically sourced high-priority military investments include submarines, next-generation light frigates, rescue ships, advanced trainer jets and infantry fighting vehicles, the report said.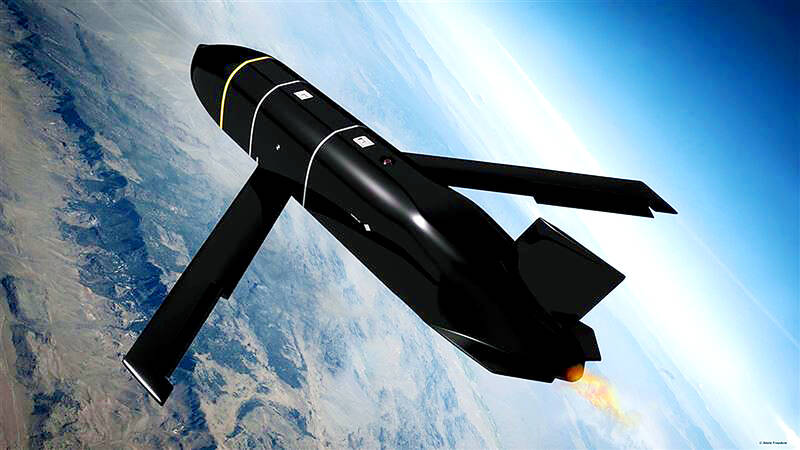 An AGM-158B JASSM Joint Air-to-Surface Standoff Missile is pictured in a mock-up image.
Photo: screen grab from the Web site of the US Air Force
Planned deals include F-16A and F-16B jet performance upgrades, navigation and targeting pods, precision-guided munitions, High Mobility Artillery Rocket Systems (known as HIMARS), Harpoon coastal defense missile systems and MQ-9B drones, it said.
Last year, the ministry told Chinese-language media that it expressed interest in US-made AGM-158 missiles, which can be launched from jets and have a range of 370km.
The US probably had concerns that the transfer of long-range weapons could provoke China, Su Tzu-yun (蘇紫雲), a research analyst at the Institute for National Defense and Security Research, told the Liberty Times (the Taipei Times' sister newspaper).
However, China's increasingly mature aircraft carriers and amphibious assault ships pose a growing security threat, helping Taipei make the case for obtaining the missiles, he said.
Aegis Combat System-equipped warships, precision-guided munitions and stealth technologies might become necessary for Taiwan's defense, and the ministry should consider requesting them, he said.
Meanwhile, the navy is on track to procure nine more Tuo Chiang-class corvettes, so that it would have 12 warships of that class by 2026, the report said.
The shipbuilding project is funded via the Sea and Air Combat Power Improvement Special Budget of NT$236.9 billion (US$7.46 billion), it said, adding that the remaining 10 ships on the order would cost more than NT$69.2 billion.
The class' lead ship, the ROCS Tuo Chiang, has been in service since 2014, while the second ship, the ROCS Fu Chiang, was christened on Sept. 21 following significant design changes that increased the class' tonnage and capabilities.
Tuo Chiang-class corvettes built after the improvements have a displacement of 685 tonnes, and can carry 16 Hai Chien II air defense missiles, eight Hisung Feng II and four Hsiung Feng III anti-ship missiles. Each corvette requires an estimated 17 months to build.
The contract to construct the ships was awarded to Lungteh Shipbuilding Co (龍德造船).
Comments will be moderated. Keep comments relevant to the article. Remarks containing abusive and obscene language, personal attacks of any kind or promotion will be removed and the user banned. Final decision will be at the discretion of the Taipei Times.