Truss condemns China's provocations over Taiwan
British Prime Minister Liz Truss on Tuesday condemned Chinese provocations over Taiwan in a meeting with Japanese Prime Minister Fumio Kishida at the UN General Assembly, Downing Street said in a statement.
"The prime minister condemned China's recent provocations over Taiwan, which threatened Japan's special economic zone," the statement said. "The leaders resolved to work together to tackle the strategic threat posed by China."
Truss and Kishida agreed on the importance of democracies working together, including through international institutions such as the G7, to constrain economic and security threats from "authoritarian regimes," it added.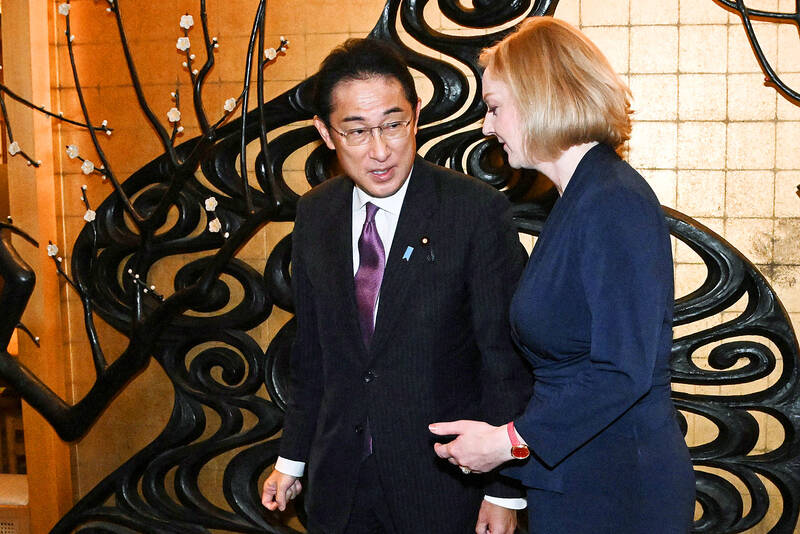 Japanese Prime Minister Fumio Kishida, left, speaks with British Prime Minister Liz Truss ahead of a meeting at a Japanese restaurant in New York on Tuesday.
Photo: Reuters
They also said they look forward to expanding UK-Japan relations through the Comprehensive and Progressive Agreement for Trans-Pacific Partnership (CPTPP), and through defense and security investments, such as Europe's Future Combat Air System program, it said.
Kishida welcomed the UK's commitment to Japan and the wider Indo-Pacific region, the statement added, citing the UK's dialogue partnership with ASEAN, membership in the AUKUS security alliance and its application to join the CPTPP filed in February last year.
World leaders for the first time in three years on Tuesday last week gathered in New York for the opening of the 77th UN General Assembly ahead of the high-level General Debate, which began on Tuesday.
Truss, who is on her first visit to the US since becoming prime minister on Sept. 6, was to address the assembly yesterday, when she was expected to urge cooperation among democracies to constrain authoritarianism.
She was also to argue that the free world "must prioritize economic growth and security — including ending dependency on authoritarians — to win the new era of strategic competition," Downing Street said in a separate statement.
She would also call on the G7 and like-minded nations to "act as an economic NATO, collectively defending our prosperity and coming to the aid of any partner targeted by an aggressive regime," it added.
While in New York, Truss plans to pledge billions of pounds of further support for Ukraine, and was to meet with US President Joe Biden yesterday.
Comments will be moderated. Keep comments relevant to the article. Remarks containing abusive and obscene language, personal attacks of any kind or promotion will be removed and the user banned. Final decision will be at the discretion of the Taipei Times.