Putin mobilizes more troops for war in Ukraine
Russian President Vladimir Putin yesterday called up 300,000 reservists to fight in Ukraine and backed a plan to annex parts of the country, hinting to the West he was prepared to use nuclear weapons to defend Russia.
It was Russia's first such mobilization since World War II and signified the biggest escalation of the Ukraine war since Moscow's Feb. 24 invasion.
It followed mounting casualties and battlefield setbacks for Russian forces, who have been driven from areas they had captured in northeast Ukraine in a Ukrainian counteroffensive this month and are bogged down in the south.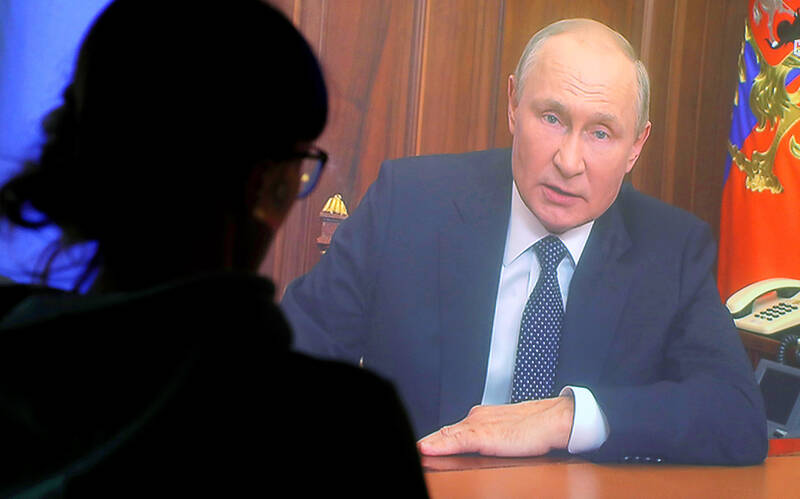 A woman stands in front of TV screen displaying Russian President Vladimir Putin during a televised address to the nation in Moscow yesterday.
Photo: EPA-EFE
"If the territorial integrity of our country is threatened, we will use all available means to protect our people — this is not a bluff," Putin said in an address to the nation.
Russia has "lots of weapons to reply," he added.
Ukraine and its Western allies responded by saying the move showed Russia's campaign in Ukraine was failing. The allies pledged further support for Ukrainian President Volodymyr Zelenskiy's government.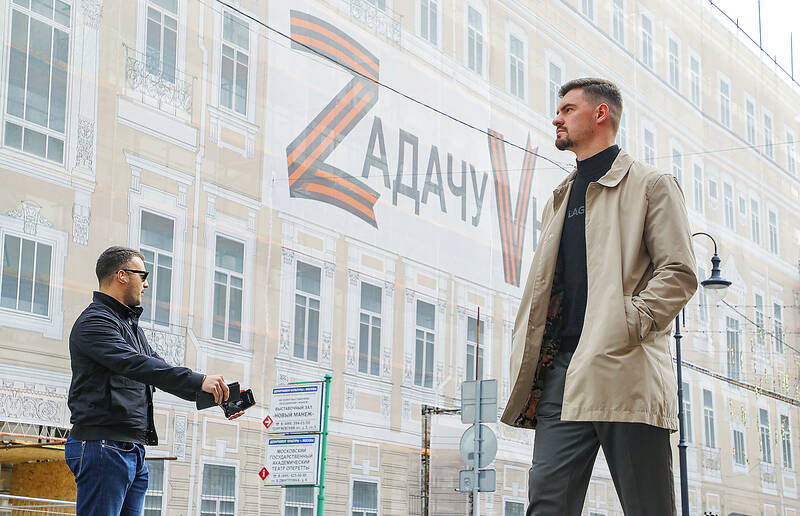 Two men walk near a large banner reading: "The task will be executed" on the facade of a building in downtown Moscow yesterday.
Photo: EPA-EFE
Russian Minister of Defense Sergei Shoigu said the partial mobilization would see 300,000 reservists with military experience called up.
Ukrainian presidential adviser Mykhailo Podolyak said it was a predictable step that would prove extremely unpopular.
"Absolutely predictable appeal, which looks more like an attempt to justify their own failure," Podolyak said. "The war is clearly not going according to Russia's scenario."
Flights out of Russia were nearly fully booked this week, airline and travel agent data showed, while Google data showed that searches in Russia for "tickets" and "plane" more than doubled after the start of Putin's recorded address.
The request "to leave Russia" was carried out 100 times more in the morning than in normal times, Google Trends data showed.
Before Putin's address, world leaders meeting at the UN in New York denounced the invasion of Ukraine and plans for four occupied regions to hold referendums on joining Russia.
Putin said the partial mobilization of its 2 million-strong military reservists was to defend Russia and its territories, adding that the West did not want peace in Ukraine.
He said that Washington, London and Brussels were pushing Kyiv to "transfer military operations to our territory."
"Nuclear blackmail has also been used," Putin said, citing Ukraine's Zaporozhzhia nuclear power plant, which both countries have accused each other of endangering in the fighting.
He also said that officials of NATO countries had made statements about "the possibility and admissibility of using weapons of mass destruction against Russia — nuclear weapons."
"I want to remind you that our country also has various means of destruction, and in some components more modern than those of the NATO countries," he said.
In an apparently coordinated move, pro-Russian regional leaders on Tuesday announced referendums to be held from Friday to Tuesday next week in the Luhansk, Donetsk, Kherson and Zaporizhzhia regions, representing about 15 percent of Ukrainian territory.
Russia already considers Luhansk and Donetsk, which together make up the Donbas region that Moscow partially occupied in 2014, to be independent states. Ukraine and the West consider all parts of Ukraine held by Russian forces to be illegally occupied.
Additional reporting by AFP
Comments will be moderated. Keep comments relevant to the article. Remarks containing abusive and obscene language, personal attacks of any kind or promotion will be removed and the user banned. Final decision will be at the discretion of the Taipei Times.