UK-US free-trade deal not priority: British PM Truss
British Prime Minister Liz Truss yesterday said that a UK-US free-trade deal would not happen for years.
Truss said a trans-Atlantic deal is not one of her priorities — a sharp contrast with the stance of her immediate predecessors as Conservative prime minister, Boris Johnson and Theresa May. Both dangled the promise of a deal with the world's biggest economy as one of the main prizes of Britain's exit from the EU.
"There [are not] currently any negotiations taking place with the US, and I don't have an expectation that those are going to start in the short to medium term," Truss told reporters aboard her plane to New York, where she landed yesterday to attend the UN General Assembly.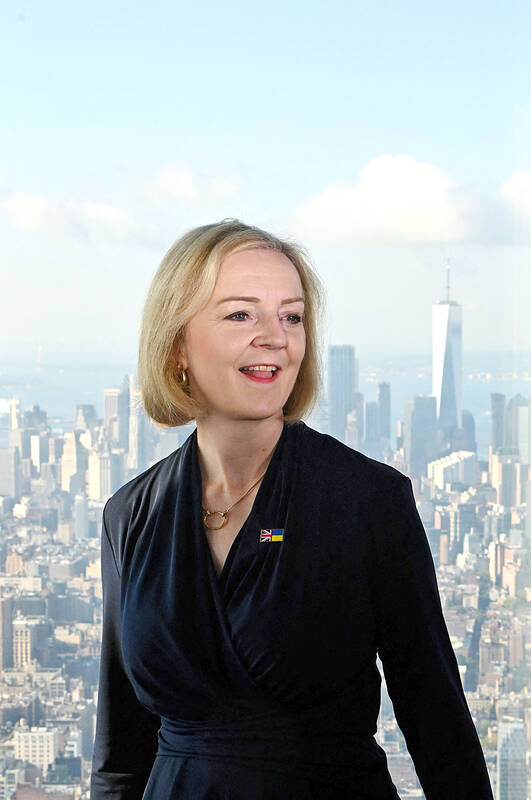 British Prime Minister Liz Truss looks on as she speaks to the media at the Empire State building in New York yesterday.
Photo: Reuters
Truss said she was more focused on obtaining accession to the Trans-Pacific trade partnership and striking trade deals with India and the Gulf Cooperation Council of states, including Saudi Arabia and Qatar.
"Those are our trade priorities," she said.
Truss's downbeat assessment about trans-Atlantic trade came ahead of her first one-on-one meeting with US President Joe Biden since she took office two weeks ago. The two leaders are due to meet today on the sidelines of the UN gathering in New York.
Truss said her priorities for the meeting with Biden were "making sure that we are able to collectively deal [with] Russian aggression," and ensuring "we are not strategically dependent on authoritarian regimes."
"I want to work with our allies like the United States, like France, the EU, the Baltic states, Poland to take on the challenge we face from Russian aggression," she said. "That should be our priority."
That puts the UK broadly in line with Biden's tough stance toward Russia and China, but the trade impasse leaves the often-touted "special relationship" between Britain and the US on the back burner.
Supporters of Brexit say one of the chief benefits of leaving the bloc, and its vast free market of almost half a billion people, is the chance for the UK to make new trade deals around the world.
UK-US trade talks were launched with fanfare soon after Britain left the EU in 2020, but negotiations faltered amid rising concern in the US administration about the impact of Brexit, especially on Northern Ireland.
Northern Ireland is the only part of the UK that shares a border with an EU member, and Brexit has brought new customs checks and paperwork for Northern Ireland trade, an issue that has spiraled into a political crisis for the power-sharing government in Belfast.
Truss would also pledge at the UN summit that next year, the UK would meet or exceed the £2.3 billion (US$2.6 billion) of military aid spent on Ukraine this year, doubling down on her support for Kyiv after Russia's invasion.
Truss would call on other leaders at the UN General Assembly in New York to help end Russia's energy stranglehold on Europe, saying it has allowed too many lives to be "manipulated."
"My message to the people of Ukraine is this: The UK will continue to be right behind you every step of the way. Your security is our security," she said in a statement before her speech to the summit.
"Too many lives — in Ukraine, in Europe and around the world — are being manipulated by a dependence on Russian energy," she added. "We need to work together to end this once and for all."
Comments will be moderated. Keep comments relevant to the article. Remarks containing abusive and obscene language, personal attacks of any kind or promotion will be removed and the user banned. Final decision will be at the discretion of the Taipei Times.