Taiwan portfolio change in US prompts concern
WRONG MESSAGE? A regulatory change putting Washington's Taiwan oversight into its 'China' office waters down focus on Taipei and is inappropriate, critics said
The Pentagon moving its Taiwan portfolio to the office of US Deputy Assistant Secretary of Defense for China Michael Chase from its East Asia office has prompted concern among some lawmakers in Taiwan, as Washington insiders have said the shift sends Beijing the wrong message.
The Politico news organization on Friday reported the administrative change, saying in a headline that the Pentagon was "watering down" its focus on Taiwan.
The change is "a shift that lawmakers and former officials say sends the wrong signal to Beijing as the Chinese military steps up drills around [Taiwan]," the Politico report said.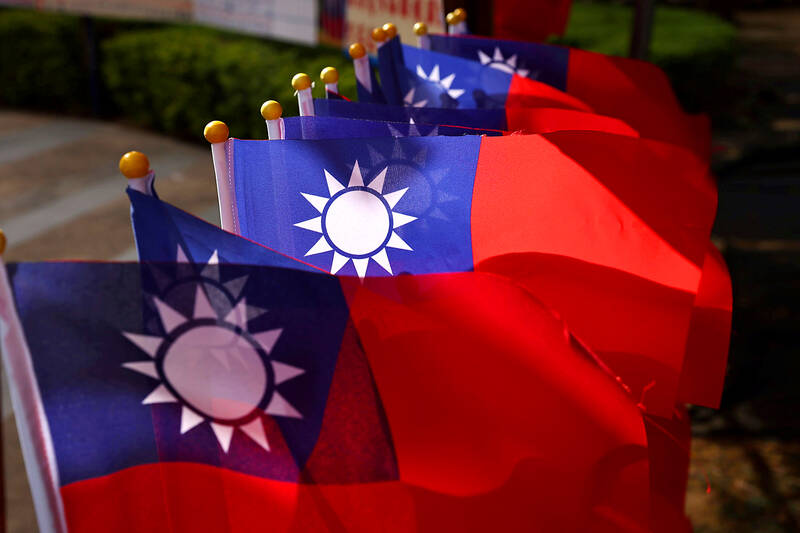 Taiwan flags can be seen at a square ahead of the national day celebration in Taoyuan on October 8, 2021.
Photo: Reuters
US Department of Defense spokesman John Supple on Friday said that the move aligns staff and leadership with the appropriate bureaucratic structures at other agencies, including the US Department of State.
"In no way does this shift reflect a change in our one China policy, our commitment to allies and partners, or focus on preserving a free and open Indo-Pacific," Supple said.
However, Heino Klinck, former deputy assistant secretary of defense for East Asia in the administration of former US president Donald Trump, said that "the Chinese will not interpret this as a coincidence."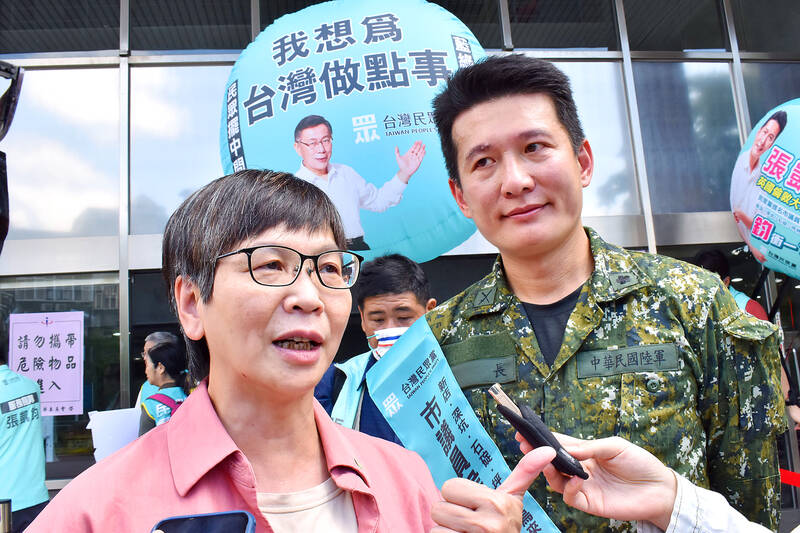 Taiwan People's Party Legislator Tsai Pi-ru, left, speaks to reporters outside the New Taipei City Election Commission building on Aug. 30.
Photo: CNA
"My concern is that again we are unintentionally messaging both mainland Taiwan and the region writ large and globally that in the wake of Speaker [Nancy] Pelosi's visit and in the wake of what many are referring to as the fourth Taiwan Strait crisis, we are making policy adjustments, policy changes that favor Chinese positions," Klinck said, referring to the US House of Representatives speaker.
Pelosi visited Taiwan last month, following which China launched military exercises around the nation lasting several days.
In Taipei, the Ministry of Foreign Affairs yesterday said that it believes the move does not indicate a change in US emphasis on Taiwan's security, adding that it does not comment on the affairs of the US government.
Democratic Progressive Party (DPP) Legislator Chao Tien-lin (趙天麟) said that the US defense department's move at this juncture was "unexpected," but he urged pundits not to rush to conclusions.
DPP Legislator Hsu Chih-chieh (許智傑) said that placing Taiwan under the office responsible for China policy "is inappropriate," as it should focus on handling matters regarding Beijing only.
The Pentagon should transfer Taiwan affairs back to the East Asia office to maintain Taiwan's place on the international stage, Hsu said.
Taiwan People's Party Legislator Tsai Pi-ru (蔡壁如) said that Taiwan has yet to benefit from the Taiwan policy act — approved by a US Senate committee on Wednesday — but the country is suffering for it.
Tsai said she would urge President Tsai Ing-wen (蔡英文) to protest the move, as it places Taiwan under China.
Separately, Taiwan Society chairman Lee Chuan-hsin (李川信) said on Friday that the Taiwan policy act is the most significant US legislation in support of Taiwan since the Taiwan Relations Act of 1979, and urged overseas Taiwanese to step up lobbying efforts for the bill's passage.
Lee also urged Japan and other Asia-Pacific nations to voice support for the new act.
Taiwan Association of University Professors secretary-general Hsu Wen-tang (許文堂) said that most experts believe that the Taiwan Strait situation would put Taiwan in danger by 2027.
Taiwan must be armed and prepared for war, Hsu said, urging the Tsai administration to lobby the US for increased weapons sales, and urge more support from Republicans and Democrats in Washington, Hsu said.
Comments will be moderated. Keep comments relevant to the article. Remarks containing abusive and obscene language, personal attacks of any kind or promotion will be removed and the user banned. Final decision will be at the discretion of the Taipei Times.