Washington IPAC meeting supports 'status quo'
DEFENDING STABILITY: If Beijing is successful in subjecting Taiwanese to living under tyranny, it would change global history for generations, US Senator Marco Rubio said
The "status quo" across the Taiwan Strait must not be changed unilaterally, the Inter-Parliamentary Alliance on China (IPAC) said on Wednesday at the conclusion of its annual meeting in Washington, expressing support for Taiwan.
The communique declared that IPAC would continue to jointly defend peace and stability in the Taiwan Strait, as well as Taiwan's economic and trade security, through the legislative bodies of its member countries.
More than 60 parliamentarians from different countries attended this year's meeting and passed the communique without objection at its conclusion.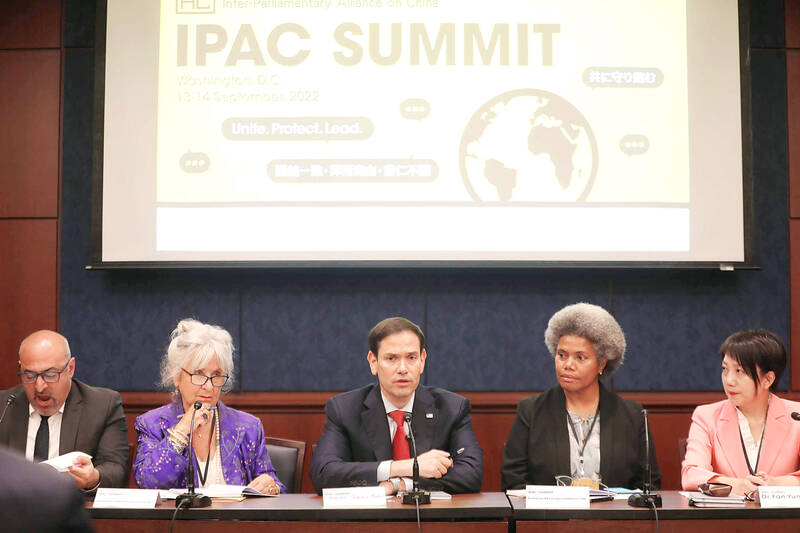 US Senator Marco Rubio, center, speaks at the Inter-Parliamentary Alliance on China annual meeting on Wednesday in Washington.
Photo: CNA
The meeting also included a session on strengthening democratic support for Taiwan, which was attended by Democratic Progressive Party Legislator Fan Yun (范雲), New Power Party Legislator Claire Wang (王婉諭) and independent Legislator Freddy Lim (林昶佐).
"If, in fact, the Chinese Communist Party is successful in subjecting the people of Taiwan to living under tyranny, it will be a moment that will steer the course of human events for generations," US Senator Marco Rubio, an IPAC cochair, said during the meeting.
The communique also discussed human rights, defense of the rules-based global order, the political situation in Hong Kong, the strengthening of democracy worldwide and support for Ukraine.
The communique condemned China's military exercises near Taiwan and its coercive military threats. It called on countries worldwide to oppose China's tactics in the Strait, to promote state visits to Taiwan and upgrade the status of the country's missions abroad.
It also called for Taiwan's meaningful participation in the WHO, the International Civil Aviation Organization, Interpol, the UN Framework Convention on Climate Change, and other international covenants and organizations.
The communique also called on governments of all countries to convey to China that military aggression against Taiwan would come at a heavy price, and to consider substantive sanctions in response to military escalation by China.
Countries should make good use of intergovernmental mechanisms to curb economic coercion by China, and to ensure continued relations with Taiwan, it said.
The Ministry of Foreign Affairs yesterday in a statement said that Taiwan would continue to work with IPAC and other like-minded international partners to jointly maintain peace and stability in the Indo-Pacific region, and to defend the core values shared by global democracies.
IPAC is an international cross-party group of legislators working to develop policies that democratic countries can follow in their approach to China, according to the alliance's Web site.
Its current members include cross-party legislators from the European Parliament, the US, the UK, France, Germany, the Czech Republic, Italy, Australia, Belgium, Canada, India, Italy, Japan, Lithuania and Ukraine, among others.
Comments will be moderated. Keep comments relevant to the article. Remarks containing abusive and obscene language, personal attacks of any kind or promotion will be removed and the user banned. Final decision will be at the discretion of the Taipei Times.