Belize voices solidarity with Taiwan
'DICTATORIAL AGGRESSION': The Central American nation stands with Taiwan and Ukraine, because it believes in the right to self-determination, its prime minister said
Belize stands in solidarity with Ukraine and Taiwan, as both nations have encountered "aggression" from their neighbors, Belizean Prime Minister John Briceno said in a pre-recorded video yesterday.
"We stand in solidarity with Ukraine, as we do with Taiwan, which itself faces increased aggression from China," Briceno said in the video, which was played at a ceremony in Taipei to mark the 41st anniversary of Belize's independence.
The Central American nation achieved independence from the UK on Sept. 21, 1981.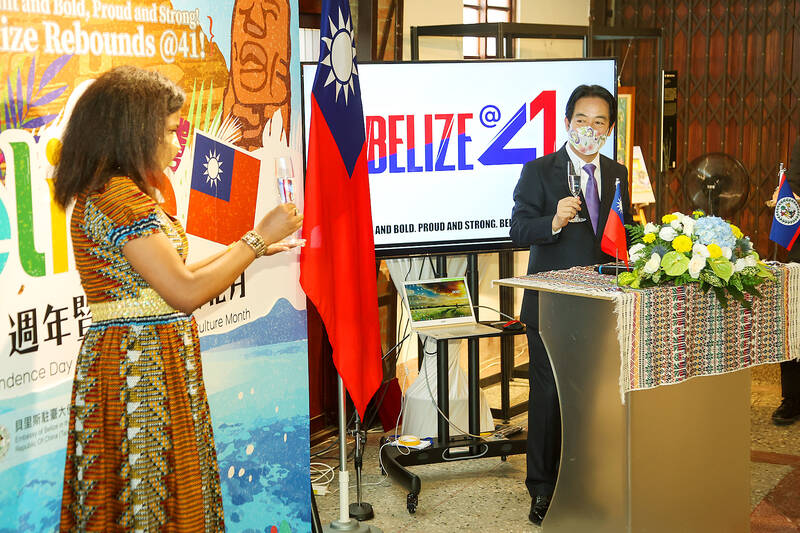 Vice President William Lai, right, and Belizean Ambassador to Taiwan Candice Pitts toast attendees yesterday at an event in Taipei marking Belize Independence Day.
Photo: CNA
"Dictatorial aggression" against Ukraine has not only resulted in the deaths of tens of thousands, but has also affected countries around the world, including Belize, Briceno said.
The Central American country supports Taiwan and Ukraine, because "we truly believe in the right to self-determination," he added.
Belizean Ambassador to Taiwan Candice Augusta Pitts echoed the prime minister's view, reaffirming at the event Belize's "championing of Taiwan's right to nationhood and self-determination."
"Belize continues to advocate for Taiwan's meaningful participation in the United Nations system," the ambassador said while underlining the friendship and mutual support between the two nations in their 33 years of formal diplomatic relations.
Vice President William Lai (賴清德) thanked the Belizean government for its support for Taiwan when Taipei faces "growing threats" from Beijing, alluding to the increased military and economic pressure by China since a visit by US House of Representatives Speaker Nancy Pelosi early last month.
Despite facing these threats, the government would remain calm and rational, Lai said at the event, adding that it would never compromise the nation's national sovereignty or democratic system.
Taiwan and Belize have enjoyed cordial relations over the past three decades through collaborations in such areas as public health, agriculture, education, information technology and environmental protection, Lai said.
In recent years, bilateral ties have further deepened, as Belize continues to support Taiwan's inclusion in the World Health Assembly and other UN agencies, and Taiwan rolled out training programs for Belizean women, youth and small business owners, he said.
At the same time, trade and cultural exchanges have also expanded, Lai said, adding that bilateral trade saw a significant increase last year compared with 2020.
According to Customs Administration data, bilateral trade last year reached US$11.9 million, representing a year-on-year increase of 76 percent.
As part of the celebrations of Belize's independence day, the Belizean embassy in Taiwan and the Central America Trade Office (CATO) on Tuesday last week launched Belize Culture Month at Bopiliao Historic Block in Taipei, featuring paintings, photographs and handicrafts created by Belizean artists, CATO said.
The event, which is to run until Sept. 25, also includes talks over the weekend, when experts will be invited to discuss Belize's history, culture and cuisine, allowing local visitors to get a better understanding of Taiwan's Central American ally, CATO said.
Comments will be moderated. Keep comments relevant to the article. Remarks containing abusive and obscene language, personal attacks of any kind or promotion will be removed and the user banned. Final decision will be at the discretion of the Taipei Times.