US delegation visits in show of support
SHOW OF SUPPORT: The US-Taiwan relationship still grows more than 40 years after the US' Taiwan Relations Act took effect, US Representative Stephanie Murphy said
A US congressional delegation led by US Representative Stephanie Murphy yesterday met with President Tsai Ing-wen (蔡英文) to express support for Taiwan amid escalating threats from China.
Murphy, who is the vice chair of the US House of Representatives Subcommittee on Intelligence and Special Operations, arrived in Taiwan on Wednesday night, along with seven other US representatives.
It is the second congressional delegation visiting the nation since a visit by US House Speaker Nancy Pelosi early last month.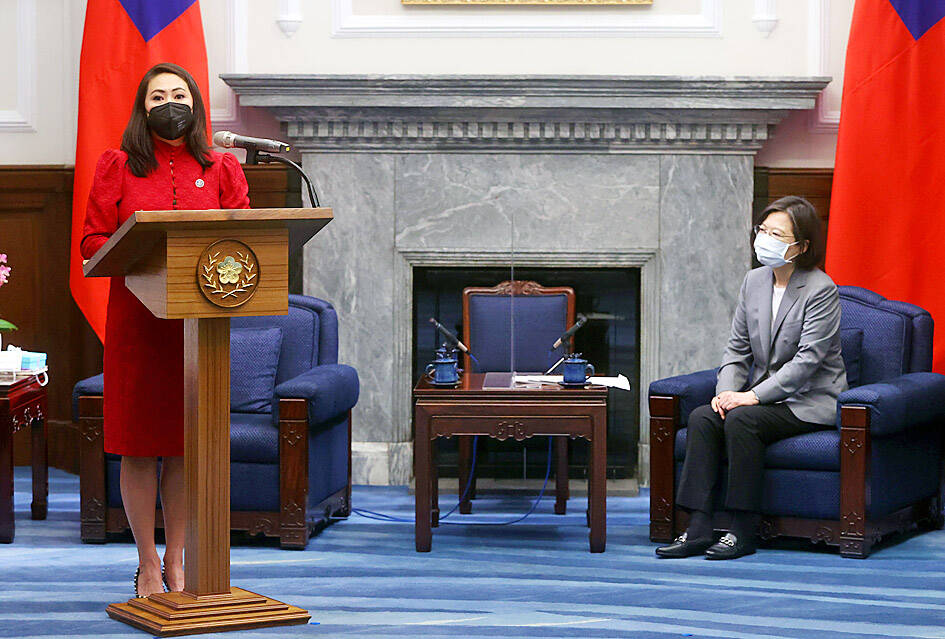 US Representative Stephanie Murphy, left, speaks as President Tsai Ing-wen looks on at the Presidential Office in Taipei yesterday.
Photo: CNA
Following China's extensive military drills in the region over the past few weeks, the visit conveys the US Congress' "rock solid" support for Taiwan, Tsai told the US delegation.
Tsai expressed hope that Taiwan and the US would sign a "high-standard economic trade agreement" through the US-Taiwan Initiative on 21st-Century Trade, as well as an agreement to avoid double taxation.
Murphy told Tsai that the US-Taiwan relationship still grows and flourishes more than 40 years after the US' Taiwan Relations Act took effect in 1979, adding that opportunities for closer cooperation and coordination across trade, security and cultural exchanges have also grown.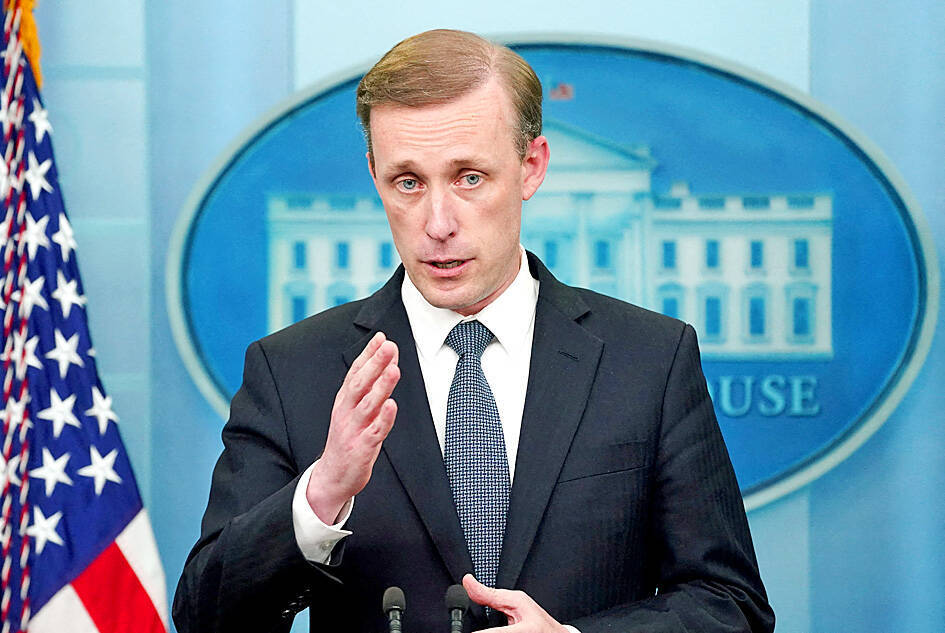 US National Security Adviser Jake Sullivan speaks to reporters at the White House in Washington on July 11.
Photo: REUTERS
The US Congress should advocate for greater Taiwanese participation in international organizations, Murphy said.
"Taiwan has shown itself to be a responsible member of the international community, especially in public health issues, and it deserves to participate in international fora when appropriate," she said.
"One of the most important things that the US Congress can do right now is to deepen economic relationships with Taiwan by pushing for a high-quality free-trade agreement between the US and Taiwan," she added.
Separately, US National Security Adviser Jake Sullivan said a Chinese invasion of Taiwan remains a "distinct threat," while insisting that the administration of US President Joe Biden has not changed its position over the nation's status, despite Chinese claims to the contrary.
"I think it remains a distinct threat that there could be a military contingency around Taiwan," Sullivan said in an interview for The David Rubenstein Show: Peer-to-Peer Conversations on Bloomberg Television.
Although Sullivan offered no prediction of when such an attack might occur, he said: "The People's Republic of China has actually stated as official policy that it is not taking the invasion of Taiwan off the table."
As the Biden administration grapples with increased tension over Taiwan, Sullivan said he planned to meet congressional leaders later on Wednesday to discuss a bill that would alter US policy toward Taiwan, including designating it a major non-NATO ally.
The bill, sponsored by Democrats, has wide bipartisan support.
The legislation would also provide Taiwan with US$4.5 billion in security aid and support its participation in international organizations.
"There are elements of that legislation with respect to how we can strengthen our security assistance for Taiwan that are quite effective and robust that will improve Taiwan security," Sullivan told Rubenstein. "There are other elements that give us some concern."
"The American position has remained steadfast and consistent," Sullivan said. "We continue to believe that and we will continue to push back against any effort to change the status quo by force."
The Chinese embassy in Washington did not immediately respond to a request for comment about Sullivan's remarks.
However, in a meeting with reporters last month, Chinese Ambassador to the US Qin Gang (秦剛) said the US has "done too much" and is going "too far" in the region.
He called on the US to avoid escalating the situation and said China would be forced to respond if it does.
Qin also downplayed the threat of an imminent Chinese attack on Taiwan, saying he was not aware of a specific timeline.
"People are over-nervous about it," he said, adding that speculation that China had moved up the timeline for an invasion was "baseless."
Additional reporting by Bloomberg
Comments will be moderated. Keep comments relevant to the article. Remarks containing abusive and obscene language, personal attacks of any kind or promotion will be removed and the user banned. Final decision will be at the discretion of the Taipei Times.