Manila may allow US to use its bases, report says
'TAIWAN CONFLICT': While urging the US and China to reduce tensions, Manila would allow access to its bases if it is vital to its own security, an envoy said
The Philippines would let the US use its military bases in the event of a conflict in the Taiwan Strait, as long as it is "important" to the nation's "own security," Nikkei Asia reported yesterday.
In a recent interview with the Japanese news magazine, Philippine Ambassador to the US Jose Manuel Romualdez also urged restraint, saying that "nobody wants to have any kind of war or confrontation."
"We want to ask both countries to lessen the tension by having more dialogue and then trying to resolve all of these issues, because it's in our part of the world," said Romualdez, a relative of Philippine President Ferdinand Marcos Jr.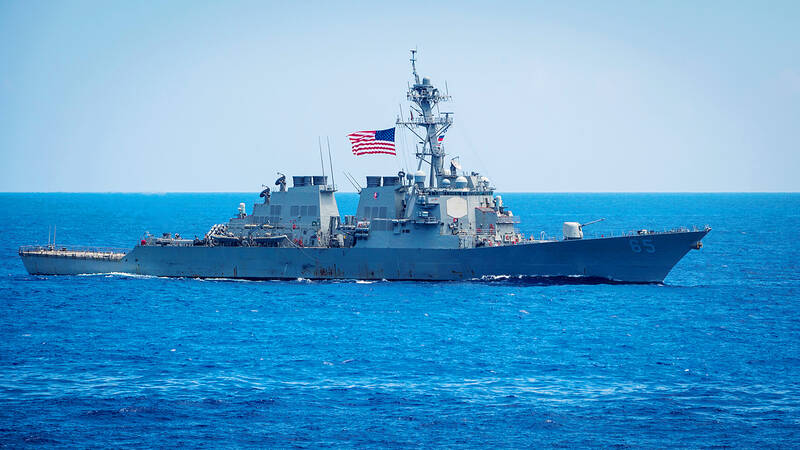 The Arleigh Burke-class guided-missile destroyer USS Benfold sails in formation during exercise Malabar 2018 in the Philippine Sea on June 15, 2018.
Photo: Reuters / US Navy
Former Philippine president Rodrigo Duterte had floated the idea of letting the US use his nation as a staging ground during a Taiwan conflict, but there has been little sign of formal talks on the issue, Romualdez told Nikkei.
Manila and Washington are also in talks to increase the number of bases US forces can use, he added.
Under the 2014 Enhanced Defense Cooperation Agreement (EDCA) between the two nations, the US can maintain a rotating military presence at five Philippine bases.
"Our military and the military of the United States are all looking into what are the possible areas," Romualdez said, adding that it might include a naval base.
A Pentagon spokesperson told the magazine that the two sides "hold regular discussions on deepening our enduring security alliance."
"Looking ahead, we seek to enhance the posture of our alliance to address new and emerging challenges," the spokesperson said. "We intend to continue to implement infrastructure projects at current EDCA locations and explore additional sites for further development."
When China staged military drills around Taiwan following US House of Representatives Speaker Nancy Pelosi's visit on Aug. 2 and 3, one of the zones it used extended into the Philippines' exclusive economic zone, according to the US think tank Center for Strategic and International Studies.
Comments will be moderated. Keep comments relevant to the article. Remarks containing abusive and obscene language, personal attacks of any kind or promotion will be removed and the user banned. Final decision will be at the discretion of the Taipei Times.