Chinese 'new normal' would be unacceptable: US
'DESTABILIZING BEHAVIOR': White House personnel said Washington would not accept Chinese action to alter the situation and would continue Taiwan Strait transits
The US would not accept Chinese maneuvers that attempt to establish a "new normal" across the Taiwan Strait, a White House official said on Monday about recent Chinese drone incursions on Taiwan's outlying islands.
China has been trying to turn up the heat on Taiwan after US House of Representatives Speaker Nancy Pelosi visited Taipei early this month, US National Security Council spokesman John Kirby said.
He was answering a question during a conference call about how the US might react to a recent spate of drones from China that have been spotted over Taiwan's outlying islands.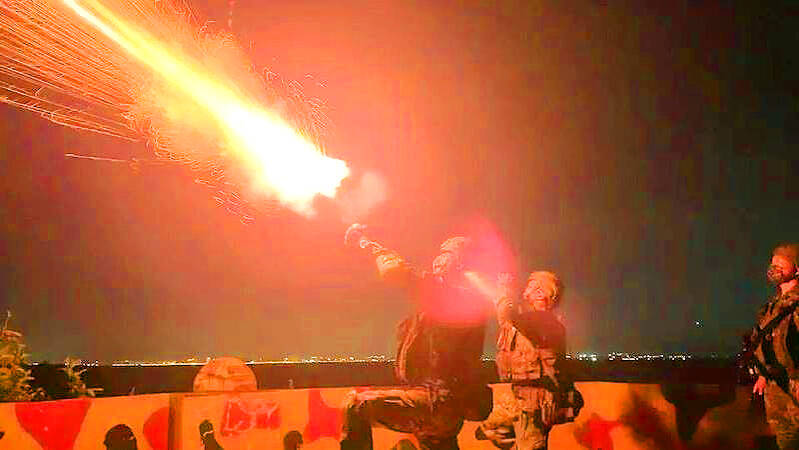 Kinmen Defense Command soldiers fire a warning flare to drive away Chinese craft in an undated photograph.
Photo courtesy of the Kinmen Defense Command
If it is true, it would appear to be in keeping with the Chinese People's Liberation Army's efforts — including Chinese warplanes flying over the median line of the Taiwan Strait — to establish a "new normal" regarding its activity in the Strait, Kirby said.
"We are simply not going to accept whatever new normal the Chinese want to put in place," he said.
The Ministry of National Defense has called the repeated Chinese drone incursions near small islets in Kinmen County examples of China's "cognitive warfare" campaign against Taiwan.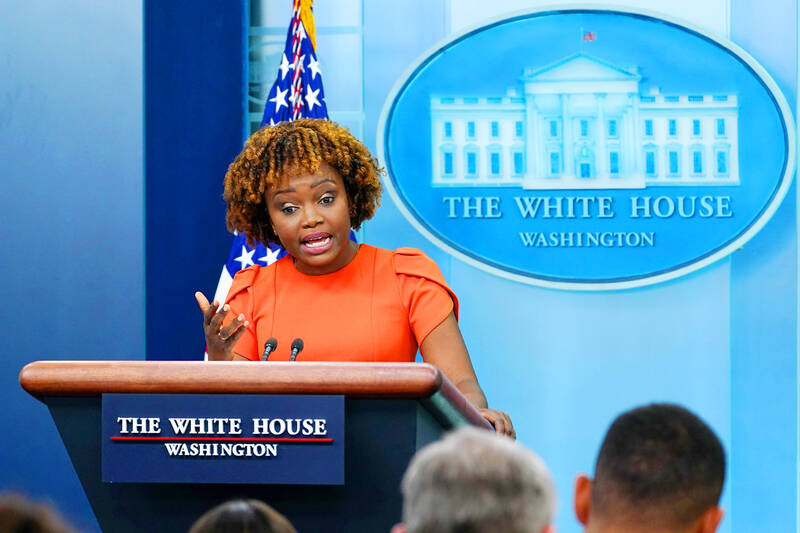 White House press secretary Karine Jean-Pierre speaks during the daily briefing at the White House in Washington on Monday.
Photo: AP
Premier Su Tseng-chang (蘇貞昌) yesterday said that the Cabinet would fully support the ministry's need to deal with the threat, a likely reference to its proposal to install a new anti-drone system by next year in Kinmen and Lienchiang counties.
Separately, White House press secretary Karine Jean-Pierre on Monday said that the US would continue to conduct standard air and maritime transits where international law allows in the Taiwan Strait to show its commitment to freedom of navigation and to protect the region.
"You will see in the coming days and weeks and months that our presence, posture and exercises account for China's provocative and destabilizing behavior, with a view toward guiding the situation in the western Pacific toward greater stability," Jean-Pierre told a news conference.
Two US Navy warships transited the Taiwan Strait on Sunday, the first such passage since China launched days of military drills around Taiwan after Pelosi's visit.
A statement released by the 7th Fleet of the US Pacific Command said that the two ships were Ticonderoga-class guided-missile cruisers the USS Antietam (CG-54) and the USS Chancellorsville (CG-62).
Separately on Monday, Taiwan's army released a four-step standard response to incursions by Chinese drones.
In a news release, the Kinmen Defense Command said that soldiers posted on Shi Islet (獅嶼) detected an uncrewed aerial vehicle flying at an altitude of 30m in a restricted area about 200m from the outpost at 4:08pm on Monday.
Based on standard response procedures for such incursions, soldiers fired warning flares before the drone flew away, heading to Xiamen in China about 5km away at 4:09pm, it said.
The command also made public for the first time what it described as its four-step response procedure for drone encounters, consisting of "firing warning flares, reporting the incursion, expelling the drone and ultimately shooting it down."
It was not immediately clear if the response was drawn up recently or had been in place before the recent uptick in drone incursions.
However, it was the first time that the army divulged its response measures on a step-by-step basis, perhaps due to criticism of its lack of a serious response to more frequent drone incursions.
The ministry said it has been refraining from more aggressive countermeasures such as shooting drones down to avoid further escalating cross-strait tensions.
Comments will be moderated. Keep comments relevant to the article. Remarks containing abusive and obscene language, personal attacks of any kind or promotion will be removed and the user banned. Final decision will be at the discretion of the Taipei Times.