KMT group might meet with Chinese officials: source
A delegation to China led by Chinese Nationalist Party (KMT) Vice Chairman Andrew Hsia (夏立言) sparked controversy over the weekend amid speculation that they might meet with top Chinese officials today.
It is rumored that the delegation has a "hidden itinerary," which includes meeting Taiwan Affairs Office Minister Liu Jieyi (劉結一) and Association for Relations Across the Taiwan Straits Chairman Zhang Zhijun (張志軍).
The KMT has said that the group would not meet with top Chinese officials or discuss political issues during the visit.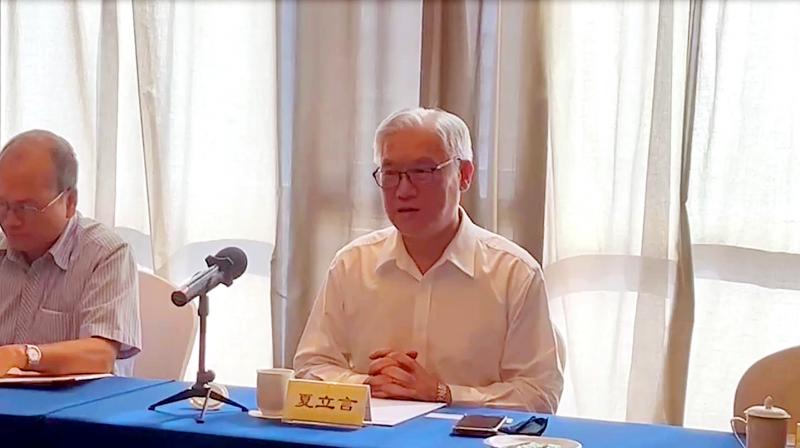 Chinese Nationalist Party (KMT) Vice Chairman Andrew Hsia, right, meets with Taiwanese businesspeople based in China in Xiamen yesterday.
Photo provided by the KMT
KMT Chairman Eric Chu (朱立倫) yesterday said that the goal of the visit is to solve problems related to Taiwanese businesspeople, adding that he has not heard about a hidden itinerary.
The KMT mentioned to the Mainland Affairs Council (MAC) before the trip that the group might meet with Liu and other officials, but did not specify a time or place, said a government official who asked to remain anonymous.
The MAC had tried dissuading the KMT delegation from visiting China amid Beijing's military exercises around Taiwan and economic sanctions against the nation, the official added.
Hsia's delegation arrived in China on Aug. 10, with some KMT members calling the timing of the visit improper, as it came shortly after China on Aug. 4 began live-fire drills in waters around Taiwan. The military exercises were in response US House of Representatives Speaker Nancy Pelosi's Aug. 2 to 3 visit to Taipei.
The KMT Culture and Communications Committee yesterday said in a statement that the delegation on Saturday completed their 10-day COVID-19 quarantine.
That night, the group dined with Xiamen officials and Xiamen Taiwanese Businessmen Association chairman Wu Chia-ying (吳家瑩), it said, adding that they held a forum to share ideas with Taiwanese businesspeople yesterday.
The statement said that Hsia had asked Xiamen officials to reopen the "small three links" to allow people-to-people exchanges across the Taiwan Strait, which were suspended in February 2020 due to the COVID-19 pandemic.
The "small three links" are the ferry services connecting China's Fujian Province with Penghu, Kinmen and Lienchiang counties.
The trip was planned because some Taiwanese businesspeople hoped to meet KMT members, as they had not visited China for years, Hsia said.
KMT Taipei mayoral candidate Chiang Wan-an (蔣萬安) yesterday urged Hsia to clearly state his stance against China's drills and make the itinerary transparent.
Additional reporting by Tsai Si-pei
Comments will be moderated. Keep comments relevant to the article. Remarks containing abusive and obscene language, personal attacks of any kind or promotion will be removed and the user banned. Final decision will be at the discretion of the Taipei Times.