COVID-19: Migrant workers banned from changing jobs
Effective immediately, migrant workers are temporarily banned from changing employers, and employers are temporarily banned from moving migrant workers between factories as long as the level 3 COVID-19 alert remains in place, the Central Epidemic Command Center (CECC) said yesterday.
King Yuan Electronics (京元電子) on Thursday began conducting rapid COVID-19 tests on all of its about 7,300 employees after a cluster infection was confirmed among migrant workers at its manufacturing campus in Miaoli County.
King Yuan is a chip testing and packaging service provider based in Hsinchu City. Its migrant workers live in dormitories.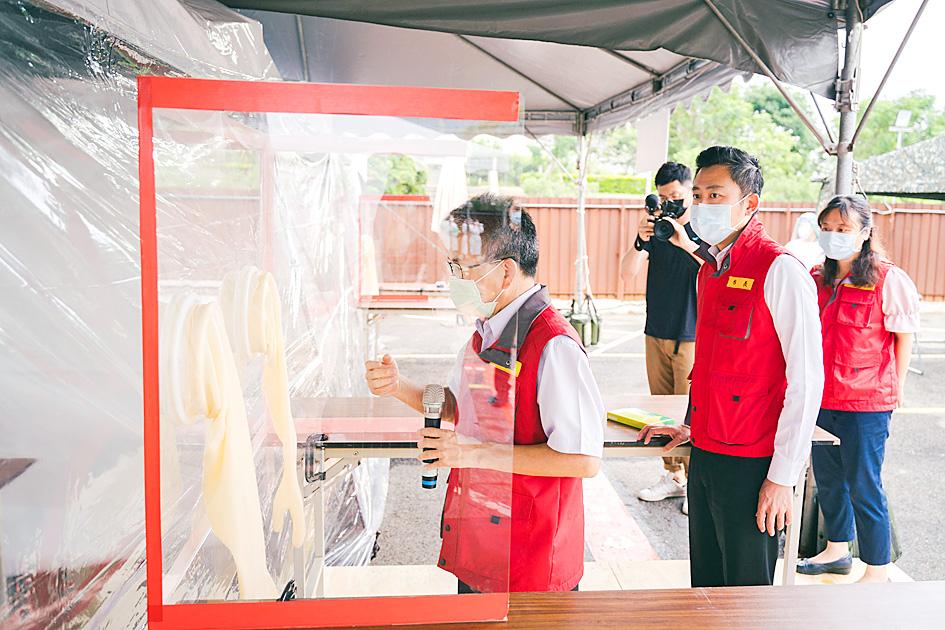 Hsinchu Mayor Lin Chih-chien, front right, inspects a COVID-19 testing booth set up to test people entering the Hsinchu Science Park in an undated photograph.
Photo courtesy of the Hsinchu County Government
As more migrant workers tested positive, the CECC on Friday dispatched Hospital and Social Welfare Organizations Administration Commission Director Wang Pi-sheng (王必勝), who is also deputy head of the CECC's medical response division, and four Centers for Disease Control (CDC) physicians to set up a command center in Miaoli to help coordinate the tests and disease control measures.
As of Friday, 131 confirmed cases — 14 Taiwanese and 117 foreign nationals — had been reported in the King Yuan cluster.
Nine other confirmed cases were reported in another cluster infection among migrant workers at GreaTek Electronics Inc (超豐), also in Miaoli.
Minister of Health and Welfare Chen Shih-chung (陳時中), who heads the CECC, yesterday said 18 testing booths have been set up at King Yuan, with a combined capacity to test 350 to 500 people per hour.
He said 4,599 people had already been tested as of Friday and that the screening program was expected to be completed yesterday.
Enhanced measures would be taken to prevent the virus spreading further among Miaoli's electronics companies, Chen said.
These include speeding up the tests, conducting risk assessment at workplaces and in dormitories, and instructing employees to isolate at home, or help them find suitable accommodation, he said.
The Miaoli command center includes specialists from the Ministry of Economic Affairs to help coordinate workplace arrangements and has asked Ministry of Labor officials to help manage the migrant workers' issues, he said.
Deputy Minister of Labor Wang An-pang (王安邦) said that effective immediately, practically all transfers of migrant workers among employers are temporarily banned, including those working under contract and workers whose contracts have expired, as long as the level 3 COVID-19 alert is in effect.
Exceptions include migrant workers who are victims of violence, sexual harassment, sexual assault or human trafficking, he said, adding that such cases would be handled separately.
During the level 3 alert period, employers are also temporarily banned from moving migrant workers among their factories, Wang An-pang said.
His ministry has modified its migrant worker disease prevention guidelines and on Friday sent them to companies employing migrant workers, he said.
The labor ministry would work with local governments to inspect worker dormitories at companies employing more than 100 migrant workers and check if its disease prevention guidelines are being thoroughly implemented at companies with more than 500 migrant workers, he said.
The ministry has since May 17 been inspecting and supervising high-risk companies, including tech firms, care facilities, chain restaurants, wholesale markets, storage facilities and companies employing more than 51 migrant workers, he added.
Deputy Minister of Economic Affairs Chen Chern-chyi (陳正祺) said that more than 300 companies have contacted his ministry asking about how they can conduct COVID-19 rapid tests on their own, and a few have begun rapid screenings based on the CECC's guidelines released on Sunday last week.
As the law requires that the tests be conducted by healthcare professionals, the companies have partnered with health examination centers, clinics or other healthcare facilities to conduct the tests, Chen Chern-chyi said.
The ministry can assist in partnering companies with healthcare facilities for screening tests, if needed, he added.
Employees who test positive in a rapid test must be reported to the local health department, placed in isolation and undergo a polymerase chain reaction test, Chen Chern-chyi added.
Comments will be moderated. Keep comments relevant to the article. Remarks containing abusive and obscene language, personal attacks of any kind or promotion will be removed and the user banned. Final decision will be at the discretion of the Taipei Times.