NT$23.9m may not satisfy former death row inmate
Former death row inmate Hsieh Chih-hung (謝志宏) and his lawyers were yesterday considering whether to appeal the Tainan branch of the High Court's decision to compensate him NT$23.919 million (US$838,058) for spending more than 18 years in prison.
Hsieh was acquitted earlier this year.
He had been accused of being an accomplice to Kuo Chun-wei (郭俊偉) in the murder of a woman surnamed Chen (陳), 18, and a man surnamed Chang (張), 68, on June 24, 2000.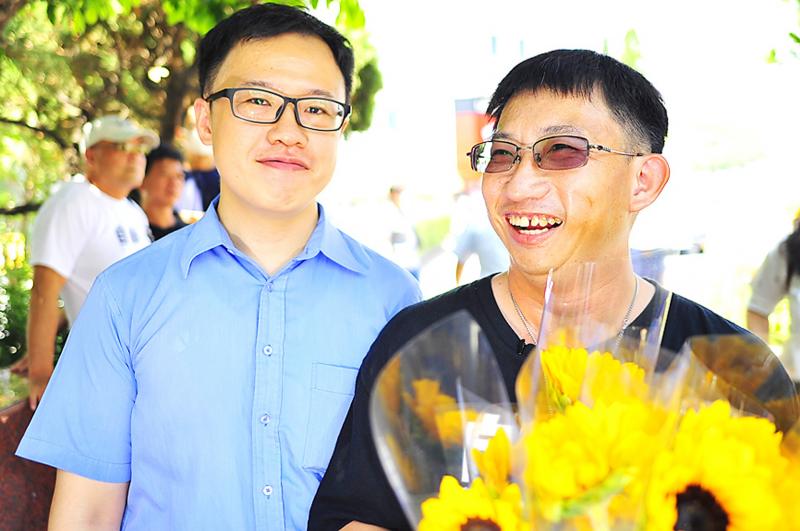 Former death row inmate Hsieh Chih-hung, right, and his lawyer Tu Hsin-cheng are pictured in Tainan on May 15.
Photo: Wang Chieh, Taipei Times
After first being found guilty in October 2001, Hsieh and Kuo had their verdicts and death sentences upheld in seven subsequent retrials, during which Hsieh maintained his innocence and said that his confession resulted from torture.
In September 2018, the High Prosecutors' Office filed for a retrial, citing new evidence that proved Hsieh's innocence.
The High Court on March 14 last year accepted the petition and ordered that Hsieh's sentence be temporarily suspended.
The court then granted a request to release Hsieh from the Tainan Detention Center, where he had been held since 2001.
The retrial was held in May, and the High Court acquitted Hsieh of all charges.
The court said that because police had not recorded either of Hsieh's interrogation sessions and had no corroborating material, the interrogation was in contravention of the Code of Criminal Procedure (刑事訴訟法).
Hsieh's confession could therefore not be used as evidence, it said.
Hsieh had been incarcerated at a detention center and in prison for 6,834 days in total.
He said that he was under 21 and worked as kitchen staff in a restaurant when he was first detained in 2000, and was released at the age of 39 last year, so he spent most of his youth in prison.
His lawyers filed for financial redress under the Compensation for Wrongful Detentions and Executions Act (刑事補償法), and asked that he be compensated NT$5,000 per day spent in jail.
However, the High Court did not agree and reduced the amount to NT$3,500 per day, as the judges did not find wrongdoing by the police.
The NT$23.919 million awarded to Hsieh is reportedly the third-highest amount granted by the state for a wrongful conviction.
Hsieh and his lawyers were considering whether to appeal the ruling, as they disagreed with the decision that the police bore no responsibility for his wrongful conviction.
"It is not about the amount of money, it is about the justice system and its officials who got off without taking any legal responsibility, as negligence and violation of the rules resulted in the conviction of an innocent man... This I cannot accept," Hsieh said.
Comments will be moderated. Keep comments relevant to the article. Remarks containing abusive and obscene language, personal attacks of any kind or promotion will be removed and the user banned. Final decision will be at the discretion of the Taipei Times.