FDA probe finds China-made masks
CARRY LABEL: The agency said that Carry Hi-tech imported about 3.37 million non-medical masks and mixed them with those for the government's rationing system
A New Taipei City pharmacist reported that a shipment of masks from a local supplier contained more than 3 million that were made in China, the Food and Drug Administration (FDA) said yesterday.
The pharmacist in Sanchong District (三重), who spoke on condition of anonymity, said that one package was labeled with simplified Chinese characters that read: "Made in Anhui Province," the FDA said.
The shipment was from Carry Hi-tech Co (加利科技) in New Taipei City's Bali District (八里), it said.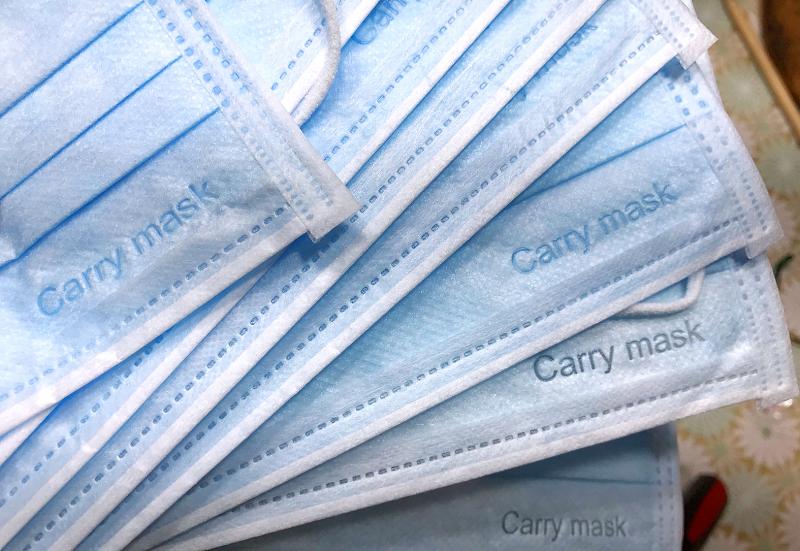 Chinese-made masks bearing the "Carry mask" label of Carry Hi-tech Co are pictured in Taipei yesterday.
Photo: Liu Hsin-de, Taipei Times
The FDA said that it collaborated with the New Taipei City Field Office of the Investigation Bureau and the New Taipei City Department of Health to conduct a search of the factory, where investigators found non-medical masks labeled as made in China and import documents.
Some of the masks bore the words "Carry mask," which might have been an attempt to disguise where they were made, the FDA said.
The documents showed that the factory last month imported about 3.37 million non-medical masks and that they had been mixed with medical ones in the government's rationing system, the FDA said.
The factory provides masks to pharmacies and public health centers in the city's Bali, Linkou (林口), Lujhou (蘆洲), Sanchong, Sanzhi (三芝), Shihmen (石門), Sinjhuang (新莊), Taishan (泰山), Tamsui (淡水) and Wugu (五股) districts, it said.
Some shipments also went to Yilan County and Taipei, it added.
The factory has been shut down and barred from shipping any more masks, the FDA said, adding that the investigation would continue.
The company faces a fine of NT$30,000 to NT$2 million (US$1,016 to US$67,725), it said.
From today to Friday next week, people who have purchased masks with the words "carry mask" can exchange them for new ones at locations in the real-name mask registration system, it said.
The New Taipei City Consumer Protection Office said that pharmacies participating in the real-name registration system check the quantity and quality of masks to help avoid disputes.
The office said that it has ordered the city's pharmacists and the New Taipei City Pharmacists' Association to conduct thorough checks to keep problematic masks out of circulation.
Minister of Economic Affairs Wang Mei-hua (王美花) said that since the government's mask-rationing system began allowing masks to sold without restrictions, it has kept close tabs on imports and exports.
"It is true that most of Taiwan's imported masks come from China," Wang said, adding that the Ministry of Economic Affairs would work closely with the Ministry of Health and Welfare to prevent suppliers from intentionally mixing Chinese-made masks with locally produced ones.
Speaking on the sidelines of an event yesterday, Minister of Health and Welfare Chen Shih-chung (陳時中) said that there is an ongoing probe into a similar case involving another mask supplier.
Chen did not name the company.
A potential solution is to label every locally made mask with "Made in Taiwan," but further discussions are required, he said.
Additional reporting by Huang Hsin-po
Comments will be moderated. Keep comments relevant to the article. Remarks containing abusive and obscene language, personal attacks of any kind or promotion will be removed and the user banned. Final decision will be at the discretion of the Taipei Times.