Marriage law 'cannot contradict' ruling
BINDING: The Judicial Yuan president said the referendum requires the government to draft a separate law, but it would not necessarily result in unequal treatment
Any law that follows from the passage of referendums initiated by groups opposed to same-sex marriage cannot contradict the Council of Grand Justices' Interpretation No. 748, as it came from the highest ranks of the legal hierarchy, the Judicial Yuan said yesterday.
Interpretations from the grand justices have equal legal weight as the Constitution, Judicial Yuan Secretary-General Lu Tai-lang (呂太郎) told a meeting of the legislature's Judiciary and Organic Laws and Statutes Committee in Taipei.
Although two referendums were passed that oppose amending the Civil Code to allow for same-sex marriage, the Legislative Yuan cannot pass laws that oppose the interpretation, Lu said.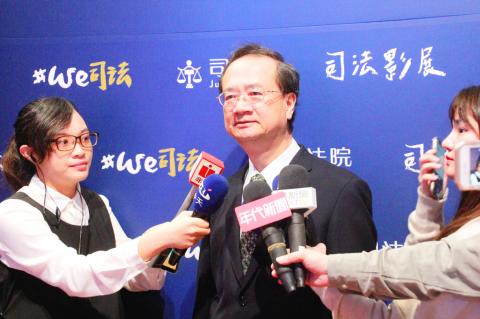 Judicial Yuan President Hsu Zhong-li speaks to the media on the sidelines of a film festival in Taipei yesterday.
Photo: Wu Cheng-feng, Taipei Times
The decision delivered on May 24 last year states that provisions in the Civil Code that define marriage as between a man and a woman contravene the Constitution, and required that new regulations be introduced within two years to protect marriage equality.
All three referendums initiated by the Coalition for the Happiness of Our Next Generation were passed on Saturday.
They proposed excluding education about gay people from elementary and junior-high schools, restricting the Civil Code's definition of marriage to a union between a man and woman, and drafting a separate law to protect same-sex marriage.
Two referendums supporting the inclusion of same-sex marriage in the Civil Code and the teaching of gender-equality education in elementary and junior-high schools were rejected.
Executive Yuan spokeswoman Kolas Yotaka on Sunday said that the government would draft a separate law in three months to extend equal marriage rights to same-sex couples.
Separately yesterday, Judicial Yuan President Hsu Tzong-li (許宗力) on the sidelines of the opening of a film festival in Taipei offered words of encouragement to the nation's LGBT community.
After the referendum results were announced, the Judicial Yuan heard from some LGBT people who had contemplated suicide because of the results, Hsu said.
"I want to use this opportunity to call on people who supported the failed pro-LGBT referendums to not lose their spirit, to be emotionally strong and to not feel disappointed," Hsu said.
The rights of the LGBT community have already been protected by the interpretation, which would not be affected by the referendums, he added.
However, the referendum results would have a legally binding effect on the administrative and legislative branches of the government, which might have to protect marriage equality via a separate law, Hsu said.
A separate law would not necessarily afford unequal treatment to the LGBT community, as it would depend on its content, he added.
Comments will be moderated. Keep comments relevant to the article. Remarks containing abusive and obscene language, personal attacks of any kind or promotion will be removed and the user banned. Final decision will be at the discretion of the Taipei Times.