CEC head resigns over slow polling
'LONGEST NIGHT': The director of a Taipei election supervisory task force said she would raise concerns with the commission over the poor execution of the elections
Former Central Election Commission (CEC) chairman Chen In-chin (陳英鈐) yesterday apologized to voters and resigned over criticisms surrounding long delays at polling booths for the nine-in-one elections on Saturday.
"As the senior official, I must accept all responsibility and as I have said before, I will engage in sincere introspection," Chen said before announcing his resignation.
Executive Yuan spokeswoman Kolas Yotaka confirmed that Chen's resignation has been accepted.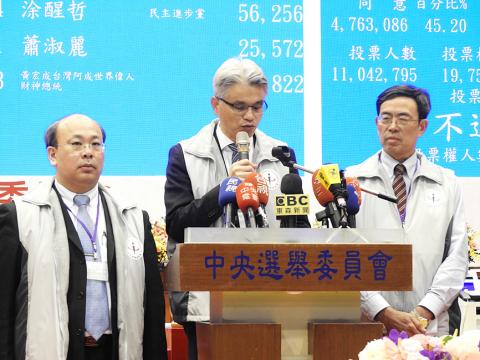 Former Central Election Commission chairman Chen In-chin, center, yesterday in Taipei apologizes to voters for the long delays at polling booths during Saturday's nine-in-one elections.
Photo: Chen Yu-fu, Taipei Times
With people still lined up as polling stations were scheduled to close, the commission allowed voting to continue, with some stations remaining open while others were counting ballots.
Polling stations become ballot-counting stations immediately upon the completion of voting, according to Article 57 of the Civil Servants Election and Recall Act (公職人員選舉罷免法).
Chen consulted 15,000 polling stations nationwide before Saturday to ask about the possibility of adding more screens to accommodate more voters, but only 3,500 of the stations were large enough for additional screens, he said.
Polling station locations were already determined when additional referendums were added and it was too late to change them, he said.
The commission asked people to be sure that they understood the referendums before entering voting booths to speed things up, he said.
"It really was too long to make people wait, but overall, the process remained quite orderly," he said.
Chen rejected reports that ballots were being counted at polling stations that were still open.
However, those who were in line before 4pm were permitted to vote, which was in accordance with the law, he said.
Asked why the commission did not wait until all polling stations closed before starting to count ballots, Chen said the law stipulates that the changeover must be done at each station immediately following the completion of voting.
There have also been incidents in previous elections of polling stations starting their counts at different times, he said, adding that he welcomed input on whether voting would be affected by this.
Taipei's 1,563 polling stations had all finished with voting by 7:46pm — just after Taoyuan, which finished at 7:29pm.
Taipei's Nangang District (南港) polling station finished counting votes at about 11pm — the first of the city's 1,563 stations to do so — and by 2:35am yesterday all stations in Taipei were finished, 10 hours, 35 minutes from when polls opened.
The last polling station nationwide to finish counting was Dayun Bisian Temple (大雲碧仙寺) in Taoyuan's Jhongli District (中壢), which finished at 2:39am.
"This is the first time the process has taken this long," said a polling station worker in Taipei, who spoke on condition of anonymity.
Lin Mei-lun (林美倫), director of a Taipei elections supervisory task force, said she would raise concerns with the commission over the poor execution of this year's elections.
The referendums must be separated from the mayoral and commissioner elections, or an electronic system adopted for referendum voting, Lin said.
Comments will be moderated. Keep comments relevant to the article. Remarks containing abusive and obscene language, personal attacks of any kind or promotion will be removed and the user banned. Final decision will be at the discretion of the Taipei Times.