2018 ELECTIONS: China using 'Russia-style influence campaign': report
PROPAGANDA: The 'New York Times' cited officials as saying that misinformation campaigns are being waged through social media, Line and an online bulletin board
China has been employing "a Russia-style influence campaign" to meddle in Taiwan's elections, the New York Times said on Thursday.
The report, titled "Specter of Meddling by Beijing Looms Over Taiwan's Elections" and authored by Chris Horton, said that as voters prepare to head to the polling booths today for the nine-in-one local elections, "concerns are growing that Beijing's long effort to sway [Taiwan's] politics has been armed with a new weapon: a Russia-style influence campaign."
"Taiwan officials are sounding alarms at what they say is a campaign by Beijing to spread disinformation that serves its agenda by exploiting [Taiwan's] freewheeling public discourse," the newspaper said, adding that officials "say the population of 23 million is regularly fed misleading information in the news media and on social networks that range from unverified footage of large-scale Chinese military drills to false reports of stranded travelers being abandoned" by the government.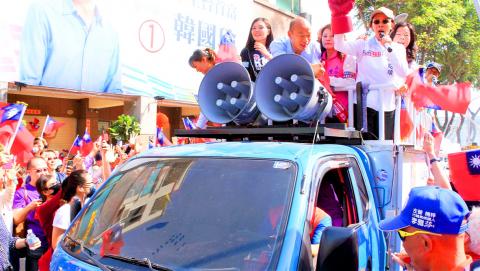 Chinese Nationalist Party (KMT) Kaohsiung mayoral candidate Han Kuo-yu, top center, gestures at supporters yesterday.
Photo: CNA
The volley of misinformation appeared aimed at undermining President Tsai Ing-wen's (蔡英文) administration and the Democratic Progressive Party (DPP), it said.
"Authorities say they suspect that Beijing is also illegally funneling money to political campaigns through Taiwan businesses in mainland China. Late last month, the government said that it was building cases against candidates who were being funded by Beijing and that it had shut down two underground money exchanges through which funds earmarked for influencing the election had been flowing," the newspaper said.
"Taiwan's government fears the use of social media misinformation campaigns are a new front for meddling," it added.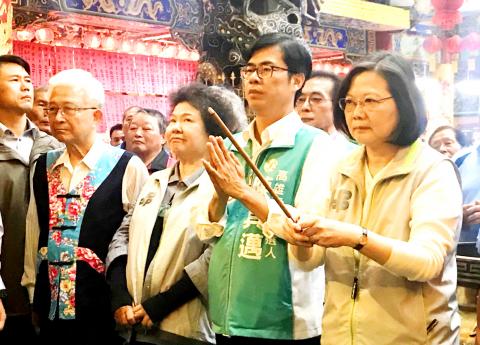 Democratic Progressive Party Kaohsiung mayoral candidate Chen Chi-mai, second right, and President Tsai Ing-wen, right, yesterday pray for Chen's electoral success next to Presidential Office Secretary-General Chen Chu, third right, at the Yimin temple in Kaohsiung's Sanmin District.
Photo: CNA
China's Taiwan Affairs Office spokesman Ma Xiaoguang (馬曉光) was quoted denying interference in the elections, saying that Tsai's Facebook posts about the issue were "fake news" and "not even worth refuting."
However, "the propaganda war goes back seven decades, with attacks originating from both sides of the Taiwan Strait," the newspaper said.
"Taiwan leaders say the propaganda is now carried over the Strait through posts on Facebook, the chat app Line and a popular online bulletin board," it said.
"Concerns about Chinese meddling have grown as the election race heats up. Of particular concern to Ms Tsai and her party is the mayoral race in the southern city of Kaohsiung, where [Chinese Nationalist Party (KMT) candidate] Han Kuo-yu (韓國瑜) ... has enjoyed a surprising surge in popularity," the newspaper said.
According to the newspaper, lawyers for DPP Kaohsiung mayoral candidate Chen Chi-mai (陳其邁) last month said "they had evidence that misinformation defaming Mr Chen that had spread widely on Taiwanese social media had originated from overseas accounts, including some with mainland IP [Internet Protocol] addresses."
The New York Times quoted Academia Sinica assistant research fellow Nathan Batto as saying that "it's difficult to determine exactly how much influence Beijing is having on the Kaohsiung race ... because discussions often take place in closed, private groups."
"It's hard for us to look in from the outside and see exactly how much there is and exactly how much influence it's having," Batto was quoted as saying. "We have some sort of fuzzy idea that they're helping Han Kuo-yu in Kaohsiung quite a bit — but I don't know if that's why he's surged in the polls or not."
Comments will be moderated. Keep comments relevant to the article. Remarks containing abusive and obscene language, personal attacks of any kind or promotion will be removed and the user banned. Final decision will be at the discretion of the Taipei Times.