ARC number format to be in line with national IDs
CHANGE: The measure would increase foreign residents' sense of belonging in Taiwan and make activities like online shopping easier, Minister of the Interior Hsu Kuo-yung said
The format of Alien Residency Certificate (ARC) numbers is to be changed to bring them in line with the Republic of China identification card format, the Ministry of the Interior said yesterday.
The measure is part of the government's ongoing effort to boost the nation's competitiveness by attracting and keeping international talent.
ARCs are currently assigned a number consisting of two letters and an eight-digit number, while Taiwanese citizens have an ID number consisting of one letter and a nine-digit number.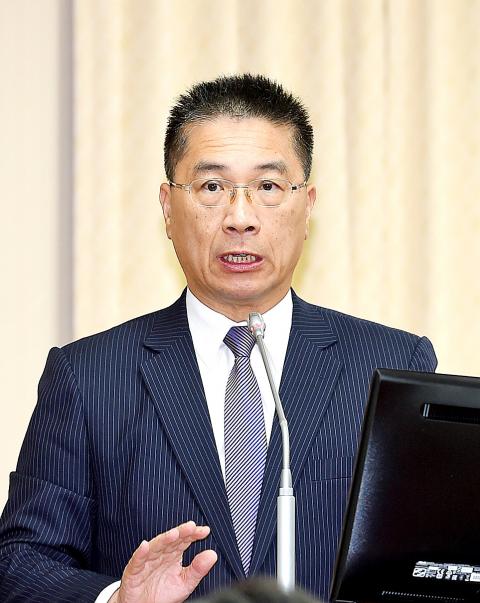 Minister of the Interior Hsu Kuo-yung speaks at the Legislative Yuan in Taipei on Monday last week.
Photo: Fang pin-chao, Taipei Times
In an interview with Taiwan Business Topics, a monthly magazine published by the American Chamber of Commerce in Taipei, Minister of the Interior Hsu Kuo-yung (徐國勇) said that the measure would increase foreign residents' sense of belonging in Taiwan and make their lives easier.
Having a residency number with the same format as a national ID card number would make online shopping, booking tickets, hospital visits and other activities easier for foreigners, Hsu said.
"The ministry sincerely welcomes foreign nationals to Taiwan," he said.
The ministry is in the process of communicating with other agencies and businesses to ensure a smooth transition following the plan's implementation and hopes to launch the new measure soon, he said.
The measure would be a major change and a milestone in Taiwan's policy on foreign residency and is not offered by many nations, the ministry said.
With the same format as national ID cards, ARC holders would be able to enjoy semi-citizen treatment in many areas of their daily lives, it said.
Comments will be moderated. Keep comments relevant to the article. Remarks containing abusive and obscene language, personal attacks of any kind or promotion will be removed and the user banned. Final decision will be at the discretion of the Taipei Times.