Population decline might start sooner than forecast
REMEDIAL MEASURES: The government has increased funding to support childcare and education and plans to make immigration easier by relaxing requirements
Taiwan's population might start to decline in 2022, three years earlier than the government forecasted in 2016, as fertility rates have become more parlous than expected, the National Development Council (NDC) said yesterday.
If left unchecked, the population might shrink by 30 percent by 2065, with the demographic dividend — the economic growth potential linked to a larger share of the working-age population than the non-working-age population — vanishing in 2027, NDC Minister Chen Mei-ling (陳美伶) said.
"The trend is worrying and demands quick and comprehensive remedies," Chen told a news conference in Taipei, citing the council's latest estimate on the nation's demographics.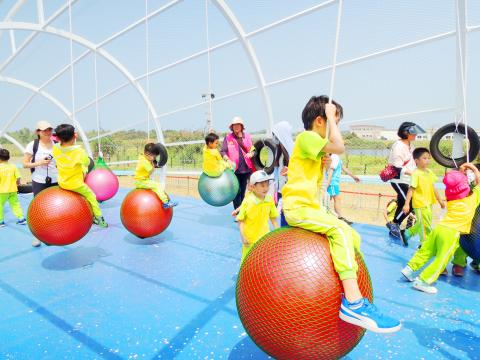 Schoolchildren play on a swing at a playground in Hsinchu County on June 17.
Photo: Hung Mei-hsiu, Taipei Times
New births fell by 5,800 in the first seven months of this year from the same period last year, as existing measures failed to reverse the decline, she said.
The council conducts a population estimate every two years to help guide response measures.
The fertility rate — the average number of children born per woman — dropped from 1.17 in 2016 to 1.13 last year, both slightly less than the prior forecast, the council said.
The nation's population is now expected to peak in 2021 at 23.61 million people and then trend downward as more Taiwanese marry late and choose not to have children, it said.
The working population — those aged between 15 and 65 — might fall 10 percent in 2030, and the retreat might widen to 49.6 percent in 2065, it added.
A shrinking labor pool suggests lower productivity and bodes ill for the economy, Chen said.
One in two Taiwanese would be aged 50 or older in 2034, with the college-age population totaling fewer than 200,000 people in 2036, the council said.
Meanwhile, the number of people aged 65 or older would grow.
Taiwan became an aging society in March, with those aged 65 or older accounting for 14 percent of the population, Chen said, adding that the ratio is expected to surpass 20 percent in 2026.
European countries have raised their threshold for senior citizens from 65 to 67 years old to reflect a longer life span, she said.
The government has set a target of maintaining the population at more than 20 million people with a birth rate of 1.25 in 2022 and 1.4 in 2030, Chen said, adding that it has increased funding to support childcare and education in addition to a one-off subsidy for childbirth.
The government also plans to make Taiwan friendlier for immigration by easing residency and work requirements for foreigners, she said, adding that a proposal to make English an official language is part of that endeavor.
Comments will be moderated. Keep comments relevant to the article. Remarks containing abusive and obscene language, personal attacks of any kind or promotion will be removed and the user banned. Final decision will be at the discretion of the Taipei Times.