Beijing 'out of control': MOFA
Beijing's behavior was "out of control," the Ministry of Foreign Affairs (MOFA) said yesterday after a Taiwanese-Spanish academic said that China's embassy in Spain pressured the University of Salamanca to cancel a Taiwanese culture event.
"Today I decided to go public with the email #China's embassy in Spain sent to coerce the University of #Salamanca into cancelling "#Taiwan Cultural Days" on October 2017," Shiany Perez-Cheng (鄭夏霓) tweeted late on Saturday.
Perez-Chen is a professor of international relations at the university and a leading organizer of the university's Taiwan Culture Day.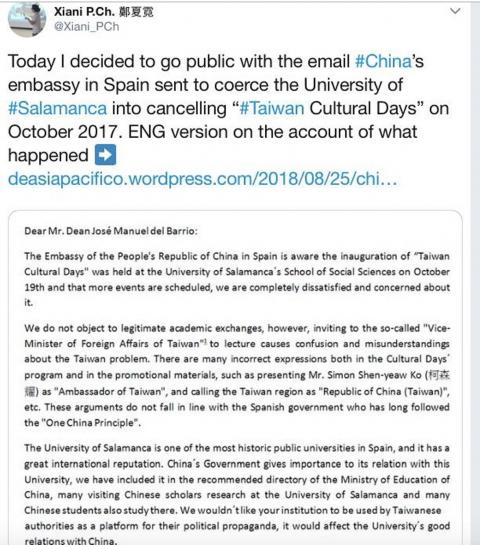 A tweet by a Taiwanese-Spanish academic, including a message pressuring the University of Salamanca to cancel Taiwan culture events in October last year, is pictured yesterday.
Photo from Shiany Perez-Cheng's Twitter account
A letter attached to the tweet that Perez-Chen said was an English-language version of the embassy's e-mail said: "Inviting to [sic] the so-called 'Vice Minister of Foreign Affairs of Taiwan' to lecture causes confusion and misunderstanding about the Taiwan problem."
"There are many incorrect expressions in the cultural days' program and in the promotional materials," it said. "Those arguments do not fall in line with the Spanish government, who has long followed the 'one China principle.'"
"We wouldn't like your institution to be used by Taiwanese authorities as a platform for its political agenda, it would affect the university's good relations with China," it said.
The letter demanded that the university accept the "one China" principle and take measures to "avoid and eliminate the adverse effects."
The defilement of a storied European university is the latest instance of China's continued persecution of Taiwan, the ministry said in a statement.
Beijing's hinderance of Taiwanese participation in free academic and cultural exchanges is "barbaric," the ministry said, adding that the government was dismayed and angered.
Beijing's all-out effort to squeeze Taiwan's international space, instead of achieving "the union of souls across the [Taiwan] Strait" touted by Chinese President Xi Jinping (習近平) in March, would serve only to invite the "anger and even scorn for China of the Taiwanese," the ministry said.
Comments will be moderated. Keep comments relevant to the article. Remarks containing abusive and obscene language, personal attacks of any kind or promotion will be removed and the user banned. Final decision will be at the discretion of the Taipei Times.