Taiwan, Paraguay to join on infrastructure projects
President Tsai Ing-wen (蔡英文) on Tuesday arrived in Paraguay, where she and Paraguayan president-elect Mario Abdo Benitez agreed to further expand cooperation.
Tsai and Abdo Benitez agreed to focus on investment, infrastructure and trade as the focus of future relations, Hugo Saguier, a foreign affairs advisor to Abdo Benitez, said following the one-hour meeting.
Saguier, who attended the meeting, said that details of ventures between the two nations would be made public when Abdo Benitez visits Taiwan in October.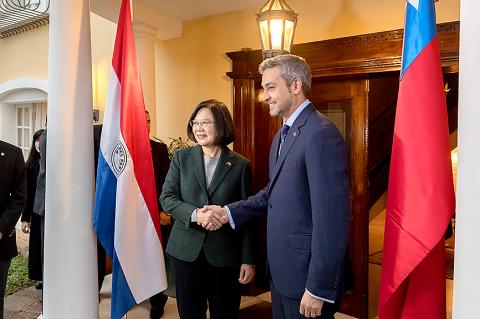 President Tsai Ing-wen, left, yesterday shakes hands with Paraguayan president-elect Mario Abdo Benitez in Asuncion.
Photo courtesy of the Presidential Office
"After the meeting, we reconfirmed relations between the two nations," Saguier said. "We will continue to maintain relations with Taiwan as the two nations share the same diplomatic values, which is irreplaceable to Paraguay."
Under the framework, Taiwanese firms would be encouraged to invest in education, medical care and technology infrastructure projects in Paraguay to boost economic development and residents' livelihoods, Ambassador to Paraguay Diego Chou (周麟) said.
Three government-funded investment firms would be started by Taiwan to offer Paraguay assistance on agriculture, technology and development projects through the provision of low-interest loans, said National Security Council Deputy Secretary-General Tsai Ming-yen (蔡明彥), who also attended the meeting.
Abdo Benitez promised to advance ties between the two nations in the hope that Paraguay might serve as a hub for Taiwanese manufacturers considering moving into the South American market, Tsai Ming-yen said.
Earlier on Tuesday, Tsai Ing-wen met Paraguayan President Horacio Cartes and gave a keynote speech at the opening of a course for students likely to study at a technology university jointly founded by the two nations, which has yet to officially open.
Tsai encouraged the students to apply to vocational training scholarship programs in Taiwan.
"Taiwan is Paraguay's best friend," she said. "We are glad to share our experience with you and contribute to a better future for Paraguay."
Taiwan and Paraguay in December last year agreed to found the university to train engineers. Paraguay funded the construction, while Taiwan has provided teachers, curriculum plans and lab equipment.
Tsai Ing-wen invited Abdo Benitez to visit Taiwan in October and attend the Double Ten National Day celebrations, Tsai Ming-yen said, adding that the two sides would further discuss cooperative ventures in Taipei.
Later on Tuesday, Tsai Ing-wen attended a banquet with Guatemalan President Jimmy Morales, where they exchanged views on possible cooperative projects between the two nations.
Yesterday, she was to attend the inauguration of Abdo Benitez before heading to Belize for a three-day visit, during which she is to be decorated by Governor-General Colville Young and meet with Belizean Prime Minister Dean Barrow.
Asked about Tsai Ing-wen's public address during her Monday stopover in Los Angeles, US Department of State spokeswoman Heather Nauert on Tuesday said: "Our policy on Taiwan has not changed. The United States remains committed to our US 'one China' policy based on the Three Joint Communiques under the Taiwan Relations Act."
"The United States, in regard to this trip, facilitates from time to time representatives of the Taiwan authorities to transit the United States. Those are largely undertaken out of consideration for the safety and comfort of those travelers and that is in keeping with our 'one China' policy," she said
Nauert declined to say whether the US government would be happy for Tsai Ing-wen to speak in Washington during a stopover.
Comments will be moderated. Keep comments relevant to the article. Remarks containing abusive and obscene language, personal attacks of any kind or promotion will be removed and the user banned. Final decision will be at the discretion of the Taipei Times.