N Korea returns US war dead, names new military leader
A US military aircraft yesterday flew the remains of 55 US servicepeople out of North Korea, prompting a "thank you" from US President Donald Trump to North Korean leader Kim Jong-un.
The return of the remains on the 65th anniversary of the end of the Korean War marks the partial fulfillment of an agreement between Trump and Kim at their summit in Singapore last month.
"After so many years, this will be a great moment for so many families. Thank you to Kim Jong Un," Trump said on Twitter.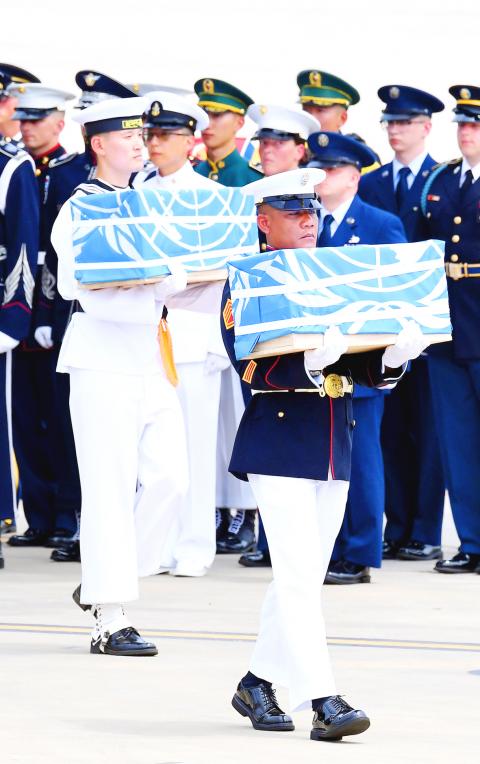 US soldiers yesterday carry boxes containing the remains of US soldiers killed during the Korean War at Osan Air Base in Pyeongtaek, South Korea.
Photo: EPA
More than 35,000 Americans were killed on the Korean Peninsula during the war, out of which about 7,700 are still considered missing, including 5,300 in North Korea alone, according to the Pentagon.
Between 1990 and 2005, 229 sets of remains from the North were repatriated, but those operations were suspended when ties deteriorated over Pyongyang's nuclear weapons program.
The remains flown to Osan US Air Base in South Korea yesterday are expected to be sent to Hawaii for forensic identification, following a formal repatriation ceremony on Wednesday next week.
North Korea is estimated to have as many as 200 sets of remains ready for delivery, US officials said.
Former New Mexico governor Bill Richardson, who has worked on repatriation issues, said that Pyongyang might hold up further repatriations to squeeze some cash out of the US.
"They'll give a certain amount of remains for free right away, but then they'll say: 'The next ones, we need to find them, locate them, restore them,' and then they'll start charging," Richardson told the Washington Post.
Meanwhile, the Korean Central News Agency yesterday confirmed that Ri Yong-gil has become the new chief of the military's general staff, the latest in Kim's leadership change.
As Kim shifts the focus to the economy and pursues diplomacy, he has been replacing older, more conservative officers who were wedded to the nation's nuclear doctrine, with loyalists who would follow any changes he might make, US officials and analysts said.
Ri formerly held the four-star position before he was briefly demoted for an unspecified reason in 2016.
His return adds to the recent appointments of No Kwang-chol as minister of the People's Armed Forces, and Army General Kim Su-gil as director of the military's General Political Bureau.
All of the newly promoted officials are younger than their predecessors, even though they are all in their 60s.
Comments will be moderated. Keep comments relevant to the article. Remarks containing abusive and obscene language, personal attacks of any kind or promotion will be removed and the user banned. Final decision will be at the discretion of the Taipei Times.