Taipower mum on shipping out unused fuel rods
RETURN: The state utility declined to answer questions on whether it began shipments yesterday, but said it plans to send all 1,744 rods to the US supplier by 2020
State-run Taiwan Power Co (Taipower, 台電) yesterday reiterated that it has a three-year plan to deal with the 1,744 unused fuel rods at the mothballed Fourth Nuclear Power Plant, but declined to comment on reports that it has begun shipping the rods back to the US supplier.
The Chinese-language United Daily News yesterday reported that Taipower early yesterday shipped 80 unused fuel rods from Keelung port and is to send another 120 rods in September, as part of its plan to completely shut down the plant — also known as the Longmen Nuclear Power Plant — in New Taipei City's Gongliao District (貢寮).
The US supplier, Global Nuclear Fuel Americas LLC, is responsible for dismantling and storing the rods, the report said.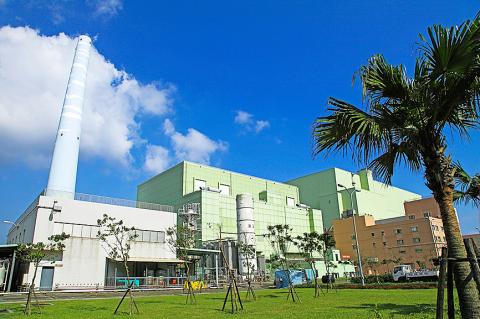 The Fourth Nuclear Power Plant in New Taipei City's Gongliao District is pictured in an undated photograph.
Photo courtesy of Taiwan Power Co
Citing a nondisclosure agreement, Taipower spokesman Hsu Tsao-hua (徐造華) said he could not respond to questions on whether the rods have been shipped.
However, he said that all 1,744 fuel rods are slated to be sent back to the US by the end of 2020 in eight installments.
"The whole process — including shipping, dismantling and storing the rods — would cost the government nearly NT$690 million [US$22.62 million]," Hsu said by telephone.
However, removing the 1,744 rods from the plant could save the government about NT$140 million in annual maintenance costs, he told the Taipei Times, adding that the US supplier would store the rods until 2022 based on the contract.
"We are more likely to sell the unused fuel rods to foreign buyers earlier if we send them back to the US as soon as possible," Hsu said.
In the worst-case scenario, Taipower would consider selling the uranium inside the rods to maximize asset utilization if no suitable buyers could be found, it said.
The plant has been sealed since 2014 because of public concerns and strong opposition to its operation.
Taipower is considering transforming the idle plant into a facility with multiple power generation sources as part of the government's nuclear-free homeland policy.
Several local business leaders urged the government to consider reactivating idle or suspended nuclear power plants amid concern over a potential power shortage after the nation's power consumption hit record high levels in May and last month.
Comments will be moderated. Keep comments relevant to the article. Remarks containing abusive and obscene language, personal attacks of any kind or promotion will be removed and the user banned. Final decision will be at the discretion of the Taipei Times.