President apologizes for pension cuts
'DEEPEST GRATITUDE': Tsai said military personnel, civil servants and public-school teachers are pillars of society who have shown their unwavering support for Taiwan
With pension reform plans to go into effect next month, President Tsai Ing-wen (蔡英文) yesterday apologized to military personnel, public servants and public-school teachers for cutting their pensions.
Tsai made the remarks at a news conference at the Presidential Office in Taipei held after the passage of an amendment to the Act of Military Service for Officers and Noncommissioned Officers of the Armed Forces (陸海空軍軍官士官服役條例) late on Wednesday.
The amendment was the last piece of legislation in the Tsai administration's agenda to overhaul the pension systems for the nation's military personnel, civil servants and public-school teachers.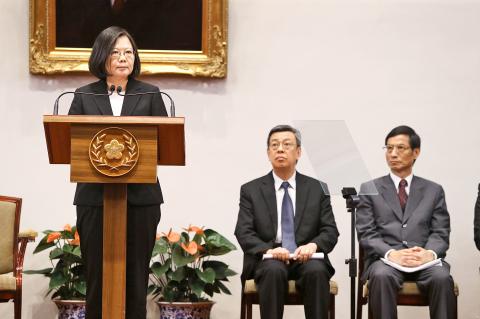 President Tsai Ing-wen, left, speaks at the Presidential Office in Taipei yesterday at a news conference in which she apologized to military personnel, civil servants and teachers for cutting their pensions.
Photo: CNA
"The majority [of pensioners] will now have less money in their pockets. The sense of unhappiness and frustration of those who are personally affected is truly difficult for others to fully understand," Tsai said. "To those of you who will see less income from your pensions and will be compelled to change your retirement plans and lifestyles, you have my apology on behalf of the nation."
The vast majority of the nation's military personnel, civil servants and public-school teachers have expressed understanding about the government's difficult position, she added.
Public employees have again demonstrated their unwavering support for the nation and they are pillars of Taiwanese society, Tsai said.
"As the president, you have my deepest gratitude," she said.
Despite the social upheaval and controversy that has followed pension reforms, such policy is necessary to preserve the government's fiscal health, she added.
Tsai said that two years ago when she met then-president Ma Ying-jeou (馬英九) at the Taipei Guest House to discuss the presidential transition, he said pension reform was an urgent task that was left unfinished during his tenure.
When Ma was in office, he vowed to reform the nation's public pension programs before his term was over and to not leave the problem for his successor to deal with, she said.
"I am that successor. I did not bring this up to cast aspersions on Ma. Rather, the upheaval of the past two years has given me an understanding of why he hesitated back then," Tsai said.
She said it was her duty as president to take on the problem and solve it, adding that shrugging off that responsibility would have made the transition of power in 2016 meaningless.
She added that had her administration not enacted reforms, public employee pension funds would have gone bankrupt, which would have been followed by the loss of all pensions and an economic crisis.
"We have pulled Taiwan from the brink, and each and every Taiwanese is a hero," Tsai said.
Vice President Chen Chien-jen (陳建仁), who serves as convener of the Presidential Office's Pension Reform Committee, said he was sorry to have asked public employees to make sacrifices for the greater good and for the economic pain the reforms would cause.
The amendment stipulates that military personnel who have completed 20 years of service would receive a monthly pension equivalent to 55 percent of their monthly salary, with increments of 2 percent added for each additional year of service.
Military personnel who have already retired and whose monthly pensions exceed NT$38,990 (US$1,287) would see their pension plans adjusted over the next 10 years, it says.
The bill now awaits the president's signature and is expected to go into effect on July 1 alongside amendments to the pension plans of civil servants and public-school teachers, which would also impose substantial cuts to their pensions and benefits.
Comments will be moderated. Keep comments relevant to the article. Remarks containing abusive and obscene language, personal attacks of any kind or promotion will be removed and the user banned. Final decision will be at the discretion of the Taipei Times.