'White Wolf' conferring award sparks furor
Photographs of Chinese Unity Promotion Party Chairman Chang An-le (張安樂) handing out the "mayor's award" at an elementary-school graduation ceremony have surfaced on Facebook, sparking an uproar.
Chang on Friday attended the ceremony at National Taipei University of Education Experimental Elementary School for his granddaughter's graduation and was asked to hand out the award, causing anger from parents over the former gang leader — also known as the "White Wolf" — presenting the prize.
A letter of apology to parents was published on the school's Web site early yesterday morning.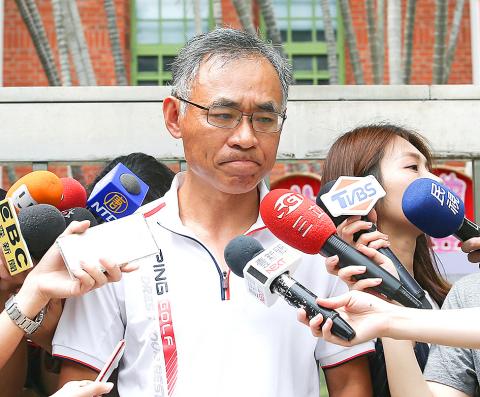 National Taipei University of Education Experimental Elementary School director of school affairs Chen Chien-ting talks to reporters in Taipei yesterday.
Photo: CNA
The school made a careless mistake, as it did not carefully think through how awards would be conferred, school affairs director Chen Chien-ting (陳建廷) said in an interview.
He apologized for the trouble caused to students receiving awards and their parents, saying that the school would formally apologize to each parent and would reflect on the mistakes made at the ceremony to prevent a recurrence.
Chen rejected rumors that school principal Lorna Lin (林正鳳) would resign, saying that the issue has not been brought up.
Lin has apologized for the error and would look into it, Chen said, adding that it was a spur-of-the-moment decision for Chang to be asked to hand out the award.
Asked whether Lin had changed her mind after reportedly telling reporters that she was "leaning toward resignation," Chen said that Lin was "prioritizing school affairs."
He said he had no knowledge of the Taipei Department of Education reportedly receiving notification from Lin that she would resign.
Chang and others were asked on stage because they were related to graduates, Chen said, adding that the issue of who would hand out awards was not discussed at a preparatory meeting of organizers.
Guests who are to confer awards at ceremonies would now be determined in advance, he said, adding that it had not been standard practice, as organizers hoped to avoid last-minute cancelations.
Asked whether Chang had requested ahead of time to be asked on stage, Chen said: "No, no! Absolutely not."
Parents expressed their unhappiness over the situation to the school immediately after the ceremony, he said, explaining the school's decision to re-evaluate the award ceremony and change procedures.
"After we deal with this situation and impose punishments, we will convene to discuss the issue further," Chen said. "It is not like nobody will be punished for this."
Ministry of Education K-12 Education Administration Division Director-General Chiu Chien-kuo (邱乾國) said that most awards at graduation ceremonies are typically conferred by representatives of the government department for which they are named.
Mayor's and commissioner's awards are the top awards at graduations, and if the mayor or county commissioner, or a representative of the local education department is unavailable, a school inspector should confer the award, he said.
In the event that no city official can attend, the school's principal would normally confer the award on the city's behalf, he added.
It is rare to have parents present awards, Chiu said, adding that due to the significant number of parents at graduation ceremonies, choosing any of them to confer an award would be arbitrary and inappropriate.
Comments will be moderated. Keep comments relevant to the article. Remarks containing abusive and obscene language, personal attacks of any kind or promotion will be removed and the user banned. Final decision will be at the discretion of the Taipei Times.