Research team extends banana shelf life by 23 days using nanotechnology
Taiwanese researchers have developed a method using nanotechnology to extend the shelf life of bananas for 23 days.
The team was led by National Chung Hsing University professor Lin Yao-tung (林耀東).
Exhibiting the team's techniques at a Ministry of Science and Technology pavilion at Computex Taipei on Wednesday last week, Lin said the technique is commercially feasible and more than 80 businesses, including household electric appliance suppliers, have approached the team seeking collaboration.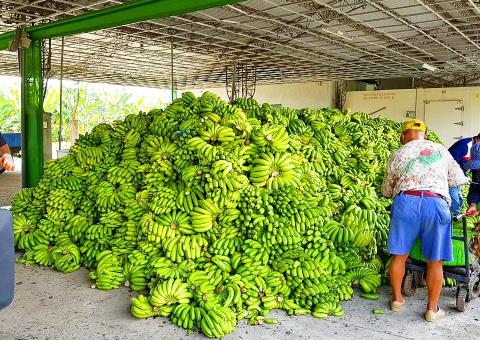 A man on Friday works next to a pile of bananas that are to be sent to livestock or composting farms in accordance with Council of Agriculture regulations.
Photo: CNA
While plunging banana prices have grabbed media attention over the past few months, it is not a new problem, Lin said, adding that he has spent nine years researching techniques to extend the shelf life of various fruits.
Lin said he missed Taiwan's various kind of high-quality bananas when studying in the US, adding that banana exports are unfortunately much weaker than local consumption.
Chilean agricultural products are exported an average distance of 11,157km and those of New Zealand an average of 10,765km, while Taiwanese agricultural products are exported an average of 1,793km, highlighting the nation's need to develop more advanced techniques for keeping fruit fresh, he said.
Working with researchers in plant pathology, animal science and other domains, the team used mineral materials and agricultural waste to develop a coating for cardboard cases that slows down the ripening process by insulating the bananas during transportation, he said.
The results showed that the coating extended the shelf life of bananas, he said, adding that the technique could also be used in warehouse management systems.
The team also plans to collaborate with information engineers in developing an automated system for monitoring crops as they ripen, Lin said, adding that the system might soon be turned into a mobile app for farmers.
Asked about the cost of the technique, Lin said that academics spend less time thinking about business affairs.
The team might seek cooperations with companies that have expressed an interest in their technology, he added.
Lin teaches in the university's Department of Soil and Environmental Sciences, where two graduate students, Tu Kai-fen (涂凱芬) and Yan Li-ting (嚴莉婷), have started an agricultural technology company named Agritech (艾格泰).
Comments will be moderated. Keep comments relevant to the article. Remarks containing abusive and obscene language, personal attacks of any kind or promotion will be removed and the user banned. Final decision will be at the discretion of the Taipei Times.