Burkina Faso severs ties
FAIR WARNING: The foreign ministry suspected the move as early as last month, when the Burkinabe president refused a visit by Tsai in lieu of another international meeting
Burkina Faso yesterday severed ties with Taiwan, the second diplomatic ally to do so within a month, prompting Minister of Foreign Affairs Joseph Wu (吳釗燮) to tender his resignation.
However, President Tsai Ing-wen (蔡英文) did not sign off on Wu's resignation, Presidential Office spokesman Alex Huang (黃重諺) told the Taipei Times last night.
Speaking at an impromptu news conference in Taipei yesterday evening, Wu said that although Burkina Faso has yet to establish diplomatic ties with Beijing, it goes without saying that "China is the sole factor" in the African nation's decision.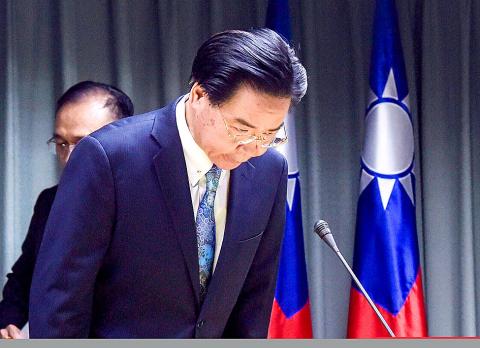 Minister of Foreign Affairs Joseph Wu bows during a news conference at the Ministry of Foreign Affairs in Taipei yesterday.
Photo: Huang Yao-cheng, Taipei Times
"This is the second nation in a month, after the Dominican Republic, to have made such a move. I share the public's sadness, anger and regret over these incidents," said Wu, who only took over the helm of the ministry in February.
China's repeated attempts to poach Taiwan's diplomatic allies and suppress its presence in the international arena would not narrow the gap across the Taiwan Strait — it would only further anger Taiwanese, Wu said.
"I would like to again quote President Tsai's oft-stated pledge that we will never succumb to Beijing's pressure," Wu said, adding that China's actions, both diplomatically and militarily, constitute a unilateral change of the cross-strait "status quo."
The Ministry of Foreign Affairs first noticed warning signs regarding Burkina Faso prior to Tsai's state visit to Africa last month, when Burkinabe President Roch Kabore prioritized an international gathering over meeting with Tsai, Wu said.
Media speculation in Burkina Faso regarding the establishment of diplomatic relations with Beijing were another sign, Wu said.
The ministry became more concerned after Burkina Faso became the nation's only ally to not publicly speak up for Taiwan's World Health Assembly (WHA) bid, Wu said.
A high-level government official previously said on condition of anonymity that China had written to all of Taiwan's diplomatic allies warning them against speaking for Taiwan at this year's WHA.
The Republic of China established diplomatic relations with Burkina Faso in 1961, but Ouagadougou switched recognition to the People's Republic of China in 1973. Taiwan and Burkina Faso resumed ties in 1994.
Burkinabe Minister of Foreign Affairs Alpha Barry in February last year had told reporters that his nation had rejected a Beijing offer of US$50 billion and had no plans to switch allegiances.
Taiwan has lost three other diplomatic allies to China since Tsai's inauguration: Sao Tome and Principe in December 2016, Panama in June last year and the Dominican Republic on April 30.
Regarding Taiwan's relations with its sole remaining African ally, Eswatini, Wu said that he has "huge confidence" in the stability of their ties.
"President Tsai visited Eswatini just last month and she has maintained a good relationship with Swazi King Mswati III," Wu said. "The king is also scheduled to visit Taiwan next month to attend his son's graduation ceremony."
Comments will be moderated. Keep comments relevant to the article. Remarks containing abusive and obscene language, personal attacks of any kind or promotion will be removed and the user banned. Final decision will be at the discretion of the Taipei Times.