Interior minister denies illegally teaching in PRC
DOING IT RIGHT: Yeh Jiunn-rong said he had given lectures in China while he was teaching at National Taiwan University, but was not paid for them
Minister of the Interior Yeh Jiunn-rong (葉俊榮) yesterday denied allegations made earlier in the day by Chinese Nationalist Party (KMT) member Yu Shu-hui (游淑慧) that he had illegally taught in the People's Republic of China (PRC).
Yu, who is running for a Taipei City Council seat, wrote on Facebook that Yeh had broken the law by teaching at Zhejiang University's Guanhua Law School in December 2011 and January 2012, attaching a screenshot of the university's Web site describing Yeh as a lecturer.
Yeh held a noontime news conference at the Ministry of the Interior, saying while he did give lectures in China, he did not receive compensation, which is in compliance with the law.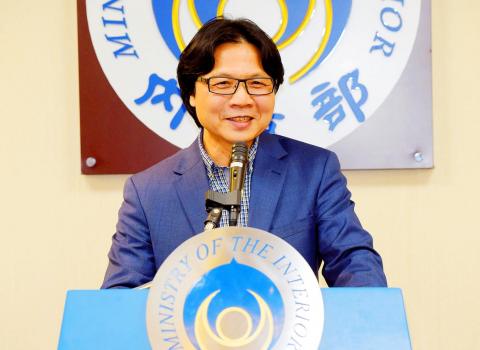 Minister of the Interior Yeh Jiunn-rong speaks at a news conference at the ministry in Taipei yesterday regarding his short-term lecturership at a university in China six years ago.
Photo: Huang Yao-cheng, Taipei Times
Yeh said he was a full-time National Taiwan University professor when he received an invitation from the law school's then-vice president Zhu Xinli (朱新力) asking him to give lectures to Zhu's "Government Regulations and Administrative Rule of Law" class.
Since he received no payment for the lectures and Zhu was the course instructor, nothing he did met the legal definition of part-time work, Yeh said.
"Everything was done strictly according to the law," he said.
His only activities in China that resembled Yu's allegations were the lectures in Zhejiang, though he has given talks on environmental regulations on several occasions, but all of those speaking engagements were short-term, Yeh said.
The university Web page describing him as a lecturer does not mean he was a part of the institution's faculty and he has asked the university to take the page down to avoid further misunderstandings, Yeh said.
"As an academic, I believe in the advantages of global academic dialogue, including exchanges with China," he said.
"While there are special circumstances across the [Taiwan] Strait, the nation has laws and regulations in place to govern [issues related to China], and I have followed them in all of my speaking engagements and short-term lectureships there," he said.
When a reporter asked Yeh to respond to Yu's comment that the government is guilty of double standards in stalling confirmation on National Taiwan University president-elect Kuan Chung-ming's (管中閔) appointment while ignoring his alleged wrongdoings, Yeh said: "I am glad to have the opportunity to share with the public how international academic exchange is regulated. This is the first time I learned of this comparison and I am quite surprised. I want to clear this up as soon as possible."
Comments will be moderated. Keep comments relevant to the article. Remarks containing abusive and obscene language, personal attacks of any kind or promotion will be removed and the user banned. Final decision will be at the discretion of the Taipei Times.