US, Taiwan sign missile deal: source
TANK-BUSTERS: The sale is part of an arms package announced by the US in December 2015, originally for 769 missiles along with training equipment and support systems
Taiwan and the US have sealed a NT$3.8 billion (US$130.5 million) deal for 460 TOW-2B Aero radio frequency (RF)-controlled anti-tank missiles, which are to be delivered to Taiwan annually starting this year, with the final batch to be received by June 2024, a Ministry of National Defense source said yesterday.
The TOW-2B missiles are superior to the TOW-2A missiles the military currently uses in that they are wirelessly controlled rather than wire-guided, the source said.
The RF capability allows the missiles to more easily damage or paralyze enemy tanks by attacking them at more vulnerable points, the source said.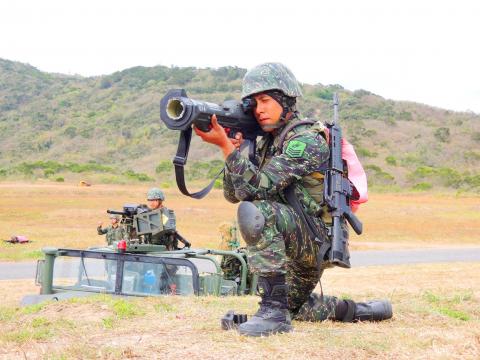 A soldier simulates shooting a Kestrel anti-armor rocket during a military drill at Pingtung County's Joint Operations Training Base Command on March 4, 2016.
Photo: Lo Tien-bin, Taipei Times
After delivery of the missiles, the army's anti-tank companies — on both Taiwan proper and its outlying islands — would have priority in deploying the missiles, the source said.
The TOW-2B's maximum range of 4.5km allows it to be used not only in ground battles, but also to prevent enemy landings by engaging hovercraft and amphibious landing vehicles, the source said.
The sale is part of an arms package announced by the US in December 2015, originally for 769 TOW-2B RF missiles along with training equipment and support systems for a total of US$268 million, the source said.
After assessing the military's equipment, the ministry elected to purchase 460 missiles due to a healthy number of TOW-2A missiles still in use, the source said.
The move was also a means to incentivize the Chungshan Institute of Science and Technology (CSIST) to make breakthroughs in research and development and produce anti-tank weaponry on a par with the TOW-2B, the source said.
The deal was officially signed by the Taiwanese defense attache and the American Institute in Taiwan, and was promulgated by the ministry on Thursday.
The CSIST is building missiles based on the Kestrel anti-armor rocket and has achieved multiple breakthroughs on key technologies, adding it is possible that the final product could produce an anti-tank missile at the level of the portable F6M-1HB Javelin or the TOW-2B.
The CSIST has also developed a Kestrel variant that can reach targets more than 1,200m away, a drastic improvement over the current Kestrel, which only has a range of 400m, the source said.
The CSIST's Kestrel variant would be able to penetrate up to 400mm of rolled homogenous armor, which is an improvement on the original Kestrel's penetration rate of 300mm, the source added.
Comments will be moderated. Keep comments relevant to the article. Remarks containing abusive and obscene language, personal attacks of any kind or promotion will be removed and the user banned. Final decision will be at the discretion of the Taipei Times.