Paint hurled on Chiang's sarcophagus
LANDSCAPE CLEANSING: The protesters cited the city government's guide to the mausoleum, which said visitors could come to 'reminisce about a great man'
A group of young independence supporters yesterday hurled red paint on the sarcophagus of Chiang Kai-shek (蔣介石) in a step-up from past displays calling for an end to continued worship of him.
About 20 people entered the hall containing Chiang's sarcophagus at his mausoleum in Taoyuan's Dasi District (大溪) at about 10am and tossed red paint — which they said was to symbolize his victims' blood — over his sarcophagus and portrait.
They also held up a banner reading "Ousting the Chinese regime, establishing a Republic of Taiwan," referring to the Chiang-led Chinese Nationalist Party (KMT) regime that retreated to Taiwan in 1949 after losing the Chinese Civil War.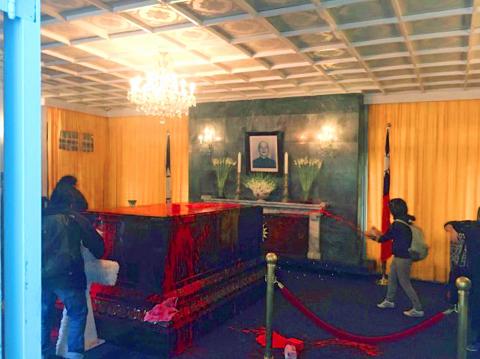 Protesters splash paint on Chiang Kai-shek's sarcophagus in Taoyuan's Dasi District yesterday.
Online screen grab
The protesters, believed to be from the pro-independence group From Ethnos to Nation, later issued a statement calling for the closure of the mausoleums of Chiang and his son, former president Chiang Ching-kuo (蔣經國), as well as a stop to the practice of using authoritarian legacies for tourism.
"Late last year, the [Democratic Progressive Party] passed the Act on Promoting Transitional Justice (促進轉型正義條例), raising hopes that the government would swiftly embark on a mission to remove all authoritarian symbols and preserve historical sites of injustice," the statement said.
However, the government has focused on the KMT and its affiliates' illegitimately obtained assets and the publication of archives, the statement said, adding that its passiveness has allowed the Chiangs' spirits to continue wandering in the free and democratic nation.
Singling out the Taoyuan City Government's online tourism guide for Chiang Kai-shek's mausoleum — which it describes as a "sacred ground where people from around the world reminisce about a great man" — the statement quoted Taoyuan Mayor Cheng Wen-tsan (鄭文燦) as saying that transitional justice should not be limited to eliminating symbols of the Chiangs.
"Removing the Chiangs' symbols is only a part of transitional justice, but the grand project can never be fulfilled if we avoid such removals and delay 'landscape cleansing,'" it added.
The quoted sentence from the guide was removed later yesterday.
Expressing regret over the vandalism, the Ministry of National Defense's Armed Forces Reserve Command — which manages the mausoleum — said it would increase patrols to prevent similar incidents.
As it was the first time Chiang Kai-shek's sarcophagus has been targeted since his death in 1975, several KMT heavyweights also weighed in.
KMT Chairman Wu Den-yih (吳敦義) said the vandalism was regrettable, as Chiang Kai-shek had done more good than harm, such as leading his army to victory in the Second Sino-Japanese War and recovering Taiwan.
"The 228 Incident is also a regrettable tragedy that happened at a tumultuous time, and Chiang Kai-shek surely has to be held accountable, given his position as head of state at the time," Wu said.
However, Wu added that past governments have already done their utmost to compensate victims of the White Terror, a period of suppression of political dissidents in Taiwan that began soon after the Incident in 1947 and lasted until the lifting of martial law in 1987.
In a statement released by his office, former president Ma Ying-jeou (馬英九) said that irrational acts would only sow hatred and are not conducive to facilitating dialogue and reconciliation.
"Acts that harm others and benefit no one should be stopped immediately," it said.
Meanwhile, Cheng said in a news release that his administration was willing to revise tourism guides in line with the transitional justice act.
As for the protesters' demand to close down the two mausoleums, Cheng said they are administered by the defense ministry and that he would respect its decision.
Comments will be moderated. Keep comments relevant to the article. Remarks containing abusive and obscene language, personal attacks of any kind or promotion will be removed and the user banned. Final decision will be at the discretion of the Taipei Times.