Tsai should plan to avoid China conflict: legislators
TERROR OR BUDGET? The KMT was accused of terror when it made similar comments, but Tsai might be trying to boost the defense budget, a lawmaker said
President Tsai Ing-wen (蔡英文) should devise plans to reduce the possibility of the Chinese government launching an armed assault on Taiwan, lawmakers said yesterday.
"No one should ever rule out the possibility" of a Chinese attack, Tsai said during an interview on Monday, when asked by political talk show host Cheng Hung-yi (鄭弘儀) whether China could launch an armed assault on Taiwan.
However, as all decisionmaking by national leaders come at a cost, how the scenario would play out would depend on whether the Chinese president can make rational decisions, Tsai said.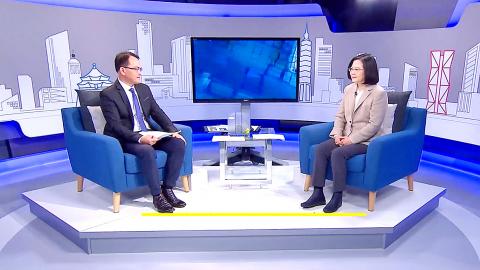 Political talk show host Cheng Hung-yi, left, interviews President Tsai Ing-wen at the SET television studio in Taipei on Monday.
Photo copied from the SET iNews Web site
Considering the international situation and regional stability, there is a "high likelihood" that China would launch an attack on Taiwan, Chinese Nationalist Party (KMT) Legislator Ma Wen-chun (馬文君) said yesterday.
When the KMT made comments similar to Tsai's, it was criticized for "terrorizing people," Ma said, asking whether Tsai's words were meant to terrorize people or boost the national defense budget, which is under legislative review.
While Tsai was right in making the comments from the viewpoint of national defense, the government should not have tunnel vision when it comes to upholding security, she said.
Taiwan could assume that all other nations are its enemies, but it could also assume that they are friends, Ma said, urging Tsai to devise strategies to uphold the nation's security.
Rather than just pointing out a problem, Tsai should come up with ways to solve it to avoid a scenario in which Taiwan is attacked by China, KMT caucus secretary-general Lee Yen-hsiu (李彥秀) said.
Peaceful developments between Taiwan and China are the shared hope of people on both sides of the Taiwan Strait, Lee said, adding that this hope would only become reality if leaders on both sides demonstrate patience and wisdom.
No national leader can rule out external threats, and even though war in the Strait does not pose an immediate threat to the nation, it is undeniable that it is a long-standing crisis, Democratic Progressive Party Legislator Lo Chih-cheng (羅致政) said.
The crisis has been deepening, even when the KMT was the ruling party, which proves that it is unaffected by changing political landscapes, Lo said.
He called for a channel of communication, such as a hotline, between Taiwan and China to be established, saying that if the lack of mutual trust and communication continues, any accident could escalate into war.
Comments will be moderated. Keep comments relevant to the article. Remarks containing abusive and obscene language, personal attacks of any kind or promotion will be removed and the user banned. Final decision will be at the discretion of the Taipei Times.