Trump urged to weigh implications of Iran move
The leaders of Britain, France and Germany yesterday said they remain committed to the Iran nuclear deal and are "concerned by the possible implications" of a US decision to no longer back it in its current form.
US President Donald Trump on Friday refused to formally certify that Tehran was complying with the 2015 accord, even though international inspectors said it is.
He threatened to "terminate" the nuclear deal signed between Iran and six world powers unless the US Congress passed stringent new sanctions.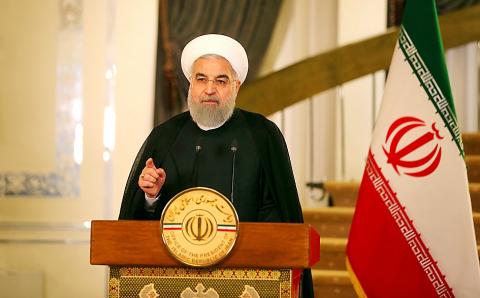 Iranian President Hassan Rouhani speaks on Iranian state TV in Tehran in reaction to a speech by US President Donald Trump on Friday.
Photo: AFP/HO/Iranian Presidency
British Prime Minister Theresa May, German Chancellor Angela Merkel and French President Emmanuel Macron issued a joint statement calling the nuclear deal "the culmination of 13 years of diplomacy."
A top Russian lawmaker whose views usually reflect the Kremlin's said that Trump's position "can lead to the emergence of a real conflict."
"The creation of an unstable situation can lead to Iran reacting," the lawmaker said.
If the US terminates the Iran nuclear deal or reimposes sanctions on Tehran, it could result in Iran developing nuclear weapons and raise the danger of war close to Europe, German Minister for Foreign Affairs Sigmar Gabriel said.
"My big concern is that what is happening in Iran or with Iran from the US perspective will not remain an Iranian issue, but many others in the world will consider whether they themselves should acquire nuclear weapons too, given that such agreements are being destroyed," Gabriel said.
"And then our children and grandchildren will grow up in a very dangerous world," he said.
Iranians yesterday responded with anger and mockery to the bellicose criticism of their government by Trump.
Trump's use of the phrase "Arabian Gulf" instead of "Persian Gulf" particularly hit a nerve in a country with a fierce nationalistic streak.
"Everyone knew Trump's friendship was for sale to the highest bidder. We now know that his geography is too," Iranian Minister of Foreign Affairs Mohammad Javad Zarif said on Twitter, referring to the US alliance with Iran's regional rival, Saudi Arabia.
"Trump's statements are so ridiculous that it actually works in Iran's favor. Speaking about the 'Arabian Gulf' is taken very badly by people here," said Abbas, a 40-year-old banker who only gave his first name.
"The reaction of the Europeans shows that the United States is isolated, and only Saudi Arabia and Israel have supported Trump," he added.
In his White House speech on Friday, Trump reeled off a list of grievances committed by the "Iranian dictatorship, its sponsorship of terrorism and its continuing aggression in the Middle East and all around the world."
For all the bluster, Trump's strategy was not as tough as many had predicted.
It placed new sanctions on Iran's Islamic Revolutionary Guard Corps, but did not designate them a terrorist organization as trailed in the run-up to the speech.
Iranian President Hassan Rouhani took to the airwaves shortly after Trump's speech on Friday night, dismissing it as "nothing but the repetition of baseless accusations and swear words."
"He has not studied international law. Can a president annul a multilateral international treaty on his own?" Rouhani said.
"If the [US] Congress goes ahead with new sanctions, then the deal is dead and Iran will restart its nuclear program and move forward full-steam ahead in all fields," said Mohammad Marandi, a professor at the University of Tehran. "Iran will probably invest even more than before in order to show the Americans that they can't get away with destroying the agreement."
Comments will be moderated. Keep comments relevant to the article. Remarks containing abusive and obscene language, personal attacks of any kind or promotion will be removed and the user banned. Final decision will be at the discretion of the Taipei Times.