China plans 2020 invasion: researcher
SAFETY GUARANTEED: The Presidential Office would not comment on an assertion that China would invade, or on the reliability of research fellow Ian Easton's sources
China has finalized a clandestine plan to invade Taiwan in 2020 by launching missile attacks, blocking the nation's air and sea space, and carrying out amphibious landings, Washington-based think tank Project 2049 Institute research fellow Ian Easton said.
Easton, a former student at National Chengchi University, made the "revelation" in his new book, The Chinese Invasion Threat, released on Tuesday.
The two sides of the Taiwan Strait have been two different nations since 1949, and most analysts believe that as long as Taiwan does not declare de jure independence, the "status quo" across the Strait would be maintained, Easton said.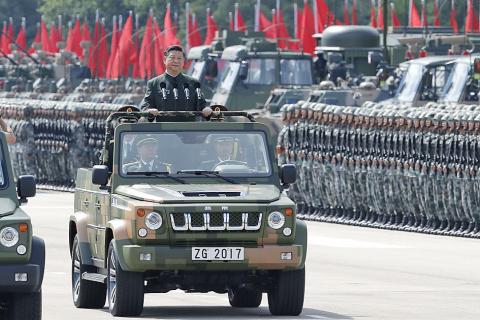 Chinese President Xi Jinping inspects the Chinese People's Liberation Army Hong Kong Garrison at the Shek Kong Barracks in Hong Kong on June 30.
Photo: AP
However, conflict could still arise no matter what Taiwan or the US does to prevent it given the unstable situation in the Taiwan Strait, just like a levee that has been under enormous pressure and ultimately breaks, he said, adding that Washington should focus on formulating new thinking that would accentuate that Taiwan is a sovereign and free nation.
The US' arms sales to Taiwan was the biggest factor helping Taiwan to be involved in international politics, but it is unwise for Taiwan and the US to continue increasing arms sales in bilateral relations, Easton said.
US military officials holding a two-star rank or above should make regular visits to Taiwan so that Washington could make useful assessments in the event of a crisis, he said, adding that the two sides should conduct bilateral port-of-call stops, hold joint military drills and engage in defense industry exchanges to streamline efforts in providing humanitarian aid and disaster relief, and in counterterrorism and cyberwarfare.
It would be difficult for the US to maintain a military edge over China in the long term, unless it includes Taiwan in its strategic planning, Easton said, adding that it would likewise be impossible for Taiwan to ensure its security without maintaining the US' support.
Taiwan's counterattack capabilities pose a threat to the Chinese People's Liberation Army (PLA), but it should expand its arsenal of long-range and shoulder-launched missiles, drones, fighter jets and cannons, and deploy weapons with lower lethality in areas closest to China, he said.
Easton also highlighted the need for Taiwan to understand the complexity of PLA tactics for launching an assault in its outlying Penghu, Kinmen and Lienchiang islands and for it to boost its abilities to engage in electronic warfare.
The US and China are engaged in a long and tense strategic race in the Asia-Pacific region, in which the US would quickly lose its advantage over China if Beijing's growing prominence in the region is not curbed, Easton said.
Presidential Office spokesman Sidney Lin (林鶴明) yesterday said the office had no comment on Easton's assertions that China would invade in 2020, nor does it have any comments on the reliability of his sources.
The Ministry of National Defense has been closely monitoring movements of the Chinese military, Lin said.
"The public can rest assured that the nation's safety is guaranteed" he said.
Chinese Nationalist Party (KMT) Legislator Ma Wen-jun (馬文君) said the threat of the PLA "liberating" Taiwan by force is ever-present, but added that Beijing's setting of a time frame for annexing the nation through an armed assault could signal that China's agenda has changed.
Democratic Progressive Party Legislator Lo Chih-cheng (羅致政) raised doubts over the time frame Easton asserted, saying that he did not think it is very precise.
China might be ready militarily to invade Taiwan in 2020, but that would not necessarily mean that it would also be "politically ready," Lo said.
China also needs to assess its chances of launching a successful invasion and the consequences of an attack, which are reasons that there could be variables to a possible invasion, he said.
Comments will be moderated. Keep comments relevant to the article. Remarks containing abusive and obscene language, personal attacks of any kind or promotion will be removed and the user banned. Final decision will be at the discretion of the Taipei Times.