UMC indicted for Micron trade secrets theft
United Microelectronics Corp (UMC, 聯電), the nation's second-largest contract chipmaker, and three of its employees were on Wednesday indicted for alleged theft and use of trade secrets from Micron Technology Inc's local units in the latest row over escalating talent poaching.
UMC, Ho Chien-ting (何建廷), Wang Yong-ming (王永銘) and Rong Le-tien (戎樂天) allegedly illegally replicated Micron's manufacturing techniques for the profit of UMC businesses in China, the Taichung District Prosecutors' Office said in its indictment.
UMC is developing DRAM chip manufacturing technologies in collaboration with China's Fujian Jin Hua Integrated Circuit Co (晉華集成電路) via a Chinese subsidiary.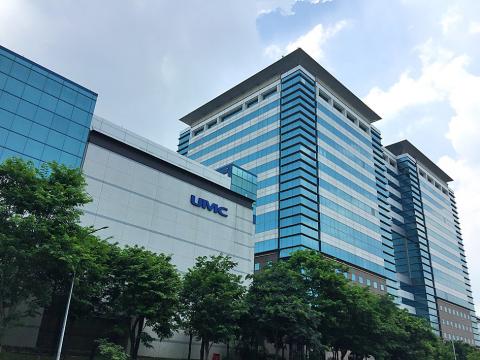 United Microelectronics Corp's headquarters is pictured in Hsinchu on Wednesday.
Photo: Hung Yu-fang, Taipei Times
UMC and its employees contravened the Trade Secrets Act (營業秘密法) and the Copyright Act (著作權法), prosecutors said.
In a filing with the Taiwan Stock Exchange on Wednesday, UMC said it had not received official notification of the indictment.
UMC would fully cooperate with any investigation and would hire lawyers to safeguard its interests, it added.
Micron said it aims to protect its intellectual property through the lawsuits.
The government's enforcement of related rules would assure foreign investors who are interested in investing in Taiwan that their properties and interests would be fully safeguarded, it added.
Ho and Wang are former employees of Micron's local unit, where Ho was a section chief and Wang a manufacturing deputy manager.
In November 2015, Ho joined UMC as technical manager for special projects.
Wang followed suit in March last year, joining UMC as a technical manager for components.
Ho stole classified trade secrets from Micron and used them at UMC, helping a UMC subsidiary in China manufacture memorychip wafers, prosecutors said.
Wang is suspected of stealing manufacturing technology and protocols, which he gave to Rong, a UMC technical division associate, to speed up the design of UMC's process protocol, prosecutors said.
Micron in February filed a lawsuit after discovering that Wang had made electronic copies of company files, which he allegedly handed over to UMC.
Later that month, prosecutors raided UMC's Tainan plant.
After learning about the search, Rong reportedly instructed Ho and Wang to delete all related information from the company's database.
When questioned by prosecutors, Ho and Wang claimed that they took the data for personal research, while Rong said he only made suggestions to Wang on manufacturing design.
Comments will be moderated. Keep comments relevant to the article. Remarks containing abusive and obscene language, personal attacks of any kind or promotion will be removed and the user banned. Final decision will be at the discretion of the Taipei Times.