Sharp president says collaboration with JDI possible
Sharp Corp might seek a strategic collaboration with Japan Display Inc (JDI) to build a sizeable alliance against South Korean display suppliers Samsung Electronics Co and LG Electronics Inc, Sharp president Tai Jeng-wu (戴正吳) said yesterday.
"We can work together, but there is one condition: Sharp must lead the alliance," Tai told a news conference in Taipei.
Tai said Sharp has not yet officially approached JDI regarding the proposal, due to concerns of possible antitrust violations.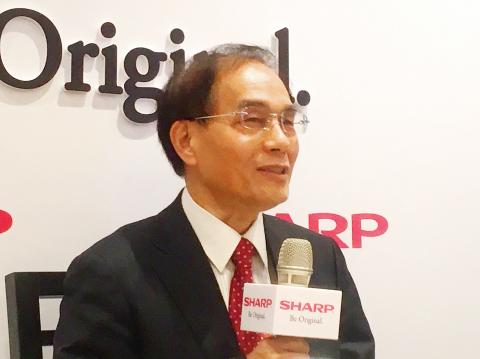 Sharp president Tai Jeng-wu speaks at a news conference in Taipei yesterday.
Photo: Chen Jou-chen, Taipei Times
However, there are ways for Sharp to avoid breaking the law, he said.
"Otherwise, how could [South Korean chipmaker] SK Hynix [Inc] join the bid to acquire Toshiba's memorychip business?" Tai asked.
Tai said he views Samsung and LG as experienced sumo wrestlers who weigh more than 200kg, whereas Sharp only weighs slightly more than 150kg.
"Sharp cannot spend hundreds of billions of yen to fight against Samsung or LG alone, as we will definitely lose the game," he said.
Tai said that firms in Japan's display supply chain — including material and equipment suppliers — should form a "big Japanese league" to increase their competitiveness.
When asked if Sharp is to follow in Hon Hai Precision Industry Co's (鴻海精密) footsteps and build plants in the US, Tai said Sharp is evaluating the feasibility of investing in the nation and hopes it could help expand the firm's overseas revenue contribution from 68 percent to 80 percent.
"North America is such a big market. We will definitely go if the investment opportunity benefits Sharp," he said.
However, the company does not plan to acquire Vizio Inc, the US' second-largest television manufacturer, Tai said.
"I am promoting Sharp's brand in the US, but we will not buy other brands," he said.
Tai's remarks came amid rumors that Sharp is interested in buying Vizio with help from Hon Hai, after Leshi Internet Information and Technology Corp's (LeEco, 樂視) US$2 billion acquisition of Vizio collapsed.
As part of efforts to boost Sharp's overseas revenue, Tai on Aug. 1 took over as the firm's head of global sales to closely oversee sales performance abroad and in Taiwan, he said.
Sharp aims to increase its market share in Taiwan to 40 percent as soon as possible, Tai said, without disclosing the current share or a time frame.
The company is to allocate more marketing resources in Taiwan, including inking an endorsement agreement with Taiwanese singer and actor Crowd Lu (盧廣仲) to promote Sharp TVs, Tai said.
Comments will be moderated. Keep comments relevant to the article. Remarks containing abusive and obscene language, personal attacks of any kind or promotion will be removed and the user banned. Final decision will be at the discretion of the Taipei Times.