Ma ordered Alex Tsai killed: shooter
CMPC TITHE? Weng Ping-yao said he was promised a payment of NT$320 million if he killed Alex Tsai, with the amount being 10 percent of CMPC's assessed value
Weng Ping-yao (翁炳堯) yesterday said he was instructed by former president Ma Ying-jeou (馬英九) and Cheng Uei Precision Industry Co (CUPI, 正崴) chairman Gou Tai-chiang (郭台強) to kill then-Chinese Nationalist Party (KMT) legislator Alex Tsai (蔡正元) amid a power struggle a decade ago as groups fought for control of the party's assets.
Weng — who was convicted of firing a gun outside Tsai's office in Taipei's Nangang District (南港) on July 28, 2007 — said that KMT officials promised him NT$320 million (US$10.56 million at the current exchange rate) to kill the lawmaker.
He implicated Ma and Gou — who is the younger brother of Hon Hai Precision Industry Co (鴻海精密) chairman Terry Gou (郭台銘); — as well as Lor Yu-chen (羅玉珍), the wife of Gou Tai-chiang; former Central Motion Picture Corp (CMPC, 中影) vice president Chuang Wan-chun (莊婉均); and KMT stalwart Lee Chuan-chiao (李全教).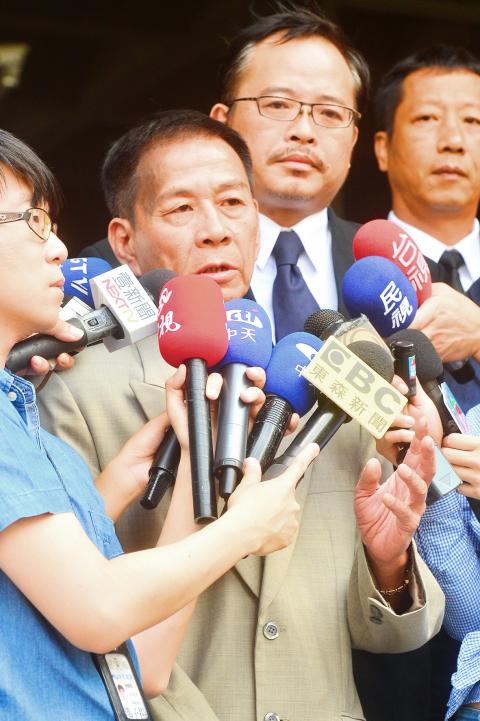 Weng Ping-yao, center, who claims to have been hired in 2007 to kill then-Chinese Nationalist Party (KMT) legislator Alex Tsai, speaks to reporters in Taipei yesterday.
Photo: Wang Yi-sung, Taipei Times
Accompanied by attorney Chou Wu-jung (周武榮), Weng went to the Taipei District Prosecutors' Office, saying he wanted to confess to perjury and to ask prosecutors to reopen the investigation of the shooting.
Weng said he has evidence regarding "the plot to bump off Alex Tsai."
After telling reporters that he would file a lawsuit against "the masterminds of the plot," Weng entered the prosecutors' office.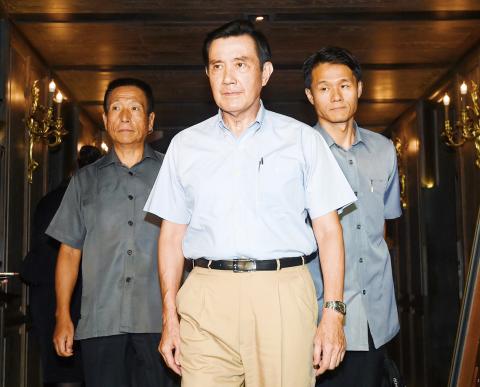 Former president Ma Ying-jeou, center, attends a dinner party for his birthday in Taipei's Xinyi District on Wednesday.
Photo: Liao Chen-huei, Taipei Times
He was released later in the day, with instructions not to leave his residence.
Weng told reporters that he was just "a hired gun, a small potato" in the case and wanted the truth to come out.
The KMT at the time of the shooting was electing members to its Central Standing Committee and other executive positions.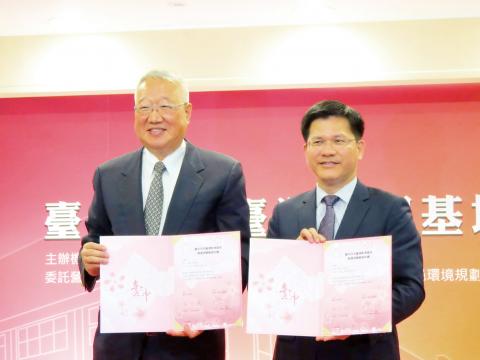 Cheng Uei Precision Industry Co chairman Gou Tai-chiang, left, poses with Taichung Mayor Lin Chia-lung in Taichung on June 28.
Photo: Su Chin-feng, Taipei Times
There was an intense power struggle over party assets, with the sale of CMPC and other KMT-controlled media companies at the center of a clash between Ma, who was president and KMT chairman at the time, and Tsai, who was the chairman of CMPC at the time, Weng said.
"Tsai refused to resign as CMPC chairman, so Ma struck a deal with Gou Tai-chiang, Lor and Chuang according to which those three would take control of CMPC," Weng said.
"I was instructed to bump off Tsai," he said. "It was reasoned that if Tsai was killed, then Gou Tai-chiang would become CMPC chairman."
Weng said that Lee, who at the time was speaker of the Tainan County Council, brokered the deal to hire him to carry out the assassination.
Weng has a checkered past as a gang member in Tainan and has managed companies in Vietnam.
"I was promised a payment of NT$320 million if I killed Tsai," he said. "That amount was agreed upon, as it was 10 percent of CMPC's assessed value of NT$3.2 billion."
He said the deal broke down when he was asked to also kill Wu Chien-pao (吳健保), a leading KMT figure in Tainan, but was convicted for his involvement in an underground baseball gambling syndicate.
With the deal breaking down, Weng only fired shots at Tsai's office, he said.
He said he was cheated out of money, only receiving NT$20 million.
"During the trial, I gave false accounts and mislead prosecutors to protect Ma, Gou Tai-chiang and others, but now I want to clear up the facts of the case and let the public know the real masterminds behind the plot," Weng said.
Ma's office spokeswoman Hsu Chiao-hsin (徐巧芯) said there is no factual basis and no evidence to Weng's allegations, adding that Ma had nothing to do with the shooting incident at Tsai's office.
"It is absurd to the extreme that Ma should be a defendant in this case," Hsu said. "Ma was not involved, but some people just want to stir up trouble."
Comments will be moderated. Keep comments relevant to the article. Remarks containing abusive and obscene language, personal attacks of any kind or promotion will be removed and the user banned. Final decision will be at the discretion of the Taipei Times.