Cabinet denies incense ban motive
SLOW RESPONSE? DPP sources said that the president accused the Cabinet of passivity in explaining its environmental policy, which does not seek to ban religious practice
The Cabinet yesterday denied accusations that an environmental measure to reduce the burning of incense and joss paper was an attempt to eliminate religious rites, saying that the measures are aimed at reducing air pollution, not interfering with religious freedom.
An Environment Protection Administration (EPA) initiative to reduce the use of incense and "ghost money" to minimize airborne pollutants has given rise to Internet rumors that the government plans to draft a religious associations act and phase out the practice of burning incense.
Dozens of local temples and religious organizations are to protest in front of the Presidential Office Building in Taipei on Sunday to demand the protection of religious traditions.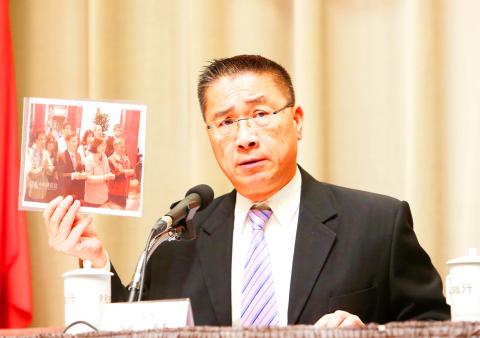 Executive Yuan spokesman Hsu Kuo-yung yesterday at a news conference at the Executive Yuan in Taipei holds up a picture of President Tsai Ing-wen holding incense at a temple to show that the government has no plans to ban incense.
Photo: CNA
The Cabinet said that the EPA never intended to eliminate incense or joss paper, but only to encourage their reduced use for environmental reasons.
"It is a misunderstanding. The EPA has never banned incense or ghost money. Never. We only want to reduce the use of firecrackers, ghost money and incense due to environmental reasons," Executive Yuan spokesman Hsu Kuo-yung (徐國勇) said.
Showing photographs of President Tsai Ing-wen (蔡英文) and Premier Lin Chuan (林全) holding incense sticks during the Lunar New Year holiday, Hsu said the government respects and would never attempt to stop religious practice.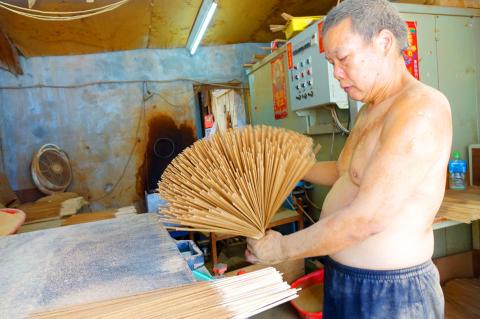 An incense maker works in a studio in Changhua County's Lugang Township yesterday. Incense makers in Lugang say that instead of trying to reduce incense, the government should try to promote high-quality incense that cause less pollution.
Photo: Liu Hsiao-hsin, Taipei Times
The Constitution protects religious freedom and any law limiting this freedom is prohibited, because it would be unconstitutional, Hsu said.
"To live up to their social responsibility, many temples have voluntarily reduced the use of incense, ghost money and firecrackers" without any government orders, Hsu said.
The EPA said the burning of incense and firecrackers produces fine particulate matter containing heavy metals and carcinogenic chemicals, and people exposed to such pollutants often complain of coughing and tearing eyes.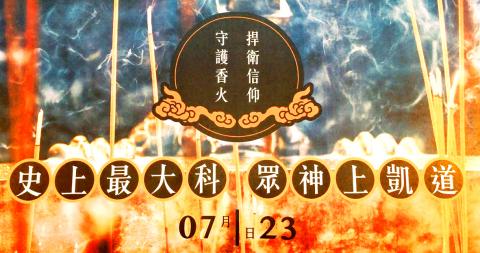 A poster calling for religious groups to bring the statues of their gods to Ketagalan Boulevard in Taipei on Sunday to protest against the government's plan to reduce the burning of incense and joss paper is pictured yesterday. The demonstration is organized by Wude Temple in Yunlin County's Beigang Township.
Photo: CNA
Air quality tests show that the concentration of air pollutants at one temple decreased by two-thirds after it voluntarily reduced the number of incense burners, suggesting that air pollution could be mitigated with reduced use of incense, the EPA said.
At a Democratic Progressive Party (DPP) meeting on Wednesday, Tsai said the Cabinet was slow to respond to the rumors.
DPP sources quoted Tsai as saying that the Executive Yuan was passive in explaining the environmental policy, while Minister of the Interior Yeh Jiunn-rong (葉俊榮) failed to promptly quell the rumor that a ban was to be imposed on religious practices.
The president asked the Cabinet to communicate with temples and religious organizations to reduce incense burning without causing misunderstanding.
The quality control of imported incense and ghost paper has to be improved to reduce airborne pollutants, Tsai said.
Comments will be moderated. Keep comments relevant to the article. Remarks containing abusive and obscene language, personal attacks of any kind or promotion will be removed and the user banned. Final decision will be at the discretion of the Taipei Times.