Taiwan-designed computer now part of an ISS mission
A computer designed in Taiwan was sent to the International Space Station (ISS) for testing for a long-term contract, a Chungshan Institute of Science and Technology official has confirmed.
The SG100 Cloud Computer was designed by the institute after NASA opened the contract for the computer to worldwide bids, and it is capable of performing cloud-based computations and upgrading itself during space missions, the official said.
NASA selected the computer for its OA-7 mission after it passed the US space agency's evaluations with a perfect score, the official added.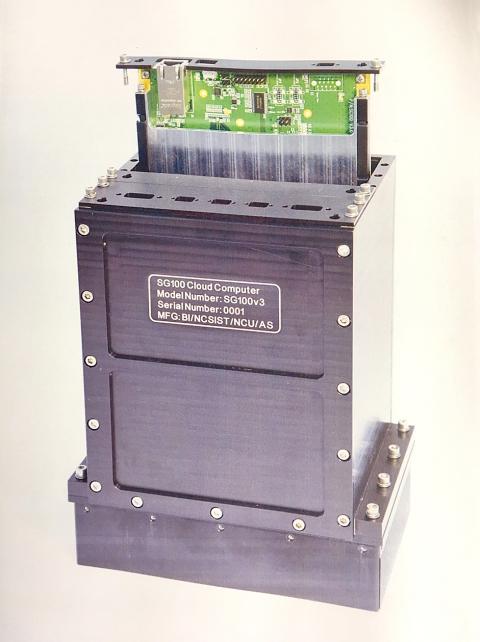 The Taiwanese-designed SG100 Cloud Computer that has been sent to the International Space Station is pictured in an undated photograph.
Photo courtesy of the Chungshan Institute of Science and Technology
NASA launched the OA-7 mission on April 18 to supply the space station with an Orbital ATK rocket, and the SG100's components were included in the shipment for assembly at the station.
If the SG100 passes a six-month field trial, the institute will be contracted by NASA to design its next-generation space mission computers, the official said.
The SG100 Cloud Computer program was a joint effort by the institute, Academia Sinica and National Central University.
The Institute of Nuclear Energy Research and the Chang Gung Memorial Hospital's Lin-kuo Branch allowed the design team to use their particle accelerator to test the computer's performance in space-like conditions.
"Data generated by planning, design, analysis and simulation tasks involved in the process had all been evaluated by NASA experts... The final product was then subjected to NASA's rigorous environmental testing, which the SG100 passed flawlessly," the official said.
The design team worked with NASA on the computer used by the space station's alpha magnetic spectrometer (AMS), a computer that has been in use at the station since 2001.
The AMS project was headed by Nobel laureate Samuel Ting, a Taiwanese-American physicist, who was also involved in the development of the SG100.
The OA-7 mission is to involve four key experiments, including testing of the SG100.
The institute last year announced that it was building a lunar lander for NASA's Resource Prospector mission, which aims to be the first mining expedition on the moon in the early 2020s.
The lunar lander is expected to be completed by next year and the mission is expected to be launched in the early 2020s — if it is given the green light, institute officials said in July last year.
Comments will be moderated. Keep comments relevant to the article. Remarks containing abusive and obscene language, personal attacks of any kind or promotion will be removed and the user banned. Final decision will be at the discretion of the Taipei Times.