Committee passes infrastructure bill
The legislature's Economics Committee yesterday approved a preliminary review of the Forward-looking Infrastructure Development Program yesterday, despite protests and objections by Chinese Nationalist Party (KMT) lawmakers.
The eight-year program aims to allocate NT$880 billion (US$29.18 billion) for several infrastructure projects, including urban and rural infrastructure, "green" energy, digital infrastructure, water works and railway extensions.
KMT lawmakers continued their efforts to block the review when the committee meeting opened at 9am, urging fellow members to file a motion to dismiss the meeting, while chanting "invalid meeting" and saying it did not comply with proper procedures.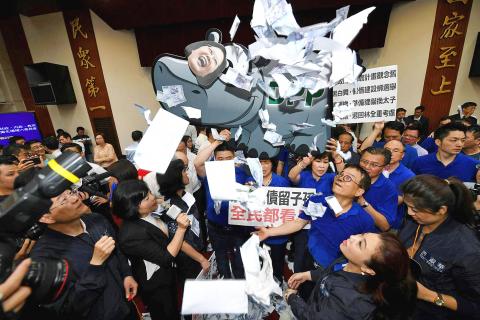 Chinese Nationalist Party (KMT) legislators throw fake money as they enter the legislature yesterday, saying the draft bill for the Forward-looking Infrastructure Development Program is nothing but a money pit.
Photo: CNA
KMT Legislator Alicia Wang (王育敏) told reporters that "nearly 60 percent of Taiwanese" hope the Cabinet would withdraw the bill and propose a new one.
As a legislative official recited the log from the previous meeting, KMT lawmakers repeatedly shouted "objection," splashing water and throwing counterfeit money at the rostrum, where more than 10 Democratic Progressive Party (DPP) lawmakers stood guard.
However, DPP lawmakers were determined to make a breakthrough yesterday after the KMT's stalling tactics over the past two months.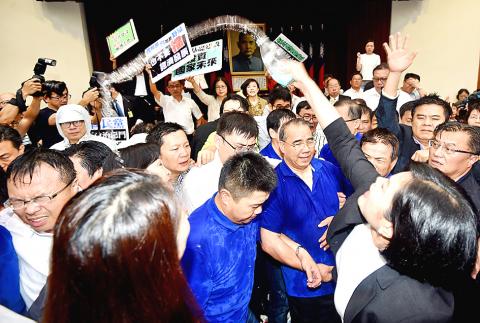 Chinese Nationalist Party (KMT) Legislator Chang Li-shan, front right, throws water toward the speaker's podium as legislators tussle during a review of the Forward-looking Infrastructure Development Program draft bill at the legislature in Taipei yesterday.
Photo: Chien Jung-fong, Taipei Times
DPP Legislator Chiu Yi-ying (邱議瑩), a committee convener, rejected a KMT motion to adjourn the meeting and announced that cross-caucus negotiations to restart a substantive review would start.
Chiu's move prompted an angry reaction from KMT caucus convener Sufin Siluko (廖國棟), who flipped a table over and said the meeting was invalid.
Apart from concerns about procedural problems, Siluko said the budget should be reduced to NT$500 billion and shortened to four years.
Without any comprehensive policy assessment, the budget allocation is just an effort to funnel money toward DPP-ruled municipalities, KMT lawmakers have said.
New Power Party (NPP) caucus convener Hsu Yung-ming (徐永明) accused the KMT of putting on a show, with the net result of the proposal passing review without rigorous scrutiny by opposition parties.
Because of the KMT's unreasonable boycott, government officials were not able to approach the podium to answer questions about the proposal, Hsu wrote on Facebook.
The NPP prefers an article-by-article examination of the bill, but "KMT lawmakers easily gave up their rights to supervise government policies," Hsu wrote.
Comments will be moderated. Keep comments relevant to the article. Remarks containing abusive and obscene language, personal attacks of any kind or promotion will be removed and the user banned. Final decision will be at the discretion of the Taipei Times.