Tsai tries Taoyuan airport MRT line
TRIALS PERIOD: The president said that people have been waiting two decades for the line and she urged agencies to make sure that all preparatory work is complete
President Tsai Ing-wen (蔡英文) yesterday urged government agencies to make sure everything is in order with the Mass Rapid Transit (MRT) line to Taiwan Taoyuan International Airport before it is launched next month to make the 20-year wait worthwhile.
Tsai made the remarks at Taoyuan High Speed Rail Station after riding an MRT train from the A1 stop at Taipei Main Station to the A13 Airport Terminal 2 Station and then continuing on to the high-speed rail station.
"The airport MRT line is the nation's longest MRT system, spanning three special municipalities. It also connects the international airport with our high-speed rail, standard railway and Taipei MRT systems," Tsai said.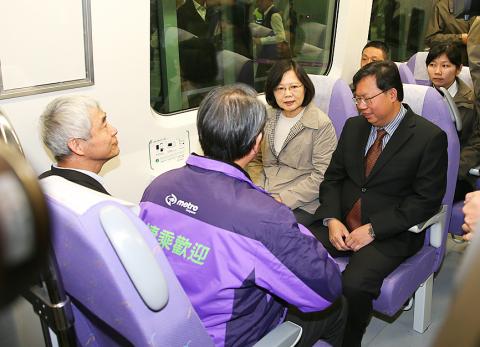 President Tsai Ing-wen yesterday rides the Taiwan Taoyuan International Airport Mass Rapid Transit (MRT) line with Minister of Transportation and Communications Hochen Tan, left, and Taoyuan Mayor Cheng Wen-tsan, fourth left.
Photo: CNA
With the airport line to start a trial run tomorrow before its official launch on March 2, Tsai said public transportation will reach a new milestone with the opening of the line, which brings Taoyuan into the MRT era.
The airport line is not only expected to improve travel throughout Taipei, New Taipei City and Taoyuan, but also offers the most convenient option yet for people living in other parts of the nation who want to travel abroad, she said.
"The launch of the airport MRT line brings two significant advances. The first is that it would ... provide further impetus for the development of Taoyuan," Tsai said.
"A more convenient transportation system will change the city's lifestyle. [Taoyuan] Mayor Cheng Wen-tsan (鄭文燦) has also announced plans to build more social housing units along the line to help relieve population pressure in the capital," Tsai said.
The second is that the new line would significantly increase the number of tourists and other travelers using the airport, she said.
The completion of the line is the result of concerted effort by the central and local governments to solve problems and ensure the system's stability, Tsai said.
"The public has waited 20 years. Let us make the wait worthwhile by making sure all preparatory work is completed," she said.
Tsai said the new line's first test would be to see how tourists from around the world evaluate it, as it will show travelers the progress Taiwan has made.
The trial run is to be conducted in two phases. From tomorrow to Feb. 15, the line will be open to groups from government agencies and other organizations with advanced reservations.
From Feb. 16 through March 1, it will be open to the public from 8am to 4pm daily.
Planning for the line began in 1996 and construction in 2006.
Comments will be moderated. Keep comments relevant to the article. Remarks containing abusive and obscene language, personal attacks of any kind or promotion will be removed and the user banned. Final decision will be at the discretion of the Taipei Times.